On Thursday June 6th it was announced that IAMGOLD, Corp. (NYSE:IAG) and the government of Suriname signed a deal that would expand the South American country's Rosebel gold mine and extend a partnership between the parties until at least 2042. The mine, which is one of IAG's largest, produced 385,000 ounces of gold in 2011. Although no details of the deal were made public, investors should note that a previous proposal by IAG would have lasted seven years and cost an estimated $185 million. In the wake of Thursday's announcement I wanted to examine a number of catalysts behind my decision to consider a position in IAMGOLD.
Previous Developments In Suriname: Prior to today's announcement, it should be noted that IAG has been working closely with the Suriname government (as noted in its Q1 earnings report) and as a result of that collaboration, power related costs have been substantially reduced for IAG ($0.16/per kilowatt hour vs. $0.11/per kilowatt hour).
Although concessions of this nature are developed on a case-by-case basis, they are always welcome and create a reasonable incentive for the company to continue operations in region. By also understanding that there is a very real possibility that gold will fall as low as $1200/ounce, any move that will cut operational expenses by a substantial margin is clearly more than welcome given the recent sell-off in Gold.
Trend Status: On Thursday shares of IAG, which possess a market cap of $2.09 billion and a yield of 4.50% ($0.25), were trading 4.70% above their 20-day simple moving average, 1.19% below their 50-day simple moving average, and a whopping 45.12% below their 200-day simple moving average. These numbers indicate a minimal mid-term and substantial long-term downtrend for the stock, which generally translates into a selling mode for traders, even though I strongly believe IAG has the potential to present investors with a reasonable value play over the next 12-24 months.
Why do I think this? Simply speaking, shares of IAG currently possess a P/E ratio of 9.25, a forward P/E ratio of 7.82 and a current ratio of 3.86 which when combined indicate that not only can IAG pay back its near-term liabilities, but at current levels share prices seem relatively inexpensive.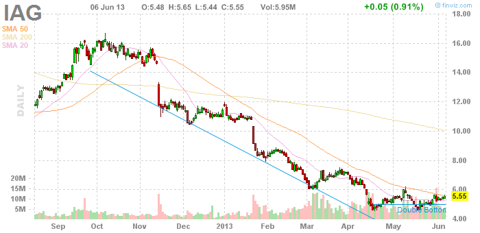 Click to enlarge
(Click to enlarge)
Recent Earnings Performance: On Tuesday, May 7th, IAMGOLD reported the results of what I believe to be a very steady first quarter. The company's Q1 EPS of $0.15/share beat Street estimates by $0.01/share, and its revenue of $305.30 million missed Street estimates by a margin of just $75.98 million. During the quarter IAMGOLD's Niobium production of 1.2 million kilograms grew 9.0% during the March 2013 quarter when compared to the company's production of 1.08 million kilograms during the March 2012 quarter.
24-Month Dividend Behavior: Since June 30, 2011, IAG has increased its quarterly distribution only one time which was by a margin of $0.025/share. From an income perspective, the company's forward yield of 4.50% ($0.25) coupled with both payout ratio (41.00%) and continued increases in its annual payout make this particular gold miner a very viable income option for long-term investors in search of a higher-yielding play in the gold mining sector.
Conclusion: When it comes to those who may be looking to establish a position in IAMGOLD, I'd continue keep a watchful eye on not only the company's dividend behavior over the next 12-24 months, but any growth which could directly result from the company's continued development of the Rosebel Mine located in Suriname.
Disclosure: I have no positions in any stocks mentioned, but may initiate a long position in IAG over the next 72 hours. I wrote this article myself, and it expresses my own opinions. I am not receiving compensation for it (other than from Seeking Alpha). I have no business relationship with any company whose stock is mentioned in this article.