The gold miners have been in the news lately. While the stock market (until last week) set record after record, the gold miners have been slaughtered due to constantly decreasing metal prices. The gold miners can best be monitored by the Nyse Arca gold bugs Index (HUI), which consists of 17 gold miners.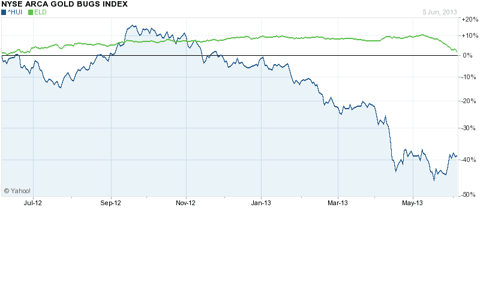 Click to enlarge
source:yahoo.finance.com
Of these 17 gold bugs, as they are called, only one has added value over the past two years. The index as a whole has lost 38% of its value. The one company that is more expensive than two years ago is Eldorado Gold (NYSE:EGO).
Eldorado Gold is a low-cost gold producer based in Vancouver, British Columbia. It has seven operating mines in Asia, Europe and South-America. There's also a pipeline of projects in different stages of construction and development.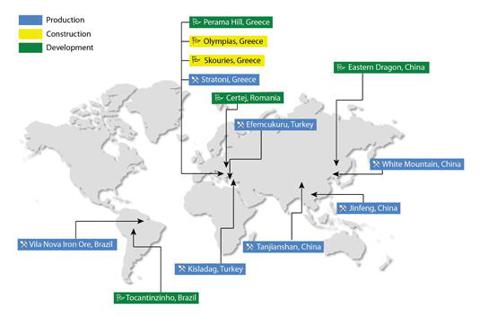 Click to enlarge
World map of Eldorado mines, source: eldoradogold.com
EGO is a low-cost gold producer. The price it calculates for producing an ounce of gold, the so-called all-in cash cost, is around $950. I wonder what cash cost a medium-cost or even high-cost gold producer is using. In the Q1-report EGO also mentions that the average selling gold price for the first quarter was $1622. EGO sold 189K ounces of gold and made a net profit of $79 million, 11 cents a share.
As stated, the average selling price of an ounce of gold in Q1 was $1,622. Only the first two weeks of April the gold price held close to $1,600, after April 15 the average price was around $1,400. No one knows what the rest of the quarter might bring us, but it is clear that the average selling price in the second quarter will be approximately 10% lower, let's say around $1,460. Based on the sales figures in Q1, this would cost EGO almost 40% of its profit. If we do the math, we can even conclude that the break-even point in profit terms is around $1,205.
Eldorado has been paying dividends since 2010. In 2011 and 2012 the dividend was increased substantially, but there is no guarantee this will happen again in 2013. Eldorado has adopted a policy of basing dividend pay-outs on the amount of gold produced and the gold price. If the average gold price is $1,550 or lower, C$100 per ounce will be paid as a dividend. Following the formula EGO is using, dividends for 2013 might fall by 20%. Here's a link to the formula they are using.
Now why is Eldorado by far the best performing stock in the gold bugs index? There's actually only one reason. EGO is a low-cost producer and can even handle a gold price of $1,200. If it passes on the dividend, their break-even is at $1,100. As mining costs have risen with the gold price, many gold miners lost grip on their cost control. Now that the gold price is falling, investors fear that dozens of gold miners might not be able to keep their head above water and might need additional funding through a capital raise. The strong balance sheet and the focus on cost control at Eldorado Gold have not been unnoticed by investors. EGO is being rewarded for its "disciplined and responsible approach to growth," as it states on its website.
Conclusion
Eldorado Gold is without a doubt one of the best performing companies among gold miners. A further decreasing gold price is not directly a problem for Eldorado as its focus on costs and strong balance sheet enables the company to quickly adjust to the new situation. Looking at the figures presented by Eldorado it's not hard to understand why the majority of the gold miners stocks have performed so poorly over the last two years.
Disclosure: I have no positions in any stocks mentioned, and no plans to initiate any positions within the next 72 hours. I wrote this article myself, and it expresses my own opinions. I am not receiving compensation for it (other than from Seeking Alpha). I have no business relationship with any company whose stock is mentioned in this article.