I've written a great deal about ConocoPhillips' (NYSE:COP) operations in the Eagle Ford and Gulf of Mexico. Today I'd like to focus on another important region of Conoco's production growth plans which receives far less coverage: Europe. Specifically, the company's long life and very profitable conventional projects in the UK and Norway.
Conoco's Jasmine Field in the UK and its Ekofisk Development in Norway are very important major projects if the company will reach its long-term production growth goals. These fields are long-life assets which will provide COP with very profitable production for decades to come. If these assets come online as expected (Jasmine and Ekofisk South in Q4 of this year; Ekofisk II in 2014), they will be positive catalysts for Conoco going forward. Jasmine alone should reach peak production of 37,000 boe/day in 2014.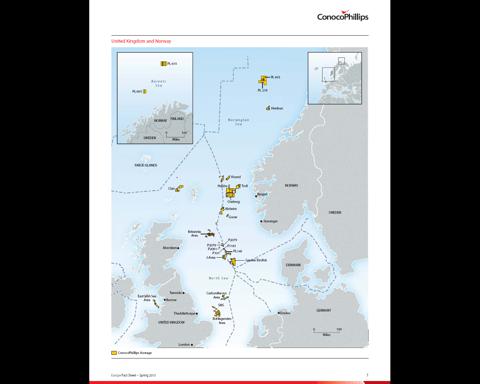 Note: Unless otherwise stated, the slides in this article come from Conoco's Spring 2013 Investor Update. You can view the entire presentation here.
As we all know, COP has been shedding non-core assets over the past few years. As a result of its asset divestitures and discontinued operations, production has been drifting lower and will hit a low point of 1.425-1.515 million boe/day in Q3. Starting in Q4, production will begin to rise. Total production in Q4 is expected to be in the range of 1.525-1.615 million boe/day and the company then expects a 3-5% compound annual growth rate with production reaching ~1.9 million boe/day by 2017.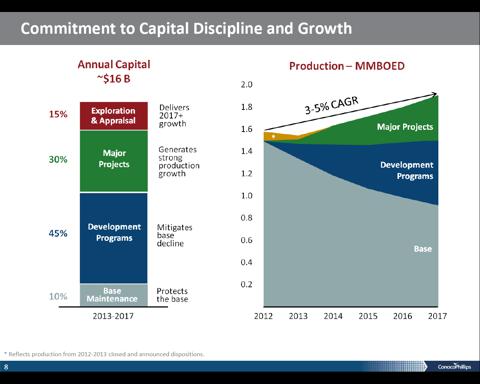 The chart below shows production by segments. COP's strategic plan has been centered around the exploitation of known assets in the lower-48, what the company calls a "development program." Going forward, production growth will also come primarily from new "major projects" in three segments: Canada, Asia Pacific and the Middle East, and Europe. Today we'll focus on Europe.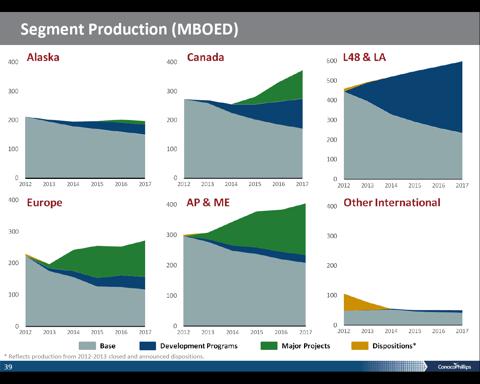 COP's European Operations
According to COP's European Fact Sheet, the company's European operations contributed 17% of COP's worldwide liquids production and 13% of natural gas production in 2012. The Europe Segment contributed $1.498 billion in income from continuing operations.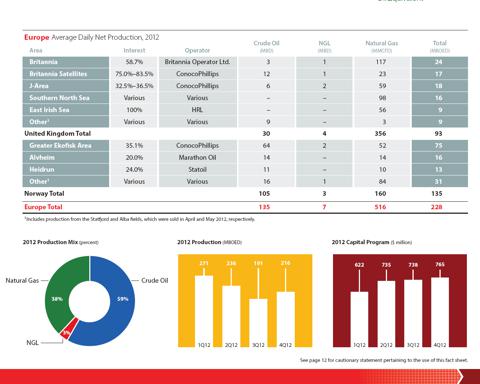 Total production in the European segment was 228,000 boe/day in 2012. Crude oil production was 135,000 barrels/day, NGLs were 7,000 boe/day, and natural gas production was 516 MMcf/day. Year-end proved reserves were 800 million boe.
Average European sales prices were $113.08/barrel for crude, $61.53/barrel for NGLs, and $9.76/Mcf for natural gas. Obviously, COP's European assets are very profitable and it is an important region for the company going forward.
New production from major projects in the UK and Norway is expected to deliver 115 MBOED by 2017.
UK Projects
In 2012, total UK production was 93,000 boe/day. The biggest contributor was the Britannia natural gas and condensate field which delivered 24,000 boe/day - primarily natural gas. COP owns 50% of Britannia Operator Ltd, the operator of the field. Condensate is delivered through the Forties Pipeline to a processing plant near the Grangemouth Refinery in Scotland. Natural gas is transported through Britannia's line to St. Fergus, Scotland.
The Britannia satellite fields are operated by COP and produced 17,000 boe/day in 2012. These fields produce via subsea manifolds and pipelines linked to the Britannia platform.
The J-Area is also operated by COP and produced 18,000 boe/day in 2012. J-Area is comprised of the following fields which COP participates with co-venturers Eni (ENI), BG (NYSE:BG), Chevron (CVX) and OMV as follows:
The Judy/Joanne Field: COP(36.5%), ENI(33%), & BG(30.5%).
The Jade Field: COP(32.5%), BG(35%), CVX(19.9%), ENI(7%), and OMV(5.6%).
The Jasmine Field: COP(36.5%), ENI(33%), BG (30.5%)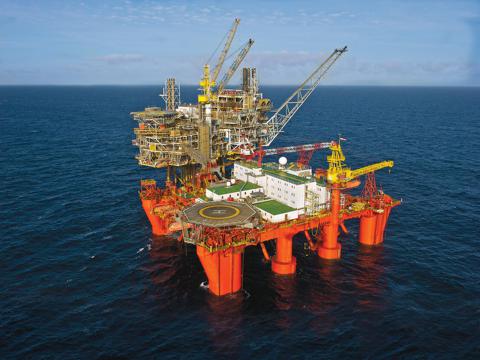 Jasmine
The Jasmine field is located in the U.K. Central North Sea and was discovered by Conoco in 2006. In 2007, ConocoPhillips initiated appraisal drilling and encountered a 550ft hydrocarbon column. It was the largest discovery in the UK since the 1990s. At peak, the field is expected to produce at the rate of 88,000 boe/day. Anticipated first production will be in the Q4 of 2013. Jasmine is estimated to achieve average net peak production of 37,000 boe/day in 2014.
Also in the United Kingdom, the Katy development in the Southern North Sea achieved first production in January 2013 and it is expected to reach a peak rate production of 5,000 boe/day. Development at Clair Ridge continued toward startup in 2016.
Norway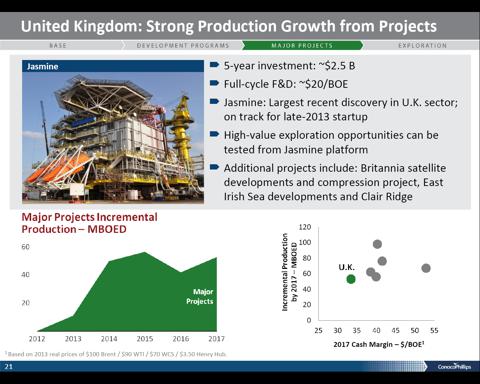 Norway
In 2012, COP's production in Norway amounted to 138,000 boe/day. The largest contributor was the Greater Ekofisk Area where Conoco is the operator and holds a 35.1% interest. Ekofisk accounted for 75,000 boe/day of which 66,000 barrels/day were liquids.
The Greater Ekofisk Area is comprised of four producing fields: Ekofisk, Eldfisk, Embla and Tor. Crude oil is exported to Teesside, England, and the natural gas is exported to Emden, Germany.
In addition, COP holds a 20% interest in the Alvheim field in which Marathon (NYSE:MRO) is the operator. The Alvheim development consists of a floating production, storage and offloading (FPSO) vessel and subsea
installations. Produced crude oil is exported via shuttle tankers, and natural gas is transported to the United Kingdom via a pipeline to the Beryl-Sage system.
COP also holds a 24% interest in the Heidrun field. The Heidrun Field is located in the Norwegian Sea. Crude oil is transported to Mongstad in Norway and Tetney in the United Kingdom by double-hulled shuttle tankers. Part of the natural gas is transported and sold to buyers in Europe, while the remainder is used as feedstock in a methanol plant in Norway, in which COP owns an 18.3% interest. StatOil (NYSE:STO) is the operator of Heidrun.
The Ekofisk South and Eldfisk II developments showed good progress in 2012, with production expected in Q4 of 2013 and 2014, respectively. "With these two projects," said our Europe President Steinar Våge, "ConocoPhillips is poised to remain a key player on the Norwegian shelf to 2050 and beyond." These Norwegian projects are expected to contribute close to 60,000 boe/day by 2017 with a big ramp-up in 2014.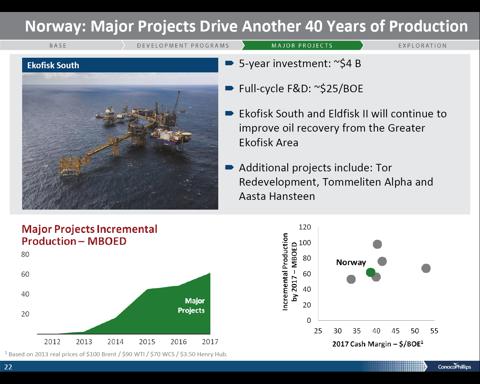 Summary And Conclusions
ConocoPhillips' production will bottom out in Q3 of this year and Q4 production is expected to jump significantly from Q3. The company's major projects in the UK and Norway, which are very profitable, will be a significant factor in production growth moving forward. My eyes are watching Jasmine closely. Jasmine should come online in Q4 and is expected to reach 37,000 boe/day in 2014. These are highly profitable Brent barrels.
Conoco has reached the inflection point of its strategic long-term transformation plan. The remainder of 2013 and 2014 will be very busy years for the company in the UK and Norway with start-ups of several major new projects. But the company has been working in these waters for decades and has proven expertise and management. I expect these projects to come online as planned and prove to be a positive catalyst for the company. As a result, I expect Conoco's stock to rise. A seamless startup of Jasmine in Q4, eventually reaching 37,000 boe/day of primarily Brent liquids in 2014, could easily add $2-3/share to the stock. Meantime, the dividend is a hefty 4.3%.
I rate COP a BUY.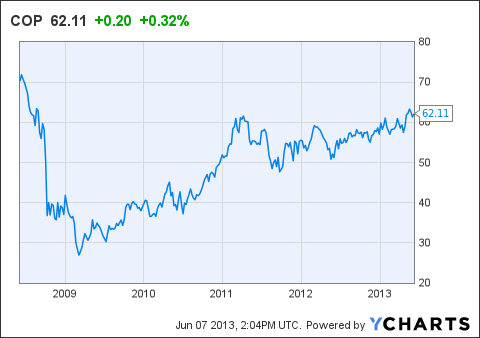 Disclosure: I am long COP, CVX, STO. I wrote this article myself, and it expresses my own opinions. I am not receiving compensation for it (other than from Seeking Alpha). I have no business relationship with any company whose stock is mentioned in this article.
Additional disclosure: I am an engineer, not a CFA. The information and data presented in this article was obtained from company documents and/or sources believed to be reliable, but has not been independently verified. Therefore, the author cannot guarantee its accuracy. Please do your own research and contact a qualified investment advisor. I am not responsible for investment decisions you make. Thanks for reading and good luck!