Investments made 30 years ago in household names such as Johnson & Johnson (NYSE:JNJ), Coca-Cola (NYSE:KO), and McDonald's (NYSE:MCD) would be worth… well a lot today. Many articles centering around dividend and value investing strategies begin this way. While these articles are helpful and motivational, they are not very insightful about actions that can be taken today. I hold many names mentioned in these articles in high regard and invest in them, but wouldn't it be great to track a portfolio and get insight into the benefits that these securities and ones like them can provide today?
In addition to doing equity research into individual stocks, one of the primary purposes of my blog will be to provide a holistic view of my dividend investment strategy over a long-term horizon. Before I get there it is important to outline the goal of my dividend portfolio in a manner that follows the well-known S.M.A.R.T. framework. This framework can help investors stay on track and correct course if needed, which is particularly important for most dividend investors given their long-time horizon.
Specific
The purpose of this portfolio will be to generate income that can be used as a primary source of passive income in the next 30 years. My goal is to be able to generate $110,000 per year in 2013 dollars, or roughly the equivalent of $265,000 in 2041 dollars (assuming a 3% rate of inflation). Given much can happen over the course of 30 years, milestones will be set along the way to ensure this goal remains achievable. The first milestone will be to hit $15K in dividends per annum by the end of 2018.
Measurable
The portfolio will be looked at on at least a monthly basis with actions taken on a quarterly basis. Sources of dividend growth (contributions, dividend increases, and reinvestment) will be broken out at least quarterly.
Attainable
Achieving this goal will require performance across 3 primary sources of dividend growth:
Reinvestment of dividends: 3% yield (assumption)
Dividend increases from companies : 7% increase per annum (assumption)
New contributions to the portfolio: variable
The third component of this framework is the one with which an investor has the most control over and can be used to cover a lack of performance in the other sources. Assumptions for the sources of dividend growth are conservative making the overall goal aggressive but achievable.
Relevant
Generating income is relevant to every investor (and even those non-investors).
Time bound
The goal is bound by a 28-year horizon, but milestones will be set every 5 years. Additionally, the strategy will be revisited at least annually.
Stock Universe Selection
While fundamental analysis will be conducted on several stocks, the strategy utilized will incorporate a macro-level view. I believe it is important for any dividend investor to have exposure to multiple sectors to reduce the impact of potential dividend cuts and sector-related issues. In order to be able to take advantage of tactical opportunities and account for growth in the portfolio, a wide range for the portion of the portfolio's income that will be generated from these sectors has been set. Everyone's target sectors will vary based on risk tolerance and investor preferences, but mine are as follows:
Sector

Min Income Weight

Max Income Weight

Target Income

Weight

Examples

Consumer Goods (ND)

25%

45%

35%

PM, MO, PG, CL, CHD

Consumer Retail

5%

20%

15%

MCD, WMT, TIF

Agriculture

5%

15%

10%

DE, ADM, MON

Healthcare / Pharma

5%

15%

8%

JNJ, ABT, TEVA

Industrial / Defense

5%

15%

8%

LMT, GD, UNP

Energy / Commodities

5%

15%

5%

CVX, BP, GWW

Utilities

5%

15%

5%

NGG, WM

Technology / Telco

5%

15%

5%

INTC, MSFT, CHL

Small-Cap

5%

15%

5%

TIS, FHCO

Emerging Markets

5%

15%

5%

EDIV, THD

Finance / Insurance

5%

10%

5%

AFL, WFC, V
Several low-beta stocks such as PM, MCD, JNJ, and NGG will serve as anchors to provide my portfolio stability. However, given my extended time horizon, I am willing to take risk on from emerging market, small cap, and cyclical stocks (TIS, FHCO, THD, GWW) in hopes of fueling dividend growth.
In order to select from the wide array of stocks available from each sector, both quantitative and qualitative factors can be used. The tobacco sector is an integral part of the Consumer Goods sector so I will use that sector as an example. Within this sector qualitative factors such as international diversification, company size, and availability on domestic stock exchanges can be used to determine an appropriate set of candidates to assess. Applying these initial criteria yields a few major players within the tobacco sector to investigate:
Dividends to Free Cash Flow to Equity
The first criteria used to assess the potential candidates will be the ratio of Free Cash Flow Equity versus dividends over a period of time (2009-2012). This measure provides insight into the amount of funds available to equity stakeholders. A ratio below 1 for an extended period of time is likely a sign that a company may not be able to grow its dividend payout over a period of time barring a turnaround. Phillip Morris International emerges as a clear leader across this metric, while RAI emerges as a laggard.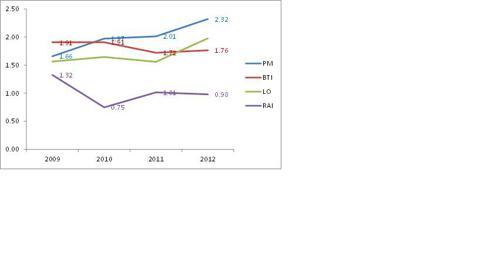 Click to enlarge
Ratio of Free Cash Flow to Equity from Operating Cash Flow
Free Cash Flow to Equity is made up of several sources. A company can issue debt to increase FCFE, but this is not a sustainable means of growing a dividend. The most critical way a company generates cash is from its day to day operations. So the next measure that the candidates will be judged on will be the ratio of FCFE derived from cash flow from operations.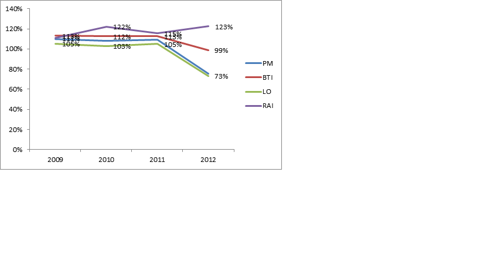 Click to enlarge
This ratio shows the spike in Philip Morris's FCFE to Dividend ratio was driven by the issuance of debt. This is an indicator that Philip Morris obtained substantially more leverage in 2012. However, looking across the sector it appears that most companies in the industry leveraged up in 2012 as shown in the graph above. While not a deal killer, this is something to assess and account for when determining a company's ability to grow its dividend.
Revenue Growth
A company can cut costs for many years, but you eventually hit a point when the well will run dry. The next important metric to assess that is critical to any dividend strategy is the assessment of a company's ability to grow its topline or revenue. The chart below indexes the companies' revenue to 2009 figures to adjust for size differences. From 2009 to 2012, Phillip Morris remains a clear winner in conjunction with Lorillard Inc. in regards to this aspect as demonstrated by the chart below: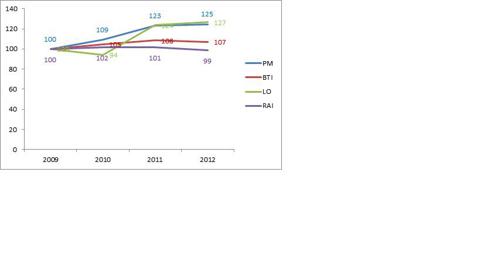 Click to enlarge
Current Dividend Yield (as of June 3, 2013)
Future potential is very important. However, what a stock can do for you today is also equally important. Looking at the yield a company offers today is important. Yields across this sector are healthy. However yields for RAI and LO, which have a heavier bias towards North America, tend to be stronger.
| | |
| --- | --- |
| PM | 3.68% |
| BTI | 3.82% |
| LO | 5.09% |
| RAI | 5.15% |
Concluding Remarks
A summary of the results is provided below:
| | | | | |
| --- | --- | --- | --- | --- |
| Factor | PM | BTI | LO | RAI |
| Dividends to FCFE | 5 | 4 | 4 | 2 |
| CFO to FCFE | 3 | 4 | 3 | 5 |
| Revenue Growth | 5 | 3 | 5 | 2 |
| Dividend Yield | 4 | 4 | 5 | 5 |
| Total | 17 | 15 | 17 | 14 |
From a quantitative perspective, Philip Morris and Lorillard emerge as winners to investigate for a portfolio position. However, qualitative factors and risks must also be considered before making an investment. Based on quantitative factors, geographic diversification, and product diversification my international tobacco company of choice is Philip Morris . However, as shown above BTI and LO also remain notable considerations.
Disclosure: I am long PM, MCD, UNP, AFL, WFC, V, GD, MON, DE, EDIV, GWW, PG, CL, JNJ, TIS, FHCO, THD, CL, NGG, MSFT, INTC, CVX, BP, WMT, TIF. I wrote this article myself, and it expresses my own opinions. I am not receiving compensation for it (other than from Seeking Alpha). I have no business relationship with any company whose stock is mentioned in this article.