Sugar consumption worldwide is increasing. From 2012 to 2013, the worldwide consumption is expected to be 168.7 million tons. Honestly, it's not increasing at the rate I expected to find when I started this research. It only increases 2% annually. Brazil, Australia and Thailand (in that order) lead the ranks in per capita consumption. The United States actually occupies the sixth slot in per capita consumption. Consumption is growing the fastest in Asia, the Middle East and Africa.
In reality, the over-consumption of sugar has a negative impact on one's well-being. It is linked to serious health conditions. Sugar has an addictive effect that encourages over-consumption. According to a CBS news report citing a Nature commentary published February 1, 2012, sugar is just as toxic as alcohol and tobacco.
Yet, the proposal of government-regulated sugar consumption causes heated debate. On one side is the argument that diet-related diseases increase medical and insurance costs and because we can't regulate ourselves, the government should step in. On the other side is the argument that statistics are skewed; it is unfair to target a single ingredient as the sole source of the problem and, it's basically none of the government's business. This article isn't about that debate.
Even with prohibitive laws and warnings and taboo reputations, investors have the option of investing in alcohol and tobacco companies. Should the sugar debate end in government regulation and legislation, sugar-centric companies will likely survive. Regardless of the dangers, it is hard to forever forgo the joy of a doughnut, a piece of chocolate, or a slice of pie. There are dozens of "national days" related to sweet confections. Besides the traditional holidays like Valentine's Day, Easter, Halloween, Thanksgiving and Christmas where treats and desserts are commonplace, an internet search turned up more than 4 dozen "national days" celebrating the tasty treats such as "National Chocolate-Covered Anything Day" or "National Junk Food Day."
Krispy Kreme Doughnuts (KKD) offers high-quality doughnuts in 678 franchised stores in 22 countries. There are 146 U.S. locations in 29 states and 532 international locations. Saudi Arabia and Mexico boast the greatest number of stores with 95 and 91 respectively. Krispy Kreme also operates 95 company stores in 19 states. It offers best-in-class products and is focused on "consistent, sustainable growth."
Krispy Kreme locations offer hot beverages as would be expected in a traditional doughnut shop. But, because Krispy Kreme has found customers want to eat doughnuts at almost any time of day, it has expanded its beverage offerings to iced coffee and tea, icy fruity slushes and ice cream blends. It also offers ice cream treats such as doughnut and traditional sundaes, cones, candy/ice cream mixes and milkshakes.
Financial Reporting
Krispy Kreme revenue increased 8.1% from $403.2 million in fiscal year 2012 to $435.8 million in fiscal year 2013. Adjusted earnings per share for the fiscal year were $0.47. Krispy Kreme ended the year with $66.3 million in cash and cash equivalents. It only had $25.7 million in long-term debt obligations. Cash flow from operating activities is growing impressively for Krispy Kreme, 65% from fiscal 2011 to 2012 and 75% from fiscal 2012 to 2013. During fiscal year 2013, Krispy Kreme repurchased over 3.1 million shares of stock for $20 million.
Krispy Kreme did miss analysts' EPS estimates in the fourth quarter of fiscal year 2013. It is important to note management raised guidance in the third quarter for the whole year. Indeed, Krispy Kreme hit the high end of the range provided by management even if it missed based on analysts' expectations.
However, the first quarter of 2014 found earnings per share soundly beating analysts' estimates by 17.6% as well as a solid jump over the prior year's quarter by 42.9%. In the first quarter of fiscal 2014, Krispy Kreme increased revenue 11.2% over the first quarter of fiscal 2013. Cash increased to $74.7 million and debt decreased to $24.1 million. Krispy Kreme's debt-to-equity ratio is a healthy and low 9.44.
In March 2013, Krispy Kreme management forecast income growth of 12% to 22% for fiscal year 2014 over fiscal year 2013. Earnings per share is expected to almost double from fiscal year 2012 to fiscal year 2014 from $0.31 to the estimated range of $0.53 to $0.57. During first quarter reporting, Krispy Kreme management raised the fiscal year 2014 net income and earnings per share outlook at least 12.5%. Net income was raised from a range of $37 to $40 million to a range of $42 to $45 million. Earnings per share was raised from a range of $0.53 to $0.57 to a range of $0.59 to $0.63.
Deriving Revenue and Income
Krispy Kreme's revenue is derived in four manners. Sales from company stores accounted for 68% of the total in fiscal 2013. Wholesale customers accounted for over half, approximately $153.6 million, of the $296.5 million of revenue from company stores. Two wholesale customers account for 16% of company stores revenue.
Franchises contributed 32% of total revenue. The three remaining sources of revenue from franchisees are domestic royalties, international royalties and sales via the Krispy Kreme Supply Chain. Domestic royalties accounted for 2.4% of total revenue. International royalties contributed 5.7%. The KK Supply Chain was responsible for the remaining 23.9%. The KK Supply Chain provides domestic franchises all ingredients and supplies. In fiscal 2013, domestic purchases contributed approximately $85 million. International franchises primarily purchase only doughnut mix from the KK Supply Chain. International purchases from the KK Supply Chain equaled approximately $19 million.
For fiscal year 2013, the operating margin on company stores revenue was 2.8%. For domestic franchises, including KK Supply Chain income, operating margin was 33.7%. The operating margin for international franchises, also including KK Supply Chain income, was 53%.
Consumer Demand
Company store sales for fiscal year 2013 were $288 million. Domestic franchise sales totaled $281 million. For domestic franchisees, wholesale customers accounted for 25% of revenue, approximately $70 million. International sales are primarily to on-premises customers and totaled $423 million.
Overall, same-store quarterly sales increased in the last four quarters. Compared to fiscal 2012 quarters, the second quarter grew 5.4%, the third grew 6.8% and the fourth grew 7.5%. On May 30, Krispy Kreme reported same-store sales increased over 11% for the first quarter of fiscal 2014. Krispy Kreme is confident in expecting 4%-7% same-store sales increases for the remaining three quarters of fiscal 2014.
In fiscal 2013, same-store sales increased for company stores and domestic franchised stores but decreased for international franchises. At company stores, the increase in sales can be attributed primarily to increased customer count. Fewer doors of wholesale grocers and convenience stores were served. But, average weekly sales to those wholesale customers increased. The impact resulted in a 6.8% increase in wholesale sales from company stores.
In international locations, Krispy Kreme offers its signature glazed doughnut but has tailored products for local preferences. Baked goods are an integral part of five existing international markets and will continue to expand into others. Another difference in international locations centers around beverage sales as in-store consumption is more common.
Growth
Management classifies Krispy Kreme's status as the "very early stages of developing the long-term potential." It has progressed only 60% toward its 2017 goal. By then, Krispy Kreme intends to have 1,300 locations. Of the 900 planned international locations, new markets include Brazil, Russia, India, Europe, South American and Central America. In 2013, franchises are expected to open in Scotland, Singapore, Delhi, Moscow, Taiwan and Mumbai. Development agreements are in place for 330 stores in 11 countries.
By January 2017, Krispy Kreme expects to expand to 400 U.S. locations. Headquartered in North Carolina, Krispy Kreme expects future franchised expansion to occur outside the southeastern United States. Development agreements already exist for 50 locations.
In the past four years, Krispy Kreme, through focused market research, has established models for new development. It determined a hub and spoke model, used primarily in international markets, should successfully serve domestic markets. The hub and spoke model has, as the hub, a central doughnut-making production line while the spokes are small retail shops within convenient delivery distances. This model can better serve sparsely-populated areas.
It has also determined drive-thru operations are particularly desirable. Drive-thru sales contribute approximately 46% of retail sales. The majority of product sold by domestic Krispy Kreme stores are consumed off-site. Krispy Kreme has found 70% of retail consumer purchases are for "sharing" with others. Thus, approximately 55% of retail transactions are for one or more dozen doughnuts.
Potential
Krispy Kreme's potential is touted in this one statement - sixty-five percent of its brand awareness is unaided by the company. That displays the force of a customer's word-of-mouth referral.
Only 60% of the states in the continental United States have a Krispy Kreme store. If the future total of 400 locations were dispersed evenly across 48 states, that would mean less than 10 stores per state. Comparatively, other quick service restaurants have thousands of domestic locations. The 2017 goal could certainly be considered conservative. On June 6th, CEO Jim Morgan, in a television interview on Mad Money of CNBC, validated Krispy Kreme is particularly selective regarding domestic expansion. He named three requirements: 1) the potential franchisee is financially sound, 2) existing franchisees will not be negatively impacted and 3) the site characteristics are up to par.
Internationally, Krispy Kreme is a young brand. Its first international location opened in Canada in 2001. But, true growth came after 2004. Since then, Krispy Kreme gained franchisees in 17 countries. In the Mad Money interview, Mr. Morgan explained the international marketplace, "The fervor lasts longer." He related the fantastical happenings of the most recent first store opening in Scotland which caused traffic jams and captured newspaper headlines. As is typical, many international locations are now experiencing a "honeymoon" effect where the initial lure and curiosity has waned. While it is factual that the same-store sales figures of international franchised stores have been decreasing, Krispy Kreme management reiterated it is still quite satisfied with the average sales per store. And, just like the domestic location goal, 900 international locations by the onset of 2017 is certainly achievable and perhaps conservative.
Discussion
The World Health Organization is updating its guidelines on recommended daily sugar intake. Its 2003 guideline was 10% or less while the American Heart Association recommends just 5%. According to the World of Sugar, Americans consume over 66 pounds of sugar a year equal to over 17 teaspoons a day or over 278 calories per day. Based on a 2,000 calorie per day dietary consumption, 6 of the top 13 nations in sugar consumption still come in under the 10% recommendation. While the U.S. sugar market may be saturated, international markets with the greatest populations such as China and India are not.
The chart below illustrates an interesting scenario. Assume a family of four elected to forfeit a weekly trip to the Krispy Kreme drive-thru, and instead saved the expenditures to make an investment in KKD. On the first trading day of each year for the past five years, the family invested the past year's savings. As shown, KKD would have proved to be a far better investment than investing in the S&P 500 Spider (NYSEARCA:SPY). Krispy Kreme would have returned 265% while the SPY's return would have been just 27%.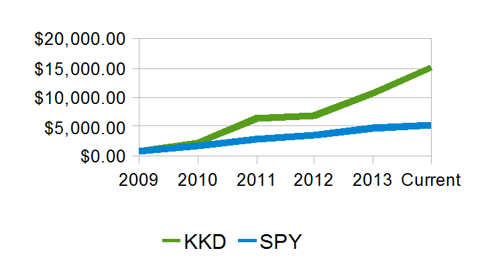 When Krispy Kreme reported 2014 first quarter results on May 30, it delivered so well that the share price jumped over 20% on Friday, May 31st. The price jump skewed Krispy Kreme's forward P/E to around 24. Competitors Dunkin' Brands (NASDAQ:DNKN) and Starbucks (NASDAQ:SBUX) both carry current P/E ratios greater than 32 and forward P/E ratios in the 22-24 range. While it wouldn't be fair to single out Krispy Kreme as being ahead of where it deserves to be without acknowledging its competitors, the P/E ratios are a bit unsettling for value investors.
Using analysts' long-term EPS growth projections and the forward P/E ratio, the PEG ratio equates to 0.96 for Krispy Kreme. So, based on a PEG ratio less than 1, Krispy Kreme is just slightly undervalued even after the price jump. The YPEG equation based on analysts' 2015 EPS projection delivers a fair value of $18.25.
Conclusion
Whether it be by government regulation or health conscientiousness, if sugar consumption decreases in the United States, there is still room for growth across the globe. Krispy Kreme is positioned to take advantage of that growth potential.
For disciplined investors, the concept of redirecting funds from splurging on sweets to investing in a "sweets" company is practical and viably profitable. Should the markets correct, pull-back or settle and Krispy Kreme's stock price falls to the range of $15.50 to $16.00, it'd be prudent to rob the piggy bank for a KKD investment.
Certainly, it would be quite short-sighted to expect a total denial of all sweets. And, today offers a way to splurge without dipping into the piggy bank. Every June 7, Krispy Kreme offers a free doughnut to each customer to celebrate National Donut Day. In the words of Jackie Gleason, "How sweet it is!"
Disclosure: I have no positions in any stocks mentioned, but may initiate a long position in KKD over the next 72 hours. I wrote this article myself, and it expresses my own opinions. I am not receiving compensation for it (other than from Seeking Alpha). I have no business relationship with any company whose stock is mentioned in this article.
Additional disclosure: I belong to an investment club and intend to recommend KKD at the June meeting, Monday, June 10th.