According to the Non-Farm Payrolls (NFP) report we added 175,000 jobs in May, beating expectations of 167,000. For 39 straight months we have had positive job growth, and have added over 7 million jobs during that time. However, the unemployment rate in May was raised from 7.5% to 7.6 %. Is this pickup in the U.S. labor market enough for the Fed to begin tapering QE asset purchases? Below is a graph of the employment rate and number of jobs added (in thousands) since 1980. As you can see, the unemployment rate remains historically high and the number of jobs being added monthly remains unimpressive.
US Data: U.S. data is said to be picking up, and this is fueling speculation that the Fed could reduce asset purchases by the FOMC meeting in September. Let's examine some of the most important recent U.S. economic data releases.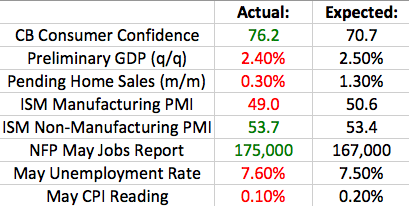 The huge beat in CB Consumer Confidence can most likely be attributed to a wealth effect generated by the recent gains in U.S. equity markets. I don't believe this is the "pickup" in economic data that will trigger the Federal Reserve to change their current dovish stance.
Fed Talk: The Fed is also very vocal in what specific economic goals it is looking to achieve before reducing monthly asset purchases. St. Louis Fed President James Bullard stated:
"Before I would be in favor of tapering I would like to see some reassurance that inflation was going to move back towards target,"
The miss in expectations of the May Consumer Price Index (NYSEARCA:CPI) reading is shown above. As long as inflation remains around 1.0% which is way under the Fed's 2.0% target, inflationary consequences of quantitative easing will remain unseen, and the Fed will not be influenced to change its current policy.
In the December FOMC meeting the Fed specifically explained that it:
"Anticipates that this exceptionally low range for the federal funds rate will be appropriate at least as long as the unemployment rate remains above 6-1/2 percent"
Case and point, the current unemployment rate is more than 1% above that goal; I expect the earliest the Fed could taper purchases based on the goals they set would be December 2012/early 2013.
U.S. Dollar Index ($USD) Reaction:
Following the NFP release the U.S. Dollar index ($USD) jumped out of negative territory moving up about .75%. A .75% move in any currency following one event is something that should draw concern from investors and traders alike. Don't be fooled! The driver of this rally is not an increased possibility of Fed tapering, but an excuse for sellers to book weekly profits, and trim positions ahead of the weekend.
Conclusion: Global financial markets know that the Fed will not taper purchases anytime in the near future. The large rally in U.S. Equity markets following a marginal beat in the NFP Report showcases investor's true reactions: a realization that chances of Fed tapering in the near future are slim. The rally in the USD is simply a relief rally as sellers take a breather from this week's activity of unwinding long USD trades. This pop in the $USD index presents traders and investors great entry points to short the U.S. Dollar. The forex markets are now in the process of pricing in this diminishing probability. Treasury yields are expected to remain stable as the Fed continues its quantitative easing. The USD has had quite a run up from early February, but now the trend has reversed. I predict the USD will continue to weaken through the summer as other global economies such as Europe and the UK gain momentum. This can be expressed through long forex positions in GBP/USD and EUR/USD. Also, one could short the USD ETFs (UUP, UUPT, UDNT) or initiate a long position in the bearish USD ETF (NYSEARCA:UDN).
Disclosure: I have no positions in any stocks mentioned, and no plans to initiate any positions within the next 72 hours. I wrote this article myself, and it expresses my own opinions. I am not receiving compensation for it (other than from Seeking Alpha). I have no business relationship with any company whose stock is mentioned in this article. I have no positions in the currency positions mentioned, but may initiate a long position in GBP/USD and EUR/USD over the next 72 hours.