Although the majority of investors associate master limited partnerships (MLP) with midstream infrastructure and a handful of well-hedged upstream operators, an upsurge in private letter rulings from the Internal Service has expanded the interpretation of what business activities an MLP can operate.
One MLP that operates a nontraditional business stood out at the National Association of Publicly Traded Partnerships' (NAPTP) recent investor conference. (You can read our wrap-up of the event in Growing Pains: MLPs Go Mainstream.)
Units of Hi-Crush Partners LP (NYSE: HCLP) yield about 8.4 percent, compared to the 5.5 percent current return offered by the Alerian MLP Index. The MLP went public on Aug. 15, 2012, and with an enterprise value of only $300 million and average daily trading volume of 175,000 units, remains under many investors' radars.
We're always wary of MLPs offering above-average yields because these names often entail significant risk of a distribution cut or exposure to volatile commodity prices. In addition, MLPs with high yields often have subpar distribution-growth prospects.
On the other hand, relatively young MLPs that receive only spotty coverage from research analysts at the major investment banks sometimes offer favorable yields and a reasonable risk profile.
Hi-Crush Partners falls into the latter category. Although the firm's business carries above-average risk and some exposure to onshore oil and natural-gas drilling activity, the stock's elevated yield more than offsets these concerns.
And unlike many other high-yielding MLPs, Hi-Crush Partners is positioned to grow its distributions in coming years; management's guidance calls for an increase to the current quarterly rate in the fourth quarter of 2013 and 10 percent to 12 percent of additional upside in 2014.
Hi-Crush Partners mines and sells raw Northern White sand that's used as proppant in oil and natural-gas wells. Proppant is a key ingredient in hydraulic fracturing, a controversial innovation that has unlocked significant oil and natural-gas reserves in North Dakota's Bakken Shale and other unconventional plays.
Oil and natural gas don't occur in large, underground caverns or lakes but in the pores of a rock. In a conventional reservoir, these pores are well-connected, allowing natural subsurface pressures to push oil or gas through the reservoir rock and into a well.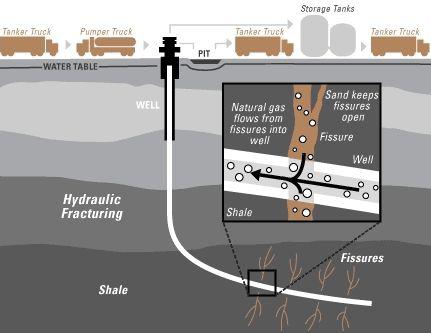 Source: Environmental Protection Agency
But shale reservoirs are different. Although these formations can contain large volumes of oil and natural gas, the pores in the reservoir rock aren't well-connected. The lack of sufficient natural fissures and cracks impedes the flow of hydrocarbons through the reservoir and into the well.
Hydraulic fracturing involves pumping a mixture of water, sand and a small amount of chemicals into the reservoir under tremendous pressure to crack the shale and create a path through which oil and gas can travel. The sand in fracturing fluid keeps these fissures open once the fracturing process is complete and the pressure is reduced. The sand literally props open the fractures created during this process-hence, the term "proppant."
Oil and gas producers use three main types of proppant: raw sand, resin-coated sand and ceramic.
Raw sand is by far the most commonly used proppant in the US, accounting for almost 80 percent of the market. Producers can't use just any type of sand for this application; the best proppants at least meet the American Petroleum Institute's (API) guidelines for crush resistance, size and purity.
Two varietals of API-grade sand have moved to the fore: Northern White and Brady Brown.
Producers consider Northern White the superior proppant and have traditionally paid a higher price for this varietal. The premium Northern White sand that Hi-Crush Partners produces can withstand between 9,000 and 12,000 pounds per square inch (PSI) of pressure and is generally more uniform in size than API specifications require.
Resin-coated sand improves the crush resistance of the raw material to up to 15,000 psi-the coating helps individual grains bond together-but this enhanced proppant also costs five to 10 times more than plain-old Northern White.
A manufactured product, ceramic proppant exhibits crush resistance of up to 20,000 psi but fetches a price that's 10 to 15 times the cost of an equivalent amount of Northern White sand.
Shares of CARBO Ceramics (NYSE: CRR) - a heavily shorted stock that we've long advised investors to avoid - have tumbled from a high of roughly $180.00 in mid-2011 to less than $70.00 today.
The reason for CARBO Ceramic's prolonged slide: In many of the hottest US shale plays, oil and gas producers increasingly prefer the raw sand produced by Hi-Crush Partners and U.S. Silica (NYSE: SLCA).
For example, upstream operator Pioneer Natural Resources (NYSE: PXD) has focused on reducing well costs and optimizing drilling efficiency to maximize returns on production in the Eagle Ford Shale, a liquids-rich play in southern Texas. This passage from the upstream operator's most recent 10-Q filing notes that the firm has reduced its use of ceramic proppant in favor of Northern White sand with little concession to well performance:
The Company's drilling activities in the South Texas area during 2013 continue to be primarily focused on delineation and development of Pioneer's substantial acreage position in the Eagle Ford Shale play. The 2013 drilling program has been focused on liquids-rich drilling, with only 10 percent of the wells designated to hold strategic dry gas acreage.

The Company completed 37 horizontal Eagle Ford Shale wells during the first three months of 2013, all of which were successful, with average lateral lengths of approximately 5,100 feet and, on average, 13-stage fracture stimulations. The Company plans to incur $575 million of drilling capital and utilize 10 drilling rigs in 2013 to drill approximately 130 Eagle Ford Shale wells. The Company plans to primarily use two Pioneer-owned fracture stimulation fleets during 2013 in the Eagle Ford Shale area.

The Company's drilling operations in the Eagle Ford Shale continue to have a focus on efficiencies. The number of wells drilled from pads, as opposed to single-well locations, is expected to increase from about 45 percent of the Eagle Ford Shale wells during 2012 to about 80 percent in 2013, reflecting that most of the Company's acreage is now held by production. Pad drilling saves the Company a significant amount of capital costs per well, as compared to single-well location drilling.

The Company has been using lower-cost white sand instead of ceramic proppant to fracture stimulate wells drilled in shallower areas of the field. The Company is expanding the use of white sand proppant to deeper areas of the field to further define its performance limits. Early well performance has been similar to direct offset ceramic-stimulated wells. The Company fracture stimulated 22 wells with white sand proppant in the first quarter of 2013, with significant capital savings per well. The Company is continuing to monitor the performance of these wells and expects that greater than 70 percent of its 2013 drilling program will use lower-cost white sand proppant.
Pioneer Natural Resources isn't the only major producer that's slashed well costs by reducing its use of ceramic proppant in favor or raw Northern White sand.
Continental Resources (NYSE: CLR), the leading operator in the prolific Bakken Shale, has reduced its well costs in the region through a combination of pad drilling and optimized fracture designs. As far back as 2010, the company noted that some firms in the area used excessive amounts of ceramic proppant. Management also repeatedly expressed a willingness to give up some well performance in exchange for lower costs.
Another major trend that favors Northern White sand: Oil wells tend to be shallower and have lower reservoir pressures than natural-gas wells, reducing the extent to which ceramic proppant can improve well results. Meanwhile, natural-gas prices have yet to recover to levels that would accelerate drilling activity in Louisiana's Haynesville Shale and other deep-lying basins that produce primarily natural gas.
Although the demand outlook for ceramic proppant remains uncertain, several developments should drive consumption of raw sand.
A widely cited report from the Freedonia Group predicts that the total number of onshore wells drilled in the US will increase only modestly over the coming decade, in part because producers will continue to favor liquids-rich basins over gas-focused plays.
And although producers have curtailed their drilling activity somewhat over the past few years, the length and complexity of the average well has increased significantly. At the end of 2005, the average well drilled in the US was roughly 5,500 feet long, compared to more than 7,000 feet by the end of 2010.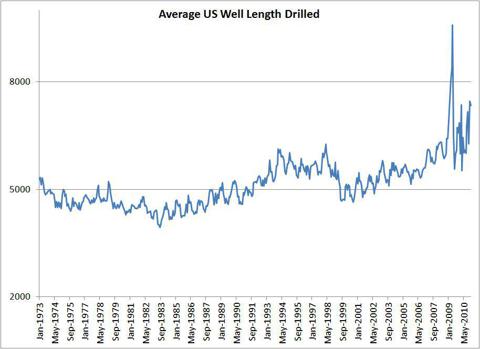 Source: Energy Information Administration
The extended laterals that predominate in unconventional basins involve even more fracturing stages. This trend, coupled with the emerging practice of re-fracturing completed wells, should ensure that the energy industry's consumption of proppant continues to grow. According to the Freedonia Group, the average US well will require more than 800 tons of proppant in 2021, compared to about 100 tons in 2006.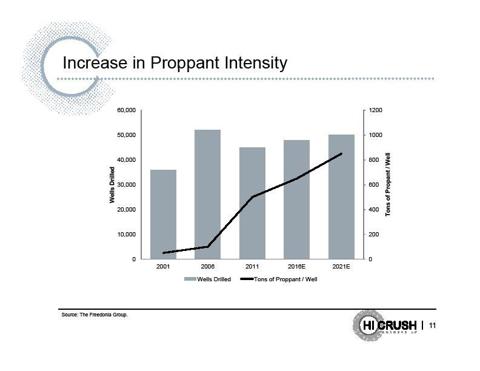 Source: Hi-Crush Partners, Freedonia Group
At the NAPTP conference last week, Robert Rasmus, Co-CEO of Hi-Crush Partners, described proppant as "the ultimate consumable;" to keep the fractures open, the sand must remain in the reservoir. That is, the producer aims to have as little of the proppant as possible flow back out of the well. And depending on the field and well design, the fracturing process can require more than 30 railcar loads of proppant.
The Freedonia Group's projections call for US proppant demand to double to more than 40 million tons by 2021; we expect consumption of Northern White sand to expand at an even faster pace as this varietal takes market share from ceramic proppants.
Crushing the Competition: Infrastructure Advantages
The vast majority of API-grade Northern White sand is produced from Wisconsin-based mines and a handful of other locations in the upper Midwest. Hi-Crush Partners' biggest mine-a 651-acre facility in Wyeville, Wis.-can produce up to 1.6 million tons of Northern White sand per year. At end of 2012, the site was estimated to contain about 54 million tons of recoverable sand reserves, suggesting a productive life of more than 30 years.
In addition, Hi-Crush Partners owns a preferred interest in the Augusta mine, a 1,187-acre project with about 1.6 million tons per year of total capacity and more than 48 million tons of proven reserves. The Augusta facility is owned by the partnership's sponsor, an entity controlled by the private-equity firm Avista Capital Partners. Under the terms of the deal, Hi-Crush Partners receives $3.75 million in cash each quarter from sales of proppant produced at Augusta. This preferred interest in the mine will convert to a 20 percent ownership stake in 2018.
Hi-Crush Partners' mining operations enjoy two major competitive advantages: industry-leading production costs and superior transportation infrastructure.
In the 12 months ended March 31, 2013, Hi-Crush Partners reported production costs of about $15.48 per ton of Northern White sand. At the NAPTP conference, the partnership's co-CEO revealed that an analysis of the MLP's main public and private competitors suggests that Hi-Crush Partners has the industry's lowest production costs-roughly 50 percent below the industry average. With high-quality proppant sand fetching more than $60.00 per ton, Hi-Crush Partners' fat profit margins stand out.
We also like the MLP's transportation advantages. Hi-Crush Partners has three 5,000-foot railway spurs that connect its Wisconsin mines to Union Pacific Corp's (NYSE: UNP) network. These facilities are designed to accommodate unit trains that can be more than 80 cars in length.
Unit trains receive priority access to Union Pacific's rail network and travel without stopping to switch or add cars. This allows unit trains to move faster and more efficiently-think of motorists traveling in the high occupancy vehicle (HOV) lanes on highways and interstates. This advantage allows Hi-Crush Partners to move its product faster, more reliably and at a lower cost per ton than producers that use "manifest" train service.
Hi-Crush Partners further enhanced its infrastructure advantages with the recently announced acquisition of D&I Silica LLC for $125 million in cash. D&I Silica operates logistics assets that include a network of rail-served terminals near the Marcellus Shale and in the upper Midwest, near the MLP's producing mines.
Prior to this transaction, less than 10 percent of Hi-Crush Partners' proppant sales were to customers in Appalachia's red-hot Marcellus Shale and Utica Shale. D&I Silica's established relationships with producers and railroads in this region should enable the MLP to gain share in a rapidly growing market.
Liquids-rich portions of the Marcellus Shale offer producers some of the highest internal rates of return available in unconventional basins; this acquisition positions Hi-Crush Partners to benefit from robust drilling activity in this region. Although the liquids-rich Utica Shale is in an earlier stage of development, well permitting has accelerated.
Hi-Crush Partners estimates that D&I Silica owns two times as many terminals and distribution outlets in the Utica Shale as its nearest competitor and three times as many as its closest rival in the Marcellus Shale.
Proppant Pricing and Contracts
Although the long-term outlook for proppant and Northern White sand demand is sanguine, prices in the spot market, where tonnage is available on an ad hoc basis, can fluctuate based on prevailing energy prices, drilling activity and customers' inventories.
This volatility is incompatible with Hi-Crush Partners' goal of growing its quarterly distribution at a sustainable rate. Accordingly, the MLP sells the majority of its output under long-term, take-or-pay contracts which mandate that buyers pay a minimum amount regardless of whether they use all the proppant they're obligated to purchase.
As of mid-May, Hi-Crush Partners' outstanding contracts had an average duration of about three years remaining. At the end of 2012, take-or-pay agreements covered about three quarters of the projected annual production from its Wyeville facility and guaranteed the firm an average price of $64.00 per ton.
Like most of its peers, Hi-Crush Partners doesn't disclose a great deal of detail about the spot market for proppant because of regional pricing variations. However, industry reports indicate that the price Northern White sand roughly doubled to more than $60.00 per ton between 2001 and 2011, reflecting rising demand for proppant as producers ramped up drilling activity. Supply constraints were equally important: Only a handful of mines produce API-grade sand, and developing a new mine takes years.
Rising spot prices have attracted new entrants to the business, and, as a consequence, supplies have expanded in line with demand growth over the past two years. But spot prices for Hi-Crush Partners' Northern White sand remain healthy.
In the first quarter of 2013, the MLP sold 312,000 tons of Northern White sand at an average price of $62.76 per ton. We also know that about 224,000 of these tons were sold under contract at $64.00 per ton, implying that Hi-Crush Partners collected about $58.00 to $59.00 per ton on the roughly 88,000 tons sold in the spot market.
Management also provided some color on developments in the spot market in a conference call to discuss first-quarter results:
As you know, Marc, we don't make a lot of comments on spot prices. However, you can work backwards the numbers we gave you today to get a rough idea, where they are or where they were on average in the quarter. Again, spot prices vary to a great degree based on timing and by basin. And that - keep in mind that with Wyeville we're fully contracted, so that any spot sales will be coming out of Augusta, which isn't owned by the public unitholders. We will say that we've seen pricing firming during the quarter and we continue to see that in the second quarter as well.
Management suggests that although proppant prices haven't recovered to the highs hit in late 2011, they have bottomed out and are gaining ground. This commentary gibes with the stabilization and slight uptick in the US onshore active rig count thus far in 2013.
The entrance of new producers to the market is unlikely to result in a supply overhang; many of the smaller operators are saddled with much higher cost structures -- their margins would be severely squeezed before long. Meanwhile, weaker prices in the spot market have reduced the appeal of developing greenfield mines.
Hi-Crush Partners and other major proppant producers have asserted that difficulties securing the appropriate permits and a lack of adequate rail infrastructure should limit the opening of new mines and an influx of new supply.
A prolonged decline in the price of fracturing sand would be a major headwind for Hi-Crush partners, but the MLP's take-or-pay contracts, subordinated-unit structure and the recent stabilization and recovery in the price of Northern White sand protect the distribution in the near term.
At the NAPTP's recent investor conference, management expressed confidence that Hi-Crush Partners would be able to ink additional take-or-pay contracts to cover its 2014 output. The firm's long-term goal is to have about 90 percent of its production sold under these deals, with the remaining 10 percent destined for the spot market.
Sponsorial Support
Hi-Crush Partners' sponsor, private-equity outfit Avista Capital Partners, owns about 58 percent of the MLP's outstanding units, including all the subordinated units.
A strong sponsor is invaluable to an MLP, especially when that support includes a stream of timely drop-down transactions in which the parent sells assets to the limited partner-often at prices that lead to an immediate increase in the quarterly distribution. We've covered this growth mechanism on several occasions in Energy & Income Advisor, including Profit from General Knowledge.
In some cases, the general partner steps in to provide other forms of assistance. Hi-Crush Partners' sponsor has proved its worth on several occasions.
Thus far, the MLP has lived somewhat of a vexed existence. Even after the partnership downsized the number of units sold in its initial public offering (IPO), the price fell several dollars short of the projected range.
The unit price tumbled by more than 22 percent on Nov. 13, 2012, after the MLP announced that one of its major customers, Baker Hughes (NYSE: BHI), had opted to terminate its long-term, take-or-pay supply contract.
Baker Hughes had privately declared its intention to end the deal on Sept. 19, 2012, and the two companies spent the next two months trying to reach a compromise-to no avail. With the oil-field services giant accounting for about one-fifth of Hi-Crush Partners' revenue projections, the loss dealt the firm a substantial blow that one analyst called "disastrous."
To worsen matters, Hi-Crush Partners' long-term contracts were one of the main selling points for investors; Baker Hughes reneging on its agreement prompted the market to question the enforceability of the MLP's remaining contracts.
Hi-Crush Partners has sued Baker Hughes, and the two companies are still embroiled in litigation. The MLP alleges that the services firm improperly exited the contract to dodge the price and volume commitments that were part of the deal. Based on publicly available information, Hi-Crush Partners' case appears to have merit.
The most important takeaway from this debacle is how the MLP and its sponsor moved quickly to protect unitholders.
In the first quarter of 2013, Hi-Crush Partners reported distributable cash flow and earnings before interest, taxation, depreciation and amortization (EBITDA) that fell short of the projections in its prospectus. One of the biggest contributors to this shortfall was the $3.5 million in lost revenue from the contract with Baker Hughes. Nevertheless, the MLP covered its first-quarter distribution by 112 percent-118 percent if you exclude the one-time costs associated with legal action against Baker Hughes and a small acquisition.
More important, Avista Capital Partners in late January sold Hi-Crush Partners a 20 percent preferred interest in its Augusta mine, entitling the MLP to a quarterly payment of $3.75 million-more than enough to offset lost revenue from the abrogated contract.
The recent renegotiation of a contract with one of Hi-Crush Partners main long-term customers likewise demonstrates the appeal of a supportive general partner.
Under the revised deal, Hi-Crush Partners agreed to cut proppant prices by less than 10 percent from April to December 2013. In exchange, the new contract incentivizes the customer to increase the amount of proppant purchased.
As part of the agreement, the sponsor has shifted 150,000 tons of contracted supply from Augusta to Hi-Crush Partners' Wyeville facility in both the second and third quarter, effectively assuming any pricing risk.
By transferring contracts covering 300,000 tons per year of production from Augusta to Wyeville, the sponsor has ensured that 100 percent of the MLP's expected sand production in the back half of 2013 covered by take-or-pay deals.
We're also encouraged by the contract amendment itself, which should lead to higher sales volumes. This amicable renegotiation also suggests that the falling out with Baker Hughes was an isolated incident. Management acknowledged as much during a conference call to discuss first-quarter results:
Analyst: I guess just a quick question regarding the lower price for a longer term contract amendment at Wyeville. I guess that was for just one of your three customers. Can you expand on whether or not similar conversations were had with some of your other customers, or potential clauses within your contracts that will as a result be triggered of the changes here?

Co-CEO James M. Whipkey: No, Marc. This is Jim. It won't affect any of the other contracts, and we have not had additional discussions with our other customers. This is an important customer. It's a relationship that we value going forward. We think it was done in the spirit of maximizing the chances of a long-term multiyear relationship, and that it's good for - frankly it's good for both parties.
We expect Avista Capital Partners to continue supporting Hi-Crush Partners' distribution growth, perhaps by selling an ownership stake in its August facility to the MLP once its secures additional long-term supply contracts. The sponsor also owns several undeveloped mine locations in Wisconsin that could be dropped down to Hi-Crush Partners after being incubated at the parent level.
Over the long term, Avista Capital Partners' incentive distribution rights (IDR) give the sponsor ample reason to drive distribution growth at the MLP level.
The sponsor receives no IDRs from the MLP until the quarterly distribution paid to investors exceeds $0.54625 per common unit. When Hi-Crush Partners' payout reaches the high splits, Avista Partners will receive 50 percent of any incremental cash flow available for distribution. (See MLP Basics: Incentive Distribution Rights Explained.)
Although Hi-Crush Partners has more business risk than many midstream MLPs, the market punished the stock too harshly after the announcement of the terminated contract. The long-term supply-demand outlook appears favorable and pricing in the spot market has improved.
Disclosure: I have no positions in any stocks mentioned, and no plans to initiate any positions within the next 72 hours. I wrote this article myself, and it expresses my own opinions. I am not receiving compensation for it (other than from Seeking Alpha). I have no business relationship with any company whose stock is mentioned in this article.