Unlike many of the stocks in our recent articles, this week's stock isn't a high dividend stock. In fact, we can't even argue that it's totally undervalued ... yet, and its margins and Management Efficiency ratios are below its peers at present, but that may change. What caught our eye is this company's savvy commitment to market to 2 disparate demographic groups in such a way as to capitalize on future trends that could foster explosive growth.
Another attraction is that it goes ex-dividend this week (see "Dividends" section below).
Company Profile: Incorporated in 1924, Hooker Furniture Corp., (NASDAQ:HOFT), is a micro-cap stock, ($173M market cap), based in Martinsville, Va. HOFT is an importer of residential wood and metal furniture and a manufacturer and importer of upholstered furniture.
Major wood furniture categories include home entertainment, home office, accent, dining and bedroom furniture in the upper-medium price points sold under the Hooker Furniture brand, and sold at moderate price points under the Envision Lifestyle Collections by Hooker Furniture brand.
Youth bedroom furniture is sold under the Opus Designs by Hooker Furniture brand. Hooker's residential upholstered seating companies include Hickory, N.C.,-based Bradington-Young, a specialist in upscale motion and stationary leather furniture, and Sam Moore Furniture, specializing in upscale occasional chairs with an emphasis on cover-to-frame customization.
Hooker operates within the medium to upper medium price range for a broad distribution network of retailers that includes independent furniture stores, department stores, specialty retailers, national and regional chains and catalog merchants. (Source: Hooker Furniture website)
Opportunity: Did you know that the Millennials, ages 18-37, are the largest demographic group in U.S. history? Even bigger than the Boomers? According to a recent article in Barron's, this group currently numbers around 86 million, and may increase to nearly 89 million by 2020, due to immigration. In fact, this group is 7% larger than the Boomer generation - they're currently over 25% of the US population, and we all know how dynamically the Boomers impacted business and industries as they aged. The Millennials have already impacted apartment demand, and should move on to give the housing industry a lift as well as they progress into their higher earning years. As housing goes, so goes home furnishings, which brings us to Hooker Furniture's 2 new ventures.
Hooker Furniture has invested in 2 new market segments, and company President Alan Cole discussed these new ventures on the 6/5/13 Q1 2014 earnings call:
"we are addressing new customer groups on each end of the age and life stage spectrum with our new business ventures."
1. Millenials: "Our new Homeware product line, which will launch on 2 eCommerce websites in late summer, target young millennials in the early stages of their careers. The Homeware line offers fresh, fun, fashionable furnishings that are partial delivery shippable and easily assembled in the home with an innovative, patented connector system requiring no tools. Our website and social media venues are set to go live in August. Our initial focus has been on partnering with the largest home furnishings e-tailers, and we have successfully engaged the top 2 players and are planning a late summer eCommerce launch."
2. Boomers: "On the other end of the age spectrum, our new H Contract brand launched in April, caters to retirees moving into senior living facilities and retirement communities whose ranks are projected to triple in the next 20 years. Our goal is to supply upholstered seating and Casegoods to upscale senior living facilities throughout the country." Hooker added 50 new veteran salespeople to rep this new line.
In addition to these two new ventures, Hooker has been experiencing strong growth in its Sam Moore division, and has been hiring new workers, as explained by VP Delgatti during the earnings call:
"At Sam Moore, we continue our brisk pace of growth with shipments up 14% and orders up nearly 20% for the quarter. The sustained growth at Sam Moore has really been consumer-driven. We have picked up additional floor space on current retail floors and expanded our distribution as we have opened up numerous new accounts in the last few years."
"Our challenge at Sam Moore continues to be the ramp-up of production capacity and improving manufacturing productivity. We are making some progress in improving service levels and fulfillment times to our customers, but it will be several months before we show significant improvement. Last quarter, we mentioned the fact that we were on the process of training 22 new manufacturing employees. We are still hiring. In fact, we have just hired 7 new upholsterers.
Earnings Forecasts: HOFT's fiscal year runs through January, so the 2014 forecast time period isn't as far in the future as it appears. At present, it appears that HOFT is undercovered, as there are only 2 analysts covering it - BB&T and Sidoti. Although these analysts' estimates call for 15% EPS growth for fiscal 2014, they're estimating even more robust growth for fiscal 2015, which makes HOFT look undervalued on a 2015 fiscal year PEG basis.

Most recent quarterly earnings: For its 1st fiscal quarter, (February 4, 2013 to May 5, 2013), HOFT reported net income of $2.1 million, or $0.20 per share, up 108% vs. its fiscal 2014 first quarter net income of $1.0 million, or $0.09 per share. The big increase in net income was driven by higher sales across all operating units, decreased product discounting for casegoods, and lower product costs and higher operating profitability for the domestic upholstery operations of Bradington-Young and Sam Moore. HOFT reported net sales of $56.3 million, up 8.8%, for its fiscal 2014 first quarter, vs. $1.0 million, or $0.09 per share, during last year's first quarter.
Net sales for the first quarter increased $4.6 million, or 8.8%, compared to $51.7 million for the same period a year ago. Average selling prices increased in both the company's segments, casegoods and upholstery, and were partially offset by lower unit volume in the company's casegoods segment. The casegoods unit volume decline was primarily due to lower promotional discounting compared to the prior-year quarter.
Valuations vs. Share Performance: Here's the rub - HOFT's EPS grew over 35% for fiscal 2013, (year ended 2/3/13), but its share price has zoomed up over 56% in the last 52 weeks, resulting in a P/E of 20.19, which is higher than its peers. It does, however, look cheaper than its peers on a Price/Sales and Price/Tangible Book basis.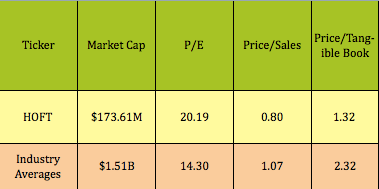 Dividends: Although it can't boast about any actual dividend growth in the past 5 years, HOFT did maintain its quarterly dividend right through the recession, at $.10. HOFT goes ex-dividend this week, on June 12, 2013:

Short-Term vs. Long Term: So, with the share price up over 56% in the past year, do you buy it now, for ongoing dividend income and long term price appreciation ... or do you want to hedge your bet, and take a short-term perspective? One immediate caveat is that HOFT's slowest season is the summer. However, the fall is its strongest selling season, and its new Homeware line goes live in August.
Short-Term Options Upside Potential And Breakeven: Even though it's a micro cap, HOFT does have options available. They're thinly traded and there's currently a big bid-ask spread on the out-of-the-money November 2013 $17.50 calls.
Scenario 1 (Static): The current bid at press time was $.25, a bit higher than HOFT's $.20 dividends during this period, but the ask was $1.00, and there were more bids than asks, so you may be able to sell these calls for a higher price than $.25. At the $.25 bid price, the static upside gain would be $.45/share, ($.25 call options + $.20 in dividend income). Your downside breakeven is $15.70, which is 29% above HOFT's Book Value/Share of $12.19.
Scenario 2: The out-of-the-money $17.50 strike price would also allow you to participate in up to $1.35 in share gains, if the shares get assigned, for a total potential assigned gain of $1.80/share, an 11.14% nominal yield, which equals an annualized yield of over 25%. Even if the shares get assigned before the ex-dividend dates, you'd still make $1.60/share, a 9.91% nominal yield.
(You can find more details for this and over 30 other trades in our free Covered Calls Table):

Long-Term Potential Upside: If HOFT does achieve the average projected earnings for 2014 and 2015, and IF it still commands a 20.19 P/E, it appears that its price could reach into the low $20s. As with many long-term future projections, these "ifs" can be "iffy," but HOFT's 20.19 P/E isn't that high, considering its 5-year P/E range of 12.94 to 46.63. With a book value of $12.19, HOFT is currently 24.5% above book value, so, if you feel that HOFT wouldn't fall below book value, you have a downside risk of 24.5%, and upside potential of 46.25%, plus 2.48% in annual dividends = 48.73% total upside potential.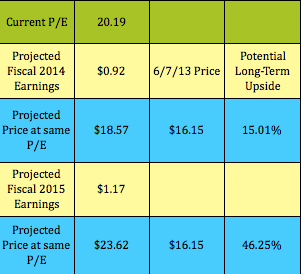 More Industry Comps: HOFT is debt-free, and has managed to finance its expansion from its earnings. As we mentioned earlier, HOFT's margins and management efficiency ratios lag that of its peers. However, if it can continue its current momentum, that should improve: Q1 2014 Gross profit increased 27.4% to $13.9 million, or 24.7% of net sales, as compared to $10.9 million, or 21.1% of net sales, in the prior-year period, and operating income increased 111.6% to $3.2 million, or 5.7% of net sales, from $1.5 million, or 3% of net sales, in the prior year period:

Disclosure: Author had positions in HOFT at the time of this writing.
Disclaimer: This article was written for informational purposes only. Author not responsible for any errors, omissions, or actions taken by third parties as a result of reading this article.
Disclosure: I have no positions in any stocks mentioned, but may initiate a long position in HOFT over the next 72 hours. I wrote this article myself, and it expresses my own opinions. I am not receiving compensation for it (other than from Seeking Alpha). I have no business relationship with any company whose stock is mentioned in this article.