The diversified communication industry has achieved exponential growth despite the prevalence of the economic downturn, as cell phone usage continued to increase immensely over the last decade. Wireless technologies and services have been vital in enabling the communication explosion to transform the lives of the people and economies.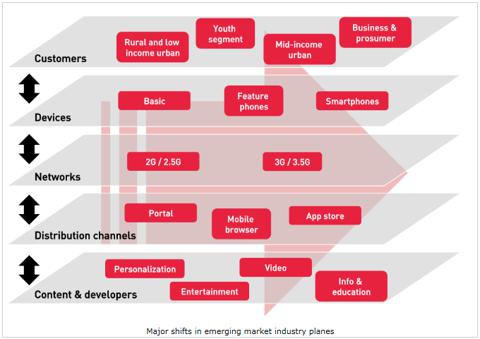 *Source = Ovum
Industry Analysis
The industry highly relies on the success of the wireless communications business. As the U.S. industry touches its market saturation point, the companies will have to start concentrating on a variety of ways to achieve a greater number of cell phones per user and per household.
As of now, the industry is near achieving saturation in the developed market, although there is still a great deal of potential in the untapped emerging markets. Data services, broadband, content, and applications such as mobile banking, which are still in their formative years, are projected to be the driving force of growth momentum for the communication industry into the future.
Stock Price Performance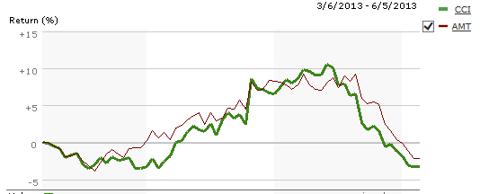 *Source = Morningstar
Crown Castle International (NYSE:CCI) was trading below its rival, American Tower (NYSE:AMT), until after April 24, 2013, when the company declared its first-quarter FY13 financials. Though the revenue growth exhibited by Crown Castle International backed by its rental revenue was superior to its peer, American Tower (AMT), the company was unable to translate this progress into the bottom line, thus, causing the share price to slide down once again.
Financial Performance Analysis
Crown Castle International

American Tower


*Source = Company Financials
Crown Castle International , the principal cell phone tower company of U.S., leases antenna space to wireless service providers. With regard to its amalgamation with Global Signal in 2006, it has slightly more towers than its top challenger, American Tower.
Cell sites draw revenue from tenants who employ the infrastructure. Owing to the regulatory constraints on constructing new towers (particularly in the U.S.), growth is chiefly directed by adding tenants to existing towers. Thus, compelling tower companies to remain focused on strong cash flow from incremental business per tower.
Crown Castle International's net revenue escalated by 34.13% in Q1FY13 compared to the first quarter of the prior year. This is attributable to 23.69% growth of site rental and 129.9% boost in network service sales. Leasing activity flourished as all four major carriers in the U.S. upgraded their LTE networks and capacity enhancements. Furthermore, application volume, both amendments and new tenant applications, increased more than twice over the first quarter of the previous year.
On the contrary, American Tower (AMT) posted year-on-year net revenue growth of 15.25% as its network development services showed a twofold improvement but the raise from rental area was only 13.66% compared to Crown Castle International's 23.69%.
Gross margin of Crown Castle International declined by almost 7% in Q1FY13 compared to Q1FY12. The site costs had increased to 28.86% from 24.7% in the last year, as a percentage of sales. Network services followed the same pattern and its costs in the recent quarter amounted to 62.08% of revenue generated weighted against 58.14% in the preceding year. Alternatively, American Tower was able to roughly sustain its gross profit margin, with costs mounting inline with revenue.
EBITDA margin plunged from 34.38% in Q1FY12 to 27.46% in Q1FY13 for Crown Castle International as the company's efforts turned out to be futile in translating its extraordinary revenue growth into earnings growth. The company had realized a $36 million loss on debt retirement associated with the completion of the redemption of the 9% senior notes and 7.75% senior secured notes along with a sizeable provision created for income taxes.
Comparable Analysis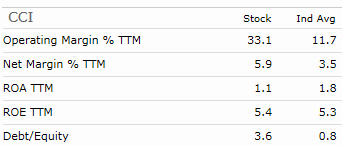 *Source = Morningstar
Holistically, the key statistics of Crown Castle International are depicting it to be a cut above the industry. To begin with, operating margin and net margin of Castle International of 33.1% and 5.9% matched against industry's 11.7% and 3.5% respectively reiterates the fact that the corporation was able to generate greater income per $ of sales. ROA of Crown Castle International is below industry average while ROE is slightly above the industry. This depicts the fact that the company is utilizing its resources with lesser efficacy. Crown Castle International is exceptionally overleveraged whilst the industry employs leverage to a much lower extent. This adds to the risk of equity holders who in turn demand higher return on invested equity. Thus, wiping out any benefits of tax savings.
Future Outlook
The increased application volume of Crown Castle International is projected to translate into additional site rental revenue during the remaining quarters in 2013. However, its margins are persistently paring down as costs continue to proliferate with higher rigor than sales. Additionally, it has taken on exorbitant financial risk in contrast to the industry. The outlook of the company is rather bleak for an equity investor in spite of the bullish outlook for this industry in emerging markets as the debt holders have a superior claim. In my opinion, the stock ought to be put up for sale.
Disclosure: I have no positions in any stocks mentioned, and no plans to initiate any positions within the next 72 hours. I wrote this article myself, and it expresses my own opinions. I am not receiving compensation for it (other than from Seeking Alpha). I have no business relationship with any company whose stock is mentioned in this article.