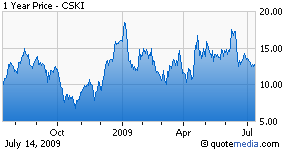 China Sky One Medical (NSDQ: CSKI) reported that its new Peng Lai Jin Chuang Pharmaceutical Company subsidiary received an SFDA renewal of its Good Manufacturing Practices Certificate. The certificate is good for five years.

China Sky One closed its purchase of Jin Chuang in September 2008. For $7.1 million, China Sky One acquired 20 SFDA approved drugs plus production and operating rights. China Sky One took advantage of the GMP announcement to point out that, so far, the purchase has been very profitable. In the first quarter of 2009, Jin Chuang products produced $2.1 million in sales, representing almost 9% of China Sky One's total revenues in the quarter.

In a statement, Mr. Yan-qing Liu, Chairman and CEO of China Sky One Medical said production has been running smoothly at Jin Chunag since the acquisition. China Sky One intends to introduce more new medicines from the Jin Chuang facility, which will further improve its productivity, he added.

Disclosure: none.