Since writing "Macau on Lake Erie" (http://seekingalpha.com/article/666341-macau-on-lake-erie) almost a year ago, we have seen Lakes Entertainment (LACO) rise approximately 29%. After visiting their newly opened Rocky Gap Casino Resort this week and re-visiting our own financial model, we believe this Lake is swimming in more opportunity than ever.
To refresh our readers, LACO comprises five primary drivers of value:

Below we share a progress report on how the company has performed since our original article, how we view the business value now, and what catalysts are coming in the near future: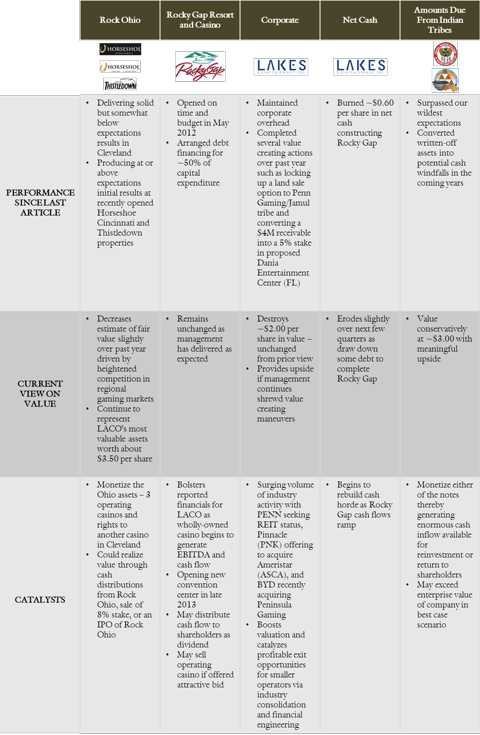 Our sum of the parts valuation is as follows: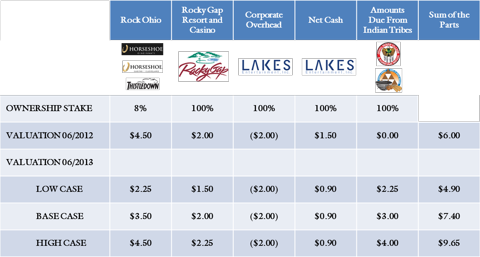 A year ago, we thought the stock could potentially double from under $3.00 to roughly $6.00; today, we believe the stock is worth more - potentially over $7.00 per share in our base case. The next catalysts are poised to make waves and propel the stock higher as the tide continues to rise.
Disclaimer: Esplanade Capital LLC and its affiliates own stock in Lakes Entertainment and may buy or sell the stock at any time. Our estimates and multiples are estimates and may change considerably. Moreover, the timing of potential cash flows from the Ohio and other assets is uncertain.
Disclosure: I am long LACO. I wrote this article myself, and it expresses my own opinions. I am not receiving compensation for it. I have no business relationship with any company whose stock is mentioned in this article.