Less than a week after Fed pundits first suggested the stock sell-off was because one, share prices were doomed by rising interest rates and two, fears of an imminent "taper" in bond purchases by the central bank, we now hear that the recent rally is because the latest employment report means that the economy continues to struggle and the taper has been "put on hold."
Pimco's Bill Gross for example, who suggested the three-decade bull market in bonds ended this past April, said that "the Federal Reserve is unlikely to reduce its asset purchases after the unemployment rate climbed from a four-year low in May."
I think analysts are wrong on both counts.
First, only a few days ago, I wrote an article devastating the first argument that higher interest rates would hurt stock prices.
What about the second claim? Has the taper been put off?
It is very easy to answer that question. If the taper was put off,
bond prices would be rising as interest rates fell back due to the prospect of further easing. OOPS! NOT! As the iShares long-term bond ETF (NYSEARCA:TLT) shows, bond prices have fallen right back to their lows of last week. If economic weakness suggested the Fed was cooling their jets, bond prices should be hitting new highs, not new lows.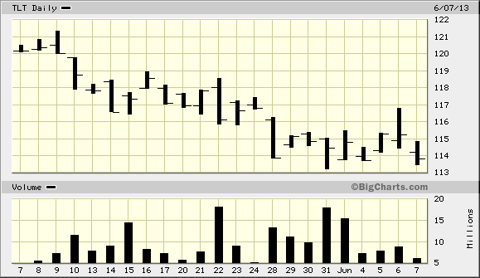 Click to enlarge
An even stronger argument can be made by looking at TIPs, or inflation indexed bonds. Easy money means higher inflation and should pump up demand for bonds, which are protected against the demon of inflation. Well, there is no such demon. iShares TIPs bond ETF (NYSEARCA:TIP) has continued to fall.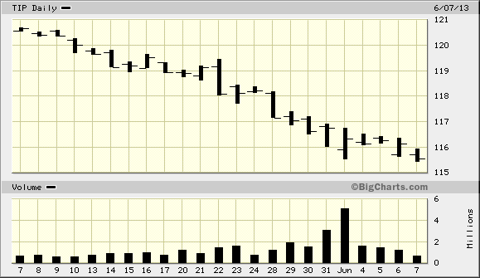 Click to enlarge
Finally, the ultimate sky-is-falling asset, Gold, has resumed the sell-off that began last autumn. In a period of rising rates and reduced risk, who wants to own a hunk of metal that pays no interest and costs more to carry? Not owners of the SPDR Gold ETF (NYSEARCA:GLD).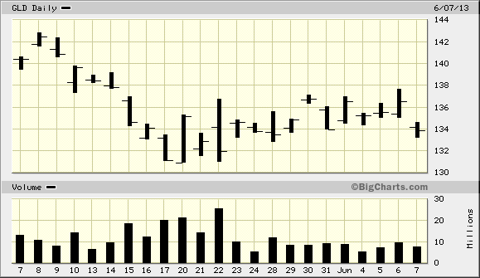 Click to enlarge
In short, those who argue this recent rally is because the probability of a "taper" has fallen have it completely backwards. You can listen to the media squawkers, or listen to those who put their money where their mouths are.
Tighter money is on the way. The economy continues to grow, despite the recent lull, and stronger growth lies ahead.
Disclosure: I am long SPY, XLV, IHI. I wrote this article myself, and it expresses my own opinions. I am not receiving compensation for it (other than from Seeking Alpha). I have no business relationship with any company whose stock is mentioned in this article.