Invesco Mortgage Capital Inc. (NYSE:IVR) is a REIT that acquires, finances and manages residential and commercial mortgage backed securities and mortgage loans. Its objective is to provide good returns to customers primarily through dividends and secondarily through capital appreciation. Its portfolio includes Agency RMBS, Non-Agency RMBS, CMBS and residential and commercial mortgage loans. IVR is externally managed and advised by Invesco Advisers Inc., a subsidiary of Invesco Ltd. (NYSE:IVZ) - a leading independent global investment management company.
The mortgage REIT sector has been slaughtered lately as mortgage rates and the underlying US Treasury long bond yields have risen quickly. Mortgage REITs tend to lose book value under such conditions. Plus there is the scare that the bond yields and mortgage rates will continue to go up rapidly, especially if Fed "tapering" of QE is imminent.
Still it is becoming more and more clear that such a scenario is not playing out. The yield of the 30-year Treasury Bond hit a high on May 28, 2013, of 3.32%. It has since fallen back to 3.21% as of this writing June 7, 2013. The high in March 2013 was 3.26%, and for much of March the yield was above 3.15%. Hence the current 3.21% does not represent a huge rise in the long bond yield upon which many mortgage rates are based. Still the 30 year fixed-rate mortgage is listed as 4.06% on Yahoo Finance today, June 7, 2013, versus a May 30, 2013, close of 3.81% (a 25 bps difference). Apparently there is a fear and/or volatility premium being added in now. Perhaps the Freddie Mac weekly Primary Mortgage Market Survey data shows this best (see table below).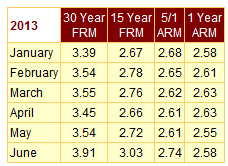 The June data from the above table is clearly a spike upward for 30 year fixed rate mortgage rates (3.54% in May to 3.91% so far in June or +37bps).
The primarily Agency fixed rate RMBS investing mortgage REITs such as American Capital Agency Corp. (NASDAQ:AGNC) and Western Asset Mortgage Capital Corp. (NYSE:WMC) are probably going to lose a not insignificant part of their book value due to this. They are hedged against such rises, but the hedging does not completely cover their losses. IVR should navigate its way through this mess in much better shape due to its more diverse portfolio structure (see below).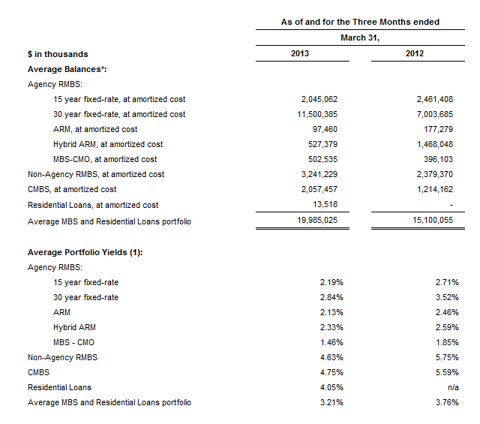 In terms of equity investment the Agency RMBS and the non-Agency RMBS are nearly on a par as the non-Agency RMBS are much less levered. Plus there are CMBS, which are also much less levered. Since these latter two are bought at huge discounts to face value, they appreciate as the real estate markets recover price and liquidity. The Case-Shiller 20-city index was up +10.9% for March. They also appreciate as mortgage rates rise to get closer to the actual rates of those loans. This action increases the net interest spreads earned.
In other words, the non-Agency RMBS and the CMBS will outperform Agency RMBS in this environment. This means that IVR should have a relatively good quarter for Q2 2013. It may or may not lose book value. There will likely be losses in Agency RMBS book value, but there likely will be gains in non-Agency RMBS and CMBS book values. The good news is that for Agency RMBS, non-Agency RMBS and CMBS the net interest spreads are likely to go up. This means more net interest income. This means more money to pay dividends with. AGNC and WMC will likely see this too, but they will likely have big book value losses. IVR will earn more money to pay dividends without having a large book value loss in Q2 2013. The following table compares IVR's book value performance from Q4 2012 to Q1 2013 to that of AGNC and WMC.
| | | |
| --- | --- | --- |
| Stock | Book Value Loss In Q1 2013 | % Book Value Loss in Q1 2013 |
| IVR | -$0.41 | -1.97% |
| AGNC | | -8.57% |
| WMC | | -10.38% |
I know I would much rather take the smaller book value losses presented by IVR in Q1 2013.
From the movement of mortgage rates up in Q2 2013 so far, it would appear that the book value losses for Q2 2013 for all of these companies will likely all be in roughly the same ballpark, although all should benefit from higher net interest spreads. In other words, all should have more money to pay dividends with, although the outcome of participation or non-participation in the dollar roll market may have significant impact on even this. AGNC's large amount of dollar roll participation is very worrisome in this case. We will have to wait to see data to see how well they navigated that area of trouble in Q2.
The following chart of IVR's Q1 book value changes may illustrate this point better than any words I write.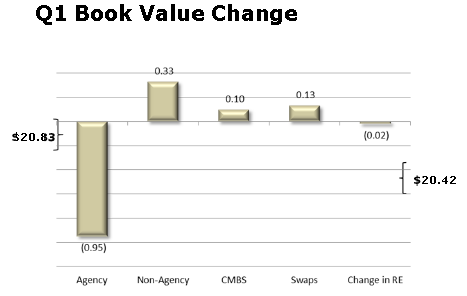 You can see that IVR's Agency RMBS' book value took a big loss in Q1 2013, but IVR gained book value in other categories. For primarily Agency RMBS investors, there is only this one category - the one with the big loss.
IVR's net income has also been very steady (see chart below).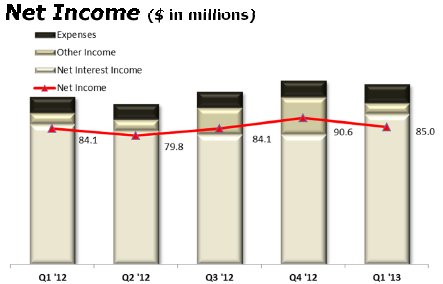 This means it should be able to maintain its dividend, especially with the likely increasing net interest spread (net interest income) in Q2 2013.
In its currently oversold state with a Price/Book ratio of just 0.93, IVR is a buy fundamentally. It has been showing it can navigate the treacherous waters of the ever changing Fed policy and real estate markets well.
The two year chart of IVR provides some technical direction to this trade.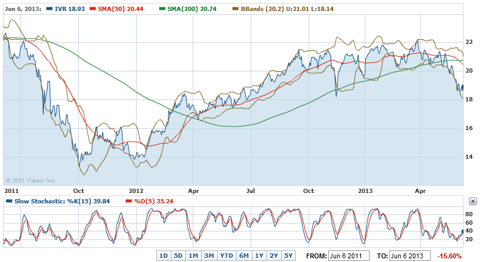 The slow stochastic sub chart shows that IVR is near oversold levels. That main chart shows that IVR seems to be starting a downtrend. Both its price line and its 50-day SMA are now below its 200-day SMA. Some might consider this a sell signal. However, the fundamentals and the dividend should pick this stock up. It does not have the huge problems of the primarily Agency RMBS mortgage REITs. And I did not even deal with extension risk above. Yet it has been punished equally. This seems to be due to it membership in the mortgage REIT sector.
Now that a lot of damage has already been done to the mortgage REIT sector, astute investors will note that all mortgage REITs are not the same. Some will perform better in the current environment. In fact some have been performing better. IVR is one that has, and it deserves to be bid up on its performance. One cannot control all the quirks of the stock market, but IVR looks like a solid investment now, especially with its near 14% yield. It is a buy. The average analyst recommendation is 2.2 (a buy). It has had some recent insider buying. The company has faith in itself. It is a worthy investment.
The only caveat is that no one is really sure what the overall market or the overall economy is going to do. Therefore it may make sense to average into IVR over the next year or so. However, if you are an active trader, it may make sense to get more fully into IVR now.
NOTE: Some of the fundamental financial information above is from Yahoo Finance.
Good Luck Trading.
Disclosure: I have no positions in any stocks mentioned, but may initiate a long position in IVR over the next 72 hours. I wrote this article myself, and it expresses my own opinions. I am not receiving compensation for it (other than from Seeking Alpha). I have no business relationship with any company whose stock is mentioned in this article.