When one thinks of gambling "sin stocks," one ordinarily thinks about large casino stocks. But casino resorts are what they are in part due to the availability of gambling related machines and hardware. I am going to look at a few of the leading companies in that industry today.
WMS Industries - Independence at an end
We are likely approaching the last time I will be reporting on WMS Industries (NYSE:WMS-OLD), the former Williams Electronics. It has agreed to be acquired by Scientific Games (NASDAQ:SGMS) for $26 per share, plus the assumption of WMS' modest debt. The deal is scheduled to close by the end of this year. On its own, WMS is having a dismal fiscal year, which ends June 30. For this year, the company, no doubt with distracted management, earnings are likely to end at about $0.90 per share, compared with fiscal 2012's $1.31 per share. Helping drive earnings lower are additional measures the company is taking to drive up revenues, which remain well below last decade's peak. WMS' stock has flat lined the past few months at within three percent of the $26 price. There is virtually no upside, though there is downside if the deal collapses. I see no reason to get invested in WMS.
Scientific Games - Can the acquisition of WMS infuse new energy?
As for Scientific Games, this company also has had a rough time of it and has not been profitable for the past 12 months. Its first quarter of 2013 was typical, as versus the year ago quarter revenues were down $12 million, but several expenses, most particularly GS&A, were $5 million higher. As a result, the company lost $13.2 million, or $0.16 per share in the quarter. Scientific Games' business focus is largely on a global lottery terminal business. It is hoped that synergies between Scientific Games' current business and WMS business, focusing on graphic rich machines used in gambling settings, will energize each other. I have my doubts, and will be watching for direction once this merger goes through.
Bally Tech - Solid growth
Bally Tech (NYSE:BYI) is probably the best known of companies involved in gambling hardware. In 2012, 35% if its revenue came from product sales, and another 41% from leasing that equipment. The balance of its revenue came from services related to game and player monitoring. It is well on track for a record fiscal 2013, which again ends June 30. I am looking for revenues of right around $1.0 billion; never before have revenues been even $900 million in a fiscal year. Profits for this year are likely to be $145 million, or $3.45 per share, which would also be a record by a comfortable margin.
What is going right for Bally Tech is pretty much everything. It is riding the wave of the popularity of progressive style casino games, which is helping the company to strong revenue growth across all business lines. Last quarter the company announced a $300 million share buyback; it has shrunk its shares outstanding by about 15 million, or 27% in the past five years, supporting the share price, but in part at the cost of a heavy debt burden of about 67% of capitalization.
I look for Bally Tech's sales growth and profit margin growth both to continue to expand, leading to strong bottom line performance over the next several years. Without question, this is the company to be "in" if you are interested in a gaming company.
International Games Technology - The 800 pound gorilla of the industry
International Games Technology (NYSE:IGT) is the leading company in this industry. Its market capitalization of $4.6 billion is twice that of Bally Tech. International's fiscal 2013 ends September 30th, and by all indications it will be an excellent year, both in terms of comparisons with 2012 and historical references. For instance in its second quarter, the company's $600 million in revenue were up about 12% from the second quarter of fiscal 2012, and profits of $95 million, or $0.36 per share, were up 33% from the year ago. The stock market has rewarded three consecutive quarters of strong profit comparisons, bidding up shares by over 50% since September, 2012. The company also recently raised its dividend by 12.5%, paying a current yield of 1.8%. But most analysts see profit growth flattening off in fiscal 2014. I wonder if much of International Games' growth is actually behind it. For that reason, I do not like this otherwise impressive company as much as Bally Tech over the next two to three year period.
Of course none of that hardware or other items associated with casinos, nor the casinos themselves, are necessary for gambling. A myriad of online gambling sites exist, though their legalities vary from state to state. Perhaps the oldest (1995) and largest online gambling site is Casino.org. One does not gamble on the site; rather it is a reference to find other "trustworthy" sites with high payout ratios (many over 98% of revenues) and generous welcome bonuses (as high as $3,000). A simple search for online gambling problems will find a generous number of largely transitory fraudulent sites. Using Casino.org as a guide will get around that problem, allowing the user to quickly and easily find safe and legal sites.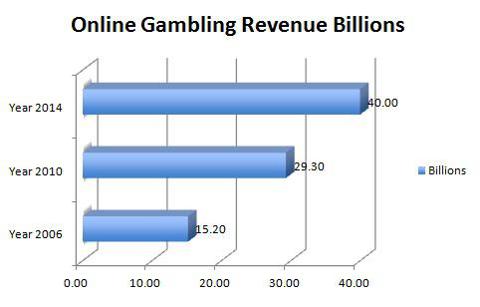 According to Priceperhead.com, online gambling revenues have been consistently rising for the past decade. 2010 boasted an online gambling revenue of over $29 billion worldwide, and according to the same source, online revenues are projected to reach a whopping $40 billion, up 37% from 2010. This growth may potentially come from stolen Casino market share, and as a result deal a blow to Casino's revenues. If the gambling market continues to shift towards an online outlet, it could potentially harm the casino industry and the hardware providers that supply them.
The casino hardware business is no less cyclical in nature of vulnerable to macroeconomic conditions than the related casino business. However, Bally Tech has been able to emerge from last decade's economic bubble stronger and more profitable than ever, and with the promise of even stronger quarters and years to come. International Games is certainly strong and stable, but I do not see it having the upside as its smaller competitor. WMS and Scientific American will benefit in merging by eliminating expense duplications, but in terms of quality profit margins that neither has have of late, I do not see any indications that those profits will magically appear for the long run in the new company. I would avoid them for now.
Disclosure: I have no positions in any stocks mentioned, and no plans to initiate any positions within the next 72 hours. I wrote this article myself, and it expresses my own opinions. I am not receiving compensation for it (other than from Seeking Alpha). I have no business relationship with any company whose stock is mentioned in this article.