Even with Consumer Discretionary (NYSEARCA:VCR), Healthcare (NYSEARCA:VHT), and Financials (NYSEARCA:VFH) outperforming the broad U.S. Equities market, individual sectors and market indexes are beginning to show the cracks we have been expecting for at least six weeks. The first screen-shot displays the ranking of Vanguard sector ETFs as well as VTI and SPY, two broad market ETFs. VTI, in particular, is used as a reference to see how well the individual sector ETFs are performing in comparison to the broad market.
Sector and Market Rankings: The top three spots are occupied by sector ETFs, followed by the S&P 500 (NYSEARCA:SPY) and Vanguard's Total U.S. Market Index ETF, VTI. While the top five ETFs continue to be priced above their 13-, 34-, and 195-Day Exponential Moving Averages, this ranking system fails to identify the beginnings of what might turn out to be a market correction. For that information we look at broader indicators shown in second and third screen-shots.

BPI Indexes: For the first time in several weeks, all but the NASDAQ market turned the ball over to the defensive team. Our primary index, the NYSE, moved to a somewhat bearish condition, although the numerical value remains in the overbought zone - above 70%. That is also true for all but the NASDAQ index.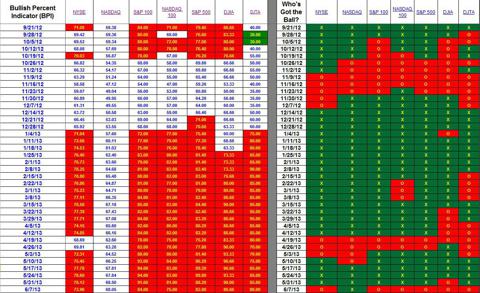 BPI Sectors: The Bullish Percent Indicators for the ten Vanguard sectors only confirm the beginning signs of weakness identified in the major indexes. Seven more sectors moved to the defensive team this past week with only the Industrial sector standing as the lone offensive holdout. Materials and Technology dropped out of the over-bought zone, taking some of the pressure off these two sectors.
Overall, using both index and sector BPI data, this market is still overvalued. When it comes to new purchases, patience and caution are qualities to keep in mind as the BPI data is beginning to point to a weaker market this summer. While there is not a lot of headroom for improvement, the market could turn on a dime next week. The "laws of probability" are not pointing in that direction.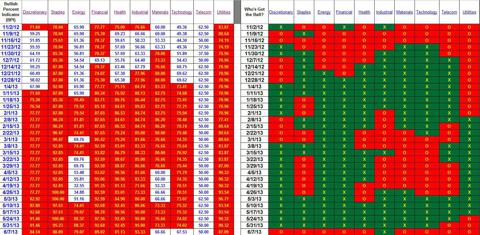 Disclosure: I am long VTI, VCR, VHT, VFH. I wrote this article myself, and it expresses my own opinions. I am not receiving compensation for it (other than from Seeking Alpha). I have no business relationship with any company whose stock is mentioned in this article.