If you were looking for a small cap stock with the potential for outsized returns, then I believe that looking into DXP Enterprises (NASDAQ:DXPE) might be worth your while. DXP Enterprises is an industrial wholesale company that specializes in maintenance, repair, operating, and production services (MROP), Innovative Pumping Solutions, and Precision Supply Chain Services. The company serves a wide array of industries which include general manufacturing, oil and gas, petrochemical, service and repair, wood products, mining, construction, chemical, municipal, food and beverage, agriculture, and pulp and paper industries. This diversity allows the company to hopefully hedge against downturns by spreading its end markets around to different industries as well as provides greater expansion opportunities.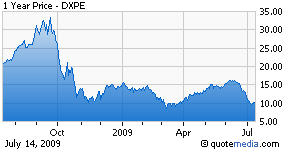 Now the numbers that arise from looking into this company's annual reports aren't really risk-free type numbers, especially not for a small cap business, but the potential is there and very noticeable. The company is one of the leading providers to the industrial sector for its main end markets mentioned above. This gives them the name recognition they need to survive in an economic downturn such as this one. With a 17-19% ROE, a $10 book value, 47% insider ownership, only 50% institutional ownership, current ratio of 2.2, EPS of 1.72, and a P/E of 5 (near the company's all-time low), this company seems to be the type of company that is just about ready to make the jump to bigger revenues. The management team is making or contemplating acquisitions that will expand their customer base as well as their product offerings. Acquisitions can be a plague, but when the acquisitions fit well with the company's main end markets it can be a true blessing. The last acquisition they had in 2007 almost doubled their sales with little focus lost on their main area of expertise. This makes the fact that their stock price has lost 66% of its value in the last year seem irrational and not a good interpretation of how well the business has been doing. To put that into perspective, within the last year DXP Enterprises has received a ranking of #16 out of the top 50 industrial suppliers as well as named the #2 best small business in the country by Forbes. Now we all know that these titles really mean little unless there is visible performance to back it up, and I believe they have outperformed all the expectations I had for them since I started following them a year ago. This feat does not justify losing 66% of their securities value.
One thing to take note of is that small cap stocks are riskier than larger cap stocks because the smallest disruption in their business model and they could be in serious trouble. Many smaller companies in the current economic climate are having trouble with their debt load, which in turn has hurt their focus on their primary business. This is where I see one of the only negative statistics, which happens to be that DXP Enterprises has $140 million in debt (vs. $128 million market cap). This would easily alarm a lot of investors and keep them from looking into the company further, but in certain situations, such as small cap growth companies, an expanding debt load is somewhat necessary if they are intending to grow above the average. When I looked at their rising debt load I realized that their acquisitions are what are pushing their debt load higher in almost all cases. Their last major acquisition in 2007 of Precision Industries almost doubled their sales, which could easily more than justify the money spent on the company because of their increases in market share and worldwide influence. The easiest way to make your company's name an industrial mainstay is to grow your influence by acquisition, but you have to be very careful about how you do so. The fact that the management team has almost a 50% stake in the company should vouch for their actions as responsible, for they stand to lose just as much as, if not more, than their shareholders if an acquisition ruins their company's original business model.

One of the facts that really made me open my eyes to look into DXP Enterprises is the fact that the largest private company and the largest public company in the United States (Koch Industries and Exxon Mobil) are two of major customers of DXP Enterprises products and solutions. Companies as big as those two aren't going to purchase business solutions and industrial wholesale parts if they aren't wholly satisfied with the business they are buying from. They have the power to negotiate prices with any industrial supplier so they can shop their business around until they are satisfied, just like Wal-mart does in retail. Other major customers of DXP Enterprises are Coca-Cola, ConAgra Foods, Union Pacific, Hormel, Goodyear, Bayer, Dow Chemical, Chevron Phillips, Huntsman, Shell Gas, and Hersey's.

Bottom Line
DXP Enterprises supplies industrial wholesale supplies and solutions to some of the biggest companies in the world. Their growth strategy includes organic growth, operations, and acquisitions, all of which have been major factors in the company increasing its revenue by 37.3% CAGR (compound annual growth rate) since 2003. Their EPS has increased 55.2% CAGR since 2003 and shows no signs of stopping. DXP Enterprises is the only provider of pumps, bearings, power transmission, hose, safety equipment, and industrial supplies on a first tier basis, which means they are the only provider of the complete components mentioned above. This is a significant advantage to attracting new business because everyone loves a one-stop shop. Their management has the right idea in trying to grow the business on a three-tiered basis and due to their insider ownership their intentions should be well aligned with those of the shareholders. If their strategy works then they should outperform the market and most other securities over the next 2 to 4 years.

Disclosure: I am a previous owner of DXPE before selling off in the middle of 2008 and before the end of the year, I will be a shareholder again if all goes well.