Actionable Items:
Highest Positive Spread: BlackRock CA Municipal Income (NYSE:BFZ)
Focus Stock: Guggenheim Enhanced Equity Strategy (NYSE:GGE)
Last Week's Focus Stock: Central Securities Corporation (NYSEMKT:CET)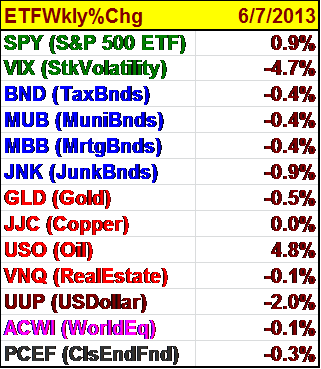 Treasurys Slip: Treasury markets slipped as Fed Reserve may begin to taper off. On Friday, both the U.S. dollar and crude oil futures, ($1.37 to $96.13) on the NYME, rose. The S&P 500 rose to 1643.33 for 1.3%. Friday, Dow advanced 207.5, by 1.4%.
U.S. Employment: U.S. employers added 175,000 jobs in May, slightly exceeding economists' expectations. The unemployment ticked-up by one-tenth of a point to 7.6%. This may not prompt the Fed to quickly dial back on its bond buy program - just yet.
Taper-Off: Some officials might see added reason to pull back on bond-buying sooner rather than later. Fed Chairman Ben Bernanke signaled last month that the central bank could start pulling back the program in the next few meetings (a view echoed by other officials in recent weeks). The Fed's next meeting is June 18-19, then again at the end of July and in mid-September.
Allocation: Would bond allocations turn into equity allocations or maybe cash? Or run on bonds?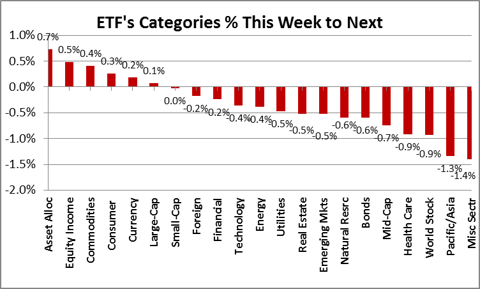 ETF's % Change Week-to-Week: Asset Alloc (0.7%), Equity Income (0.5%) and Commodities (0.4%) were the leaders this week over the previous week. Commodities were in the last place during the current week. MiscSectr (-1.5%), Pacific/Asia (-1.3%) and WorldStock (-0.9%) were laggards for the week. (This is the change in bonds week-to-week.)
CEF Weekly Fund Type Performance: This week saw price rises for SingleStMuniFnds (+0.6%), NatlMuniBndFnds (+0.4%) and GenEqFnds (+0.0%). The laggards were USMrtgBndFnds (-1.4), WrldIncFnds (-1.3%) and WrldEqFnds (-1.3%). PrcNAVSprd was positive for 1.0% for all SingleStMuniFnds and NatlMuniBndFnds.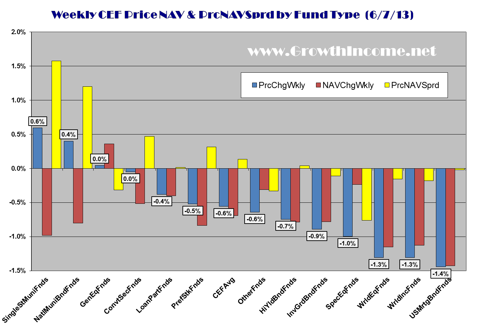 Highest Spread and Stock for the Week: The largest municipal failure in U.S. history is close to paying off after a deal on Tuesday that should enable Jefferson County, Ala., to exit bankruptcy. As part of the deal struck Tuesday, JPMorgan has agreed to the take the largest haircut - roughly $842 million on the $1.2 billion of sewer debt the bank owns.
The highest spreads are some California muni bonds funds. BlackRock CA Muni 2018 Term (NYSE:BJZ) and BlackRock CA Municipal Income seem to have a positive +3.1% and +4.4% with a negative -6.2% and -1.2%, respectively. The PrcNAVSprd was +9.2% and +5.6%, respectively. (A positive number may mean a future decline in share price). The distribution is monthly and ex-dividends will be payable this following week.
Lowest Spread and Focus Stock for the Week: Guggenheim Enhanced Equity Strategy was our Focus Stock of the week. GGE's share price was negative -2.7% and its NAV per share was a plus +1.2%. Its PrcNAVSprd decline was -3.9%. The discount is -7.9% to NAV, which touches its 52 week average.
The total assets are at $118.1 million with $24.0 of leverage on structural debt. It only has about 5.0 million shares. The stocks are 20.3% of iShares Russell 2000 Index (NYSEARCA:IWM), 20.1% of the SPDR S&P 500 (NYSEARCA:SPY) and 18.3% of the SPDR of the Dow Jones Industrial Average (NYSEARCA:DIA). Ex-distribution is 5/13/13 and represents $0.4850 per share. The distribution rate is 10.9% for the quarterly distributions. The annual expense rate is 1.9%.
Focus Stock and High Price for Last Week: Last week's "Focus Stock" was Central Securities Corporation. CET was up for the week at 0.5% (distributions of 0.6%). The Highest Spread stock for the week was ING Emerging Markets High Dividend Equity Fund (Share prices to go down) which was off -6.4% for the week.
Disclosure: I have no positions in any stocks mentioned, and no plans to initiate any positions within the next 72 hours. I wrote this article myself, and it expresses my own opinions. I am not receiving compensation for it. I have no business relationship with any company whose stock is mentioned in this article.