Rediff.com (NASDAQ:REDF) reported their fiscal Q4 financials two weeks ago and, despite the selloff, there were some encouraging signs that investors seem to be ignoring.
In the past 3 quarters e-commerce revenues have growth 19%, 11%, and 20% respectively. Last quarter e-commerce revenues were up 105% year on year. While this is still on a small base, the numbers are nonetheless moving in the right direction.
Rediff operates an online marketplace much like the Amazon.com (NASDAQ:AMZN) shopping marketplace. The total number of merchants in REDF's online marketplace increased from 620 to 701 over the past two quarters while the SKU range increased from 172,000 to 184,000 to 213,000 over the same period, a 24% increase in vendors and 13% growth in SKUs, respectively.
While overall revenues were down due to weaker Newspaper Publishing business, the e-commerce division is what will be driving growth for the foreseeable future and what investors should be focused on. REDF is a play on a nascent internet industry in India that has years of exponential growth ahead of it.
As of January 2013, only 1.2% of India's population had access to broadband internet. While the mobile internet business has taken off in recent years, the majority of commerce is still done offline because of slow internet connections and weak consumer support for mobile commerce. Take a look at the chart below of broadband penetration rates in other countries to get a sense of the opportunity that REDF and other internet players have: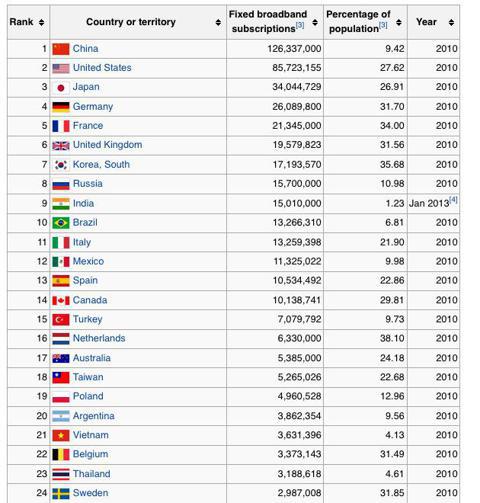 Medianama.com recently interviewed REDF CEO Ajit Balakrishnan about the company's quarterly report. In the interview the CEO stated:
"During 2011, there was irrational exuberance in the Indian e-commerce market. People were selling consistently below cost, and giving away deliveries for free, apart from massive returns. I've heard return figures of 30-40%. It took a great amount of self discipline to make sure that we didn't enter into that game. We kept a positive margin, obviously clearly lost market share during that period, but our returns were in the 2-3% region right through this period. We have positive margins - 12 percent gross margins on a weighted average basis across all that we do. It took a great amount of courage not to lose out heads. It makes us look like a dull company. Many people told us - you guys were the pioneers of e-commerce in India, why are you not outspending the others. I think it's important to maintain the discipline in business."
What everybody calls e-commerce, in my head it is not ecommerce. Most people view this as ecommerce. Ecommerce are the people who stock and sell. Some years ago, people asked Meg Whitman, when she was CEO of eBay (NASDAQ:EBAY), and Meg's answer was that it's a media company, and everyone was astonished. Similarly, our ecommerce execution, people call it a marketplace. But if you're a small merchant anywhere in India, we're a platform where you can pay us money and sell your goods. We view this as part of the classifieds and advertising business."
Recently many players in the India e-commerce space have been going belly up, which supports the comments above that market share, at the expense of profitability, was the primarily goal of companies in this space. As the weaker companies fall by the wayside, it presents an opportunity for companies like REDF to pick up market share and provide merchants with confidence that they will be around for the long term.
As discussed by Medianama.com, "Here's a quick overview of all the e-commerce companies that have either shut shop or been acquired this year.
June 4, 2013: 21Diamonds.in, sold jewelry, backed by Rocket Internet (via iamwire)
May 29, 2013: Flyte, sold music, Flipkart's online music store, lack of consumer uptake for a single track model seen as reason for shut down (more at Medianama)
May 21, 2013: KoolKart.com, sold women & men apparels and fashion products, no reason cited (via NextBigWhat)
May 21, 2013: Rock.in, sold high-end international clothing, funded by Partech International, no reason cited (via NextBigWhat)
May 16, 2013: Aporv, sold Indian handicrafts, no reason cited (via NextBigWhat)"
Valuation is Very Attractive
REDF's current market cap is around $70 million. It currently is the 15th most popular website in India as measured by Alexa.com, just behind Flipkart.com and Amazon.com (ranked 13th and 14th, respectively). Consider that Flipkart.com raised $150 million in 2012 in its fourth round of venture funding which is twice the size of REDF's current market cap.
In Q4, REDF lost $2.3 million; however, almost half of that was depreciation. Cash outflows were around $1 million in Q4 as a result of strict expense management. With a cash balance of $20 million, REDF has enough cash to last for the next several years.
With a significantly reduced cost structure and a scalable business model, the leverage in this business is astronomical. And as the broadband internet rollout continues, even second tier players will benefit significantly. REDF is a very cheap play on a potential exponential secular growth market, of which there are fewer and fewer in the market today. Sitting right around 10 year lows in the stock, I think investors are not considering the potential upside inherent in this business.
Disclosure: I am long REDF. I wrote this article myself, and it expresses my own opinions. I am not receiving compensation for it (other than from Seeking Alpha). I have no business relationship with any company whose stock is mentioned in this article.