All investors understand the risks secular changes can pose to a firm or even an entire industry. From the buggy whip to the pay phone, history is replete with examples of businesses that worked and made money, right up until they didn't. Unfortunately, investors don't get a crystal ball to help them figure out which firms will fall by the wayside and which will endure.
Instead investors have to do the best they can on their own and the risk of a secular decline often causes otherwise intelligent investors to become frightened of any stock with even a small risk of obsolescence. This fear has driven sharp price declines in a variety of stocks over the last few years including but not limited to Lexmark (NYSE:LXK), Nokia (NYSE:NOK), Zynga (NASDAQ:ZNGA), Groupon (NASDAQ:GRPN), Best Buy (NYSE:BBY), Coinstar (NASDAQ:CSTR), and finally, the firm I want to talk about in this article; Garmin (NASDAQ:GRMN).
Now investors are probably right about some of these firms facing almost insurmountable headwinds, and in other cases the fears are probably overblown. Garmin is somewhere in between the two. The company is best known for making Personal Navigation Devices or PNDs also simply called GPS devices. These go in automobiles mainly to help the driver find their way around. Sales of such devices peaked about the time smart phones like Apple's iPhone (NASDAQ:AAPL) and Google's (NASDAQ:GOOG) Android based phones started to seriously grab market share in 2008. Indeed it is quite possible that Google and Apple owe some fair amount of the early success of their smart phones to the "killer app" that Garmin pioneered. It's pretty easy to pitch a smart phone as being worth the extra cost if it can also serve as the GPS device for your car.
Yet despite that fact that the market has largely given up on Garmin, the company is far from dead and for investors who are interested in steady, safe dividends with a reasonable prospect of future growth and $6+ per share worth of cash reserves on the books (with no significant debt), the company represents an attractive opportunity.
To begin with let's start by dispelling the notion that everyone starts with on Garmin - it is NOT just a car PND company. Last year, the company got only 55% of its revenue - just above half - from selling automotive GPS devices. And even this half of its revenue is not just in the US. These sales come from about 100 different countries around the globe, many of which do not have anywhere near the smart phone penetration of the US. As a result of this diversification, in Garmin's automotive segment which sells PNDs for cars, revenue only declined 6% last year. At that rate, it will take 12 years before Garmin's revenue from this segment falls by half. The point is that for a very long time many people in other countries are going to keep buying GPS devices from Garmin, and even in the US, the firm is likely to continue to sell a fair number to businesses where a GPS is simply expected or useful. This would include taxi companies, car rental companies, package delivery companies, trucking companies, etc. Afterall, do you really want the driver of the 18-wheeler going down the highway next to you playing with his smart phone and trying to find an address?
Further, this revenue decline was partially offset by significant growth across Garmin's other four segments; marine, fitness, outdoor, and aviation. The marine segment sells navigation devices for watercraft and represents 7% of the company's 2012 revenues. The fitness segment sells GPS devices for athletes, runners, etc. and represents 12% of firm 2012 revenues. Outdoor and aviation represent 15% and 11% of revenues respectively. All told Garmin has been putting so much effort into these other product categories, that the firm has been able to almost completely offset the decline in revenue from the automotive segment over the last 4 years. For that reason, the average analyst covering the stock has a 3% revenue growth rate estimate over the next five years.
The chart below shows Garmin's financial health over the last few years and illustrates why the company is in such a strong position.
| | | | | | |
| --- | --- | --- | --- | --- | --- |
|   | 2012 | 2011 | 2010 | 2009 | 2008 |
| Book Value | 16.87 | 15.43 | 14.74 | 13.06 | 9.96 |
| OCF/Share | 3.23 | 3.16 | 3.43 | 3.98 | 3.85 |
| EPS | 2.76 | 2.67 | 2.95 | 3.5 | 3.48 |
| Div/Share | 1.75 | 1.6 | 1.5 | 0.75 | 0.75 |
| Payout Ratio | 63% | 60% | 51% | 21% | 22% |
| High Price | 50.67 | 40.58 | 40.47 | 39.65 | 95.58 |
| Low Price | 35.55 | 29.23 | 26.11 | 15.02 | 14.4 |
| High P/E | 18 | 15 | 14 | 11 | 27 |
| Low P/E | 13 | 11 | 9 | 4 | 4 |
| Revenue | 2,716 | 2,759 | 2,690 | 2,946 | 3,494 |
| Oper. Income | 695 | 648 | 731 | 882 | 940 |
| Depreciation | 90.5 | 94.5 | 94.7 | 96.5 | 78.4 |
| Net Income | 542 | 521 | 585 | 704 | 733 |
| Cash | 1,384 | 1,398 | 1,285 | 1,111 | 709 |
| Total Assets | 4,819 | 4,471 | 3,989 | 3,826 | 2,925 |
| LT Debt | 0 | 0 | 0 | 0 | 0 |
| CapEx | 38.4 | 38.4 | 32.2 | 49.2 | 120 |
| Curr. Ratio | 2.8 | 3 | 3.7 | 3.5 | 4.1 |
As the table shows, Garmin's revenues have fallen, but the company continues to throw off significant profits and operating cash flows. Further, the company has a ton of cash on the books (~$6.65 per share at the end of 2012), and no liabilities of consequence. Few utility companies can match these kind of metrics, let alone consumer electronics firms.
Indeed, the chart shows that the firm has actually increased its dividends over the last several years, and it still have the capacity to increase them even more based on its payout ratio. In fact, on June 7th, the company raised its dividend again to $1.80 per share. This is exactly what a firm in a stable market should be doing - paying out every penny they don't need to shareholders while looking for ancillary markets that it can enter easily.
To that end, Garmin has been looking for new opportunities like there is no tomorrow… because management knows if they don't there may not be one. And some of their efforts have had a pretty nice payoff. For example, recently the firm struck a deal with Mercedes-Benz to supply the car companies' in-vehicle navigation for MDZ infotainment systems over the next four years. These kinds of deals are exactly what the firm needs to keep its automotive segment's future on track, while letting its other segments continue growing.
Today, Garmin trades around $35 a share which is the equivalent of about 10X ttm earnings after netting out the firm's $6.65 per share in cash. This gives the firm a yield in excess of 5% with plenty of room for future dividend increases and sufficient cash to handle any short term problems that may come along. The firm's stock does not appear overvalued based on this metric and as the chart below shows, it has certainly not gotten over extended this year.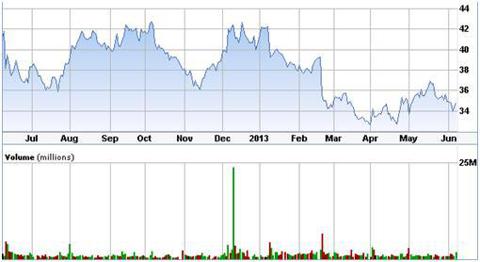 In summary, for an investor looking for a solid but safe income stream in a QE-filled world, Garmin should look pretty attractive. The firm's substantial cash position, enviable dividend yield, and growing side businesses should offer reassurance to investors that they are getting more than their money's worth with the stock. (For more on Garmin and other stocks I have written articles about, please visit my blog here.)
Disclosure: I am long GRMN, AAPL, CSTR, GOOG, LXK. I wrote this article myself, and it expresses my own opinions. I am not receiving compensation for it (other than from Seeking Alpha). I have no business relationship with any company whose stock is mentioned in this article.