Cantel Medical (NYSE:CMN) is a leader in several specialties within the infection control sector of the healthcare market. It recently acquired SPS in the healthcare disposables segment, adding to a list of successful acquisitions over the last few years. The other segments are: endoscopy sterilization and disposables; water purification; and therapeutic filtration (mainly for dialysis). In March Cantel acquired the U.S. and Canadian hemodialysis water business of Siemens, with first significant revenue due in the current quarter.
Cantel Medical does acquisitions right. It pays reasonable amounts for companies that have products that can be cross-sold with Cantel's existing products. Over the past 3 years I have watched several of the acquisitions improve their margins and revenues.
Organic growth is also important to Cantel. Although its R&D budget is low by biotech industry standards ($2.4 million in the latest quarter, just 2.3% of revenue), Cantel has been able to introduce significant new products and improvements in existing products. These innovations have allowed Cantel to become the market leader in endoscopy infection control. The company has also formulated its own sterilization chemicals, which allows it to get good margins supplying renewable for the capital equipment it sells. Even the disposable masks it sells are improved over standard versions.
Cantel Medical's fiscal third quarter 2013 ended April 30th. Results were reported on June 6. Revenue was $105.0 million, down 1% sequentially from $106.4 million but up 8% from $97.2 million in the year-earlier quarter.
GAAP net income was $9.0 million, down 14% sequentially from $10.5 million but up 10% from $8.2 million year-earlier. GAAP EPS (earnings per share) were $0.33, down 13% sequentially from $0.38, but up 10% from $0.30 year-earlier.
Cantel does not give specific guidance, but CEO Andrew Krakauer talked at length about drivers of growth during the analyst call Thursday. Endoscopy has had difficult comparisons these last few quarters because of a mandated equipment upgrade cycle in 2011 and the first calendar quarter of 2012. Despite that segment revenue was up 3% y/y led by disposables, germicides, and services. As the sterilization equipment itself returns to a normal rate of sales, the segment should start showing better y/y growth as the year progresses.
Healthcare Disposables, represented by the Crosstex division, grew 17% y/y. There had been concerns about the segment since in the prior quarter distributors had loaded up at the end of the year. The SPS acquisition contributed $4.7 million, meaning Crosstex sales were down about $1 million y/y. Krakauer believes the SPS sales force's presence in medical services will allow Crosstex to sell products into that market, whereas it had previously mainly served the dental infection control market.
Mar Cor, the water filtration segment, was the best performing segment on an organic basis. Sales increased 14% y/y. Cantel has a new line of heat-based sterilizers, replacing an older line that used chemicals, resulting in a record backlog of equipment orders. The addition of the Siemens business will add revenues this quarter, but customer transfers and therefore revenue ramp won't be completed until 2014.
The Dialysis/Therapeutic Filtration segment saw sales drop 9% y/y. This used to be a much bigger segment as a percent of revenue, but did not have good growth opportunities in the U.S. It now represents only 11.6% of overall revenue. The main growth opportunity is now outside the U.S.
In fact in the next 5 years Krakauer expects significant growth outside the U.S. in many of its lines. In preparation for that growth, offices and distributors have been set up in several nations. The increased cost of sales and marketing has offset other cost-savings, but should pay off in revenue and earnings growth in the next few years.
Cantel Medical has taken on significant debt to make its acquisitions, but it seems to be well managed. In the quarter, the cash and equivalents balance increased $3.9 million to $30.7 million. Cash flow from operations was $15.4 million. $8 million was used for the Siemens acquisition. Interest expense was $0.75 million. $1.5 million was used for capital equipment. Debt was reduced by $5 million to $105 million.
I first looked at Cantel Medical in mid 2009, liked the story, and bought the stock in December 2009 at $19.58 per share. CMN closed on June 6 at $34.09, after having hit a 52 week high of $35.96 on May 15, 2013. While CMN seemed more undervalued than now back in 2009, I still think it is a very good stock to buy or hold.
Cantel pays a tiny ($0.11 per year) dividend, but is a growth-oriented company that may take on more debt to finance acquisitions. The keys to future value are the growth of the domestic and global infection control market and Cantel's proven ability to grow market share profitably. I don't like to predict where a stock price will be at any specific future date, but I am willing to predict that Cantel will be significantly higher a year from now than it is today. With a market capitalization now nearing $1 billion, growth may be slower than in the past, but there will be growth and it will be profitable growth. With a record backlog of orders at the end of last quarter, a return to sequential as well as y/y revenue growth is likely in the July quarter.
Cantel Medical's 5-year volume and stock prices: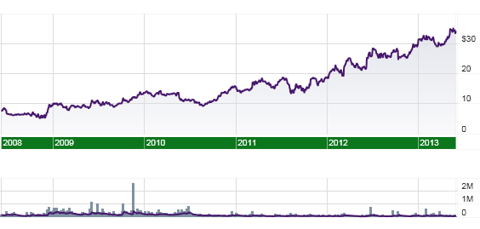 Disclosure: I am long CMN. I wrote this article myself, and it expresses my own opinions. I am not receiving compensation for it (other than from Seeking Alpha). I have no business relationship with any company whose stock is mentioned in this article.