Despite the recent weakness in the overall market, the red-hot biotech sector has remained strong for the most part. It is currently in third place (based on overall performance) amongst the sectors in the market that I track on a daily basis.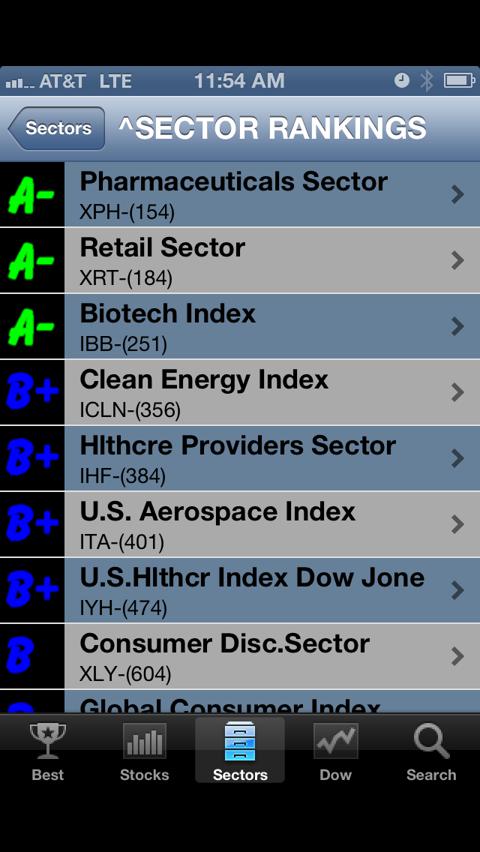 Data from Best Stocks Now App
(NASDAQ:IBB) is an ETF that tracks the Biotech Sector. I use it as my proxy to represent this sector. is up 27.8% YTD and it has handily outperformed the market over the last one, three, five, and ten years.
It is also interesting to note that the Biotech Sector held up very well during the 2008 bear market. While the S&P 500 was down 38.5% that year, was only down 12.3%. In fact, many biotechs were actually up in 2008.
Amgen (NASDAQ:AMGN) for instance was up 24.4% in 2008, Gilead Sciences (NASDAQ:GILD) was up 11.1%, and Celgene (NASDAQ:CELG) was up 19.6% to name just a few. Is biotech a defensive sector in a market that is reeling? Go figure, but it is true.
The one-year chart of the is still in a healthy uptrend: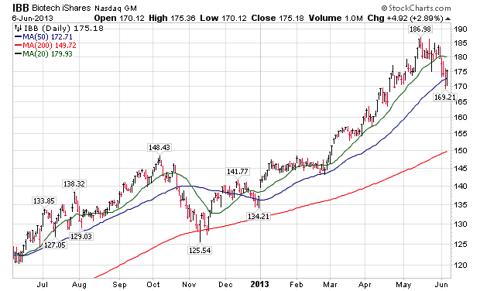 As you can see from the chart above, is still above its 20 day, 50 day, and 200 day moving averages. There have not been any crossovers of these important indicators since December of 2012. I continue to have a bigger than average weighting to this sector in the accounts that I manage.
As is true with any sector however, there are leaders and there are laggards within the sector. I separate them from one another by taking into account the following criteria:
Performance: short-term, intermediate term, and long-term where possible. I compare the performance of the stock with its peers and against the other 3,400 stocks that I monitor.
Valuation: while I like performance, I have seen way too many momentum darlings come crashing back down to earth due to astronomical valuations. We have learned huge valuation lessons from incidents like the crash of the NASDAQ in 2000-2001, the crash of the housing market in 2006, and many other such bubbles. VALUATION DOES MATTER!
A healthy stock chart: I don't like sideways trends (Apple would be a good example of this), I despise downtrends (Inverse ETF's would be a good example of this), and I get very nervous with extended uptrends, unless the valuation is still compelling. And of course the most dangerous trend of all is a topping out trend that is beginning to roll over.
One of my current holdings in the biotech sector is Alkermes (NASDAQ:ALKS). The company is a result of a merger between Alkermes and Elan back in September of 2011. This mid-cap company ($4.19 billion) is headquartered in Dublin, Ireland. Alkermes has an R & D center in Waltham, Massachusetts, and research and manufacturing facilities in Gainesville, Georgia and Wilmington, Ohio.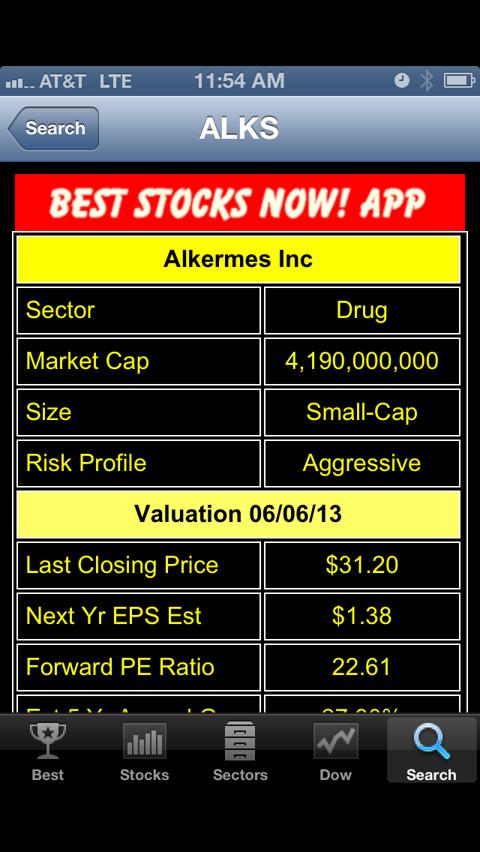 Data from Best Stocks Now App
Alkermes has a diversified portfolio of more than 20 commercial drug products and a substantial clinical pipeline of product candidates that address central nervous system disorders such as addiction, schizophrenia, and depression.
Of the twenty drug products, 5 are primary to the company. Respiridone is for schizophrenia and bipolar 1 disorder. Invega Sustenna is also for schizophrenia. Ampyra helps to improve walking for patients with multiple sclerosis. Vivitrol is for alcohol and opioid dependence. Bydureon is for the treatment of type 2 Diabetes.
The company also recently produced positive results with its ALKS 5461 drug candidate for patients with major depressive disorder. In addition to this, Alkermes has many other drug candidates in their extensive pipeline.
Let's start with the performance of the stock. Again, I look at short, intermediate, and long-term performance.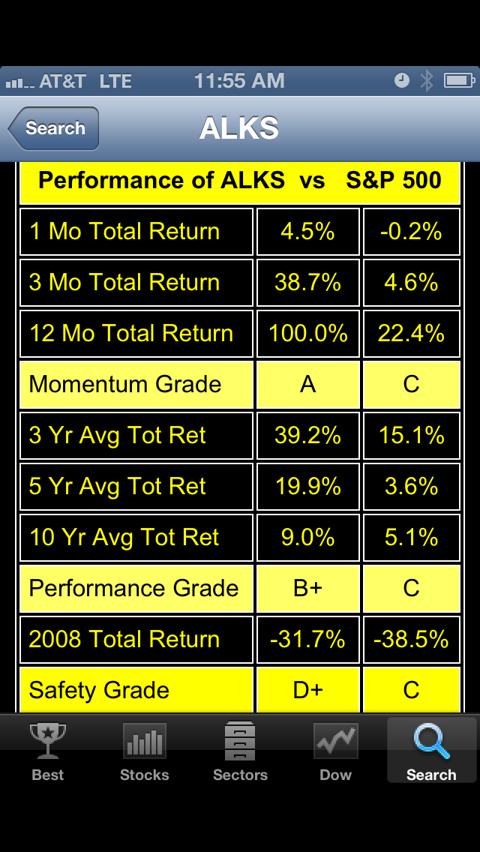 Data from Best Stocks Now App
Over the last ten years, ALKS has delivered an average return of 9.0% per year while the S & P 500 has averaged 5.1% per year.
Over the last five years, the stock has delivered an average annual return of 19.9% to investors. The returns of the shares have lapped the market more than SIX times during that time frame.
Over the last 3 years, ALKS has delivered an average of 39.2% while the market has only delivered an average 15.1% percent. And over the last 12 months, the stock is up 100%--it's doubled while the market is up 22.4%.
So is this nothing more than a momentum darling? As I stated earlier, I do like momentum, but I'm not solely a momentum investor. Nor am I a pure value investor. I like to combine momentum with value.
The consensus analyst's estimates for earnings next year currently stand at $1.38 per share. The consensus average five-year earnings growth estimate for ALKS is a whopping 27.8% per year.
Given these expectations, the shares currently sport a PEG ratio of 0.81. In other words, the shares are currently trading at a discount to its growth rate. PEG ratio is just one valuation measure, however.
I spent a good deal of time in this industry visiting companies and writing up research reports. Part of that job included calculating target prices. Most analysts come up with 6-12 month target prices. I like five-year target prices. Why calculate a five-year growth rate and then come up with a one year target price?
That's like selling a pack of ten hotdogs and a pack of twelve buns (just ask George Banks, "The Father of the Bride,") it is maddening.
When we take that estimate of $1.38 per share and extrapolate it out over the next five years, we come up with potential earnings per share of $3.68 five years from now.
Now we need to apply an appropriate multiple to those earnings to project a five-year target price. This is the hardest part of the equation. There is no set rules to go by here. Instead we must weigh the following factors in determining the multiple:
The current forward average PE ratio of the 3,400 stocks that I track is currently 17.6.
The current forward PE of Alkermes is 21.2.
The current average forward PE for the group is 22.4.
I am using a very conservative multiple of 17X on the potential future earnings of the shares. When I do this, I come up with a five year target price of $61.00 per share.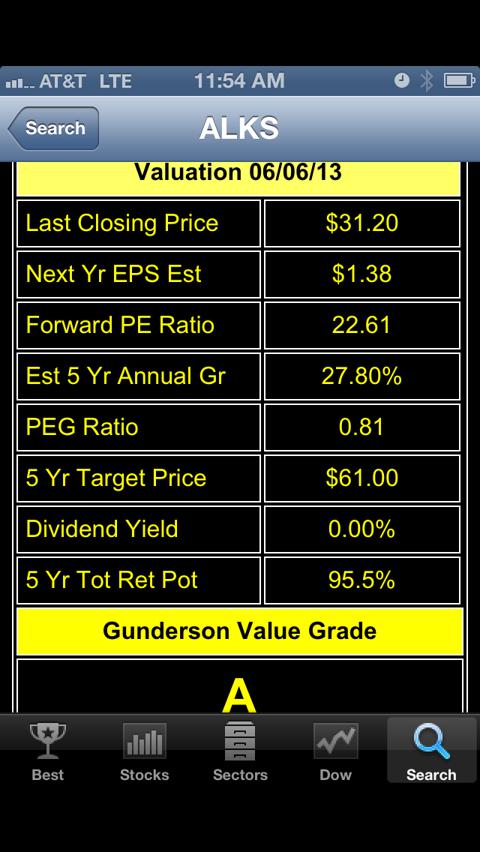 Data from Best Stocks Now App
With the shares currently trading around $31 per share, this stock has the potential to double over the next five years. I require at least 80% upside potential or more to meet my strict valuation criteria. Alkermes currently meets that requirement.
There is obviously a lot that can go wrong or go right between now and then. Stocks trade on expectations, however. And right now these are the expectations. Those expectations will change with each quarterly report and any material news, good or bad, that comes out of the company.
The stock price will then adjust accordingly.
Alkermes is currently in a leading sector in the market (biotech).
Alkermes currently meets my performance criteria.
Alkermes currently meets my valuation criteria.
And lastly, Alkermes has a very healthy one-year stock chart:
Of the 3,407 stocks that I track, Alkermes currently comes in at #60. It also earns a very hard-earned grade of "A". This represents the top 7% of the entire market. I only consider stocks that have a grade of "A-" or better. Alkermes is for aggressive growth investors. I always have a well-diversified portfolio of 20-30 stocks to mitigate my risk.
I am also very vigilant on a daily basis on the stocks that I own. At the current time, clients of Gunderson Capital Management are long the stock.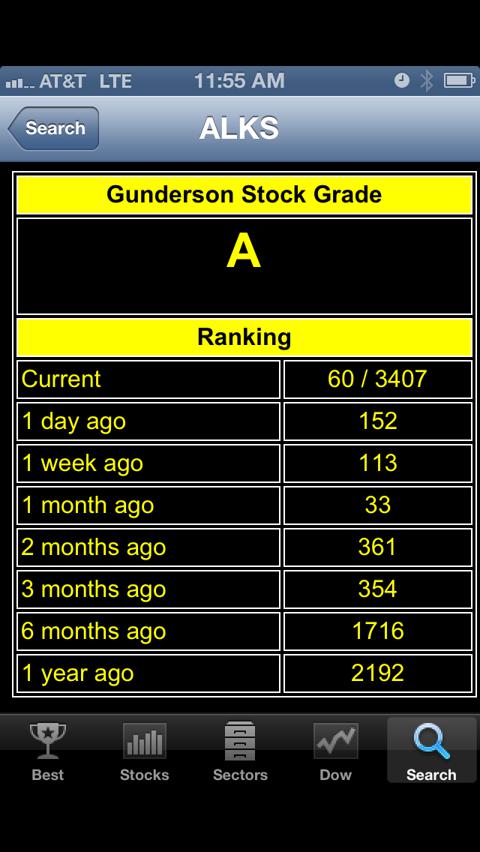 Data from Best Stocks Now App
Disclosure: I am long ALKS. I wrote this article myself, and it expresses my own opinions. I am not receiving compensation for it (other than from Seeking Alpha). I have no business relationship with any company whose stock is mentioned in this article.