Staples Inc. (NASDAQ:SPLS) has had a difficult year, resulting in a loss of $211 million or $0.31 per share in its most recent fiscal year (SPLS' fiscal year 2012 started on the 28th of January 2012 and ended on the 2nd of February 2013). Net income in the previous fiscal year (2011) was at 985 million dollars. In this article, we will be looking at the effect this has had on the stock's price and determine if the current price would provide us with a good entry point.

First, let's see what happened to Staples' stock. It has dropped by 15.62%, or $2.50 in FY2012. The lowest it has been was $10.57, which is almost $5 lower than its closing price Friday of $15.48.
Even at today's price, SPLS will give us a dividend yield of 3.1%. However, this won't be sustainable if the company doesn't manage to generate more income. Fortunately, Staples has decided it would be a good idea to cut costs, as can be read in their 10-K form. (All 10-K and 10-Q forms can be found on SPLS investors relations website.)
The first quarter of the new fiscal year ended positively for SPLS, with earnings per share of $0.26. Sales were slightly lower (-3%), due to the closure of 97 stores. Part of the $170 million in net income for the first quarter was used to repurchase 4.9 million shares, costing $65 million.
I'm very happy with SPLS' plans to cut costs. Operating in a highly competitive market like the one Staples is in means competitors are always looking to take your business and with Amazon (NASDAQ:AMZN) as their biggest threat (AMZN is the world' largest online retailer, SPLS comes in at second place), keeping a close eye on costs is necessary at all times.
As for the current fiscal year; SPLS has stated it expects its sales to increase at low single digits, with earnings per share reaching between $1.30 and $1.35. At the current price of $15.48, that gives it a price to earnings ratio of between 11.5 and 11.9. With a dividend of $0.12 per quarter, the payout ratio is expected to be between 35.6% and 36.9%.
Conclusion:
There are four reasons for me to think SPLS would be a good stock to own at the current price level, which I will list below.
SPLS has grown its dividend by close to 10% yearly for the past years. With its payout ratio for the current fiscal year expected to stay under 37%, I believe EPS growth may very well result in higher dividends. The current 3.1% means waiting patiently for the stock price to rise, will be heavily rewarded every three months.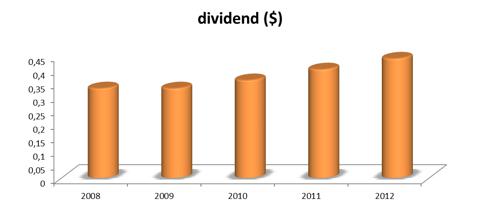 Even if net income for Staples doesn't increase at very high rates, earning per share may still go up much higher, due to the fact Staples regularly buys its own shares. Between 2008 and 2012, the total number of shares went down from 712 million to 669 million and in the first quarter of 2013, SPLS repurchased another 4.9 million shares.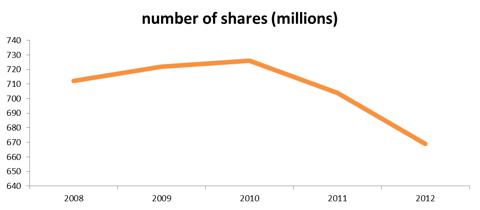 #3: Cost reductions
SPLS has committed itself to lower their costs. As we can read in their 10-K form:
"We expect the reduction in square footage in North American Stores, the consolidation of sub-scale businesses in Europe, the reduction in global headcount and the reduction in high interest bearing debt to help reduce operating costs, creating funds that we can invest in other areas of the business to create sharper pricing, improve our customer facing technology, expand our brand marketing, acquire new customers and hire and retain talented associates to better serve the needs of our customers"
#4: Historically low p/e ratio
In 2009 and 2010, investors were willing to pay well over $20 for a share of SPLS, despite the fact earnings per share were much lower than this years' forecast ($1.02 in 2009 and $1.21 in 2010). Today, we can buy $1.30-$1.35 in earnings for only $15.48. I believe SPLS will recover and continue to grow, which means its low price to earnings ratio (forward p/e for this year is under 12), is unjustifiable.
Disclosure: I have no positions in any stocks mentioned, but may initiate a long position in SPLS over the next 72 hours. I wrote this article myself, and it expresses my own opinions. I am not receiving compensation for it (other than from Seeking Alpha). I have no business relationship with any company whose stock is mentioned in this article.