The Dow Jones Industrial Average closed at an all-time high of 15,409.39 on May 28, 2013, while the S&P 500 and NASDAQ Composite reached their all-time highs a week prior to that. Despite the Indexes being a couple of percentage points off their record levels, where the NASDAQ for example has risen 150% since the March 9, 2009 low of 6,547, at current valuations the bull market still has legs. There are factors, however, that point towards a coming correction which are discussed in greater depth throughout this article.
Dow 36,000
Despite the Dow's current peak levels, it is still less than half way to "Dow 36,000", the level forecasted by Kevin Hassett and James K. Glassman in their book with that title. If "Dow 36,000" seems unreal, Blackrock Chairman and CEO Larry Fink projects the index to reach 28,000 by 2019 with eight to ten percent annual growth for the next five to six years.
The Recurring Rally
There is no argument about it that the S&P 500 has had an incredible run this year, returning 15% year-to-date. May, for example, has had the highest percentage of up days this year: 76.9% of the month's trading days, and 2013 has had the highest percentage of up days compared to the past five years (chart 1).
Chart 1: S&P 500 % Up Days (yearly)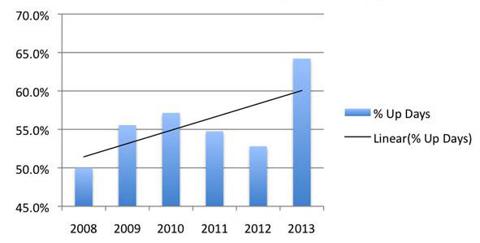 Click to enlarge
Source: PeakProsperity.com
It is unreasonable in my opinion to extrapolate the performance of the indices for the first half of the year to the second half thus resulting in a 30% return for 2013. Just as it was unreasonable to have done this judging by the performance of the S&P 500 from the first 49 days of the year (chart 2) which repeated itself for the fourth consecutive time and returned 9% in that period in 2013. Having said that, I do not believe we will have a lackluster year for stocks.
Chart 2: Performance 49 Days Into the Year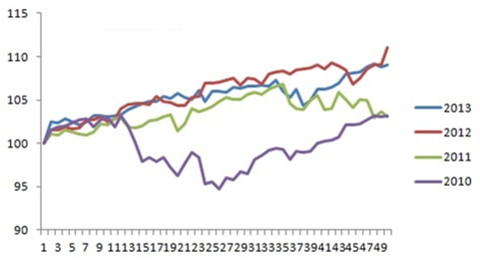 Click to enlarge
Source: Bloomberg, BTIG LLC estimates
Bull Case
Comparing the S&P 500 at current levels with previous highs of 1,527 recorded in 2000 and that of 1,565 seen in October 2007 shows no reason for concern. Operating P/E ratio stood at 28.3x during the dot-com bubble, 17.5x in 2007 and 16.58x today. Dividends per share in 2000 was $16.76, in 2007 it was $26.98 and currently $32.08 giving a yield of 1.93% which is higher than the 1.1% seen during the dot-com boom and higher than the 1.6% seen during the housing boom. Finally the Price-to-Sales ratio is at 1.52x, slightly above the 1.5x recorded in 2007 but substantially below the 2.2x of 2000 which is as expected.
The closing of the gap between highs happened more rapidly. To clarify and illustrate this point, the recovery from the October 9, 2007 highs happened in 65 months while the period between the tech-bubble highs in March 2001 to the 2007 peak took 81 months.
Finance Professor at the Wharton School of Business and author Jeremy Siegel predicted last January that by the end of 2013 the Dow Jones Industrial Average would reach 15,0000 which has materialised. He now supports the Dow closing the year in the range between 16,000 and 17,000. In an exclusive interview with FOX Business Network, he highlighted risk factors for equities such as oil spikes or military action; however, he thinks the rotation from bonds to stocks is still "in its very infancy." This is because investors are dissatisfied with the returns received from bonds and savings accounts in this low-interest-rate environment and valuations of stocks are still attractive. Likewise, in a Bloomberg TV interview he cited the $13 trillion in CDs and bank deposits not earning enough so the rotation out of bonds and money market funds into stocks would result in multiple expansion.
Another bullish argument for stocks going forward is that they would be at or near fair value. According to Morningstar's Market Fair Value Graph, which is the value of the stocks as opposed to the prices investors are willing to pay for them, the median stock in their coverage universe indicates that the price is at its fair value.
The chart below which is made up of twenty-nine models, shows that the current 5.4% is as high as November 1974 (end of Bretton Woods system) and January 2009 (post-Lehman collapse). This is bullish as the model shows one-month forward-looking returns of stocks less the risk-free rate. Maintaining the viewpoint that economic conditions are stronger today than those periods, there is a compelling case of owning stocks.
Chart 3: Equity Risk Premium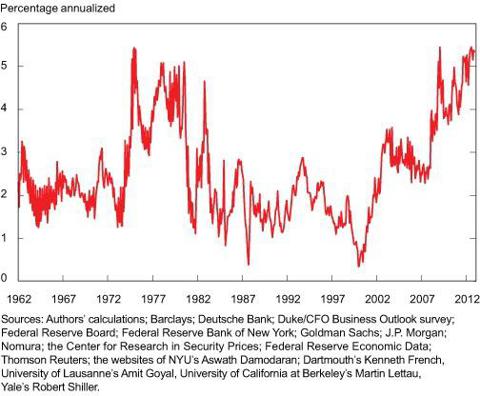 Click to enlarge
Source: Federal Reserve Bank of New York
Joshua M. Brown, author of Backstage Wall Street, shoots down comparisons of the current market with that of the tech bubble, and states that staying out of the market is reckless as opposed to conservative. This is a point I agree with; however, that is not to say that stocks will not face a decline, where historically a twenty percent correction takes place every three and a half years.
Bear Case
The percentage of total market cap to U.S. GNP is, according to Warren Buffett: "probably the best single measure of where valuations stand at any given moment." GuruFocus judges the stock market (chart 4) as modestly overvalued, estimating that the US stock market will likely return a modest 2.5% a year going forward (note GDP is used).
Chart 4: Total Market Cap to U.S. GDP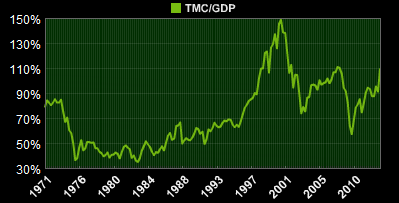 Source: GuruFocus.com
Sam Stovall at S&P Capital IQ in a recently published report supports a continued bull market: "Since WWII, the S&P 500 turned on the after-burners in year five, with the remaining bull markets averaging a 21% increase in price -- four of which were in double digits. In addition, four of the five bull markets went on to celebrate their sixth birthday." Whereas the argument holds for a continued bull market into 2014, other factors counter this forecast. The historical average returns for stocks has been 9% per annum. As mentioned above, that move has already taken place in the first two and a half months of the year. A continuing bull market holding until the rest of the year would create a higher probability for a correction by 2014. While it can be argued that valuations are reasonable, a continued uptrend will allow markets to be irrational for longer. Reversion to the mean is another factor that would therefore cause a correction next year. This concept indicates that the greater returns are for a given year, the less likely they will continue to do so in the future.
Valuation
The Standard & Poor's 500 has a current P/E ratio of around 19, giving it an earnings yield of 5.26% while the yield on 10-year Treasury bonds is 2.13%. This represents a yield differential of 3.13% and a yield ratio of 2.47. Two months ago, the yield differential was 4.35%, however, the 10-yr yield was slightly lower at 1.9% and the S&P 500's earnings yield was higher at 6.25%. Even though on the face of it, this may not be a drastic change, and indeed it is not, considering the period is only two months, it should not be shunned.
Looking at valuation in absolute terms and not relative to bonds, both the price-to-earnings ratio of the S&P 500 (chart 5) and the Shiller PE ratio (chart 6) are slightly above historical averages on a secular basis where the mean P/E ratio is 15.49.
Chart 5: S&P 500 PE Ratio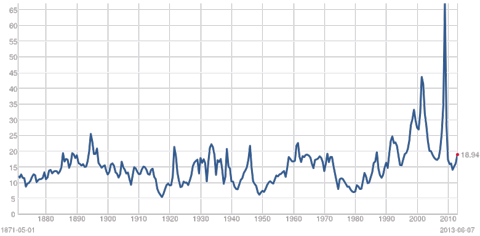 Click to enlarge
Source: Online Data - Robert Shiller
Robert Shiller, Professor of Economics at Yale University looks at a measure of stock market valuation called the cyclically adjusted price/earnings (CAPE) ratio. This is an inflation-adjusted measure of the Standard & Poor's 500 index earnings divided by a 10-year average of real S&P 500 earnings. So how does he judge valuation? The Shiller P/E has a mean of 16.47 while it currently is 24 (chart 6) which is not far below the 27 peak reached before the 2007 bear market, suggesting that the market is somewhat overpriced and so he supports that below-average returns could be expected in the future.
In an in-depth article by Geoff Gannon who is especially bearish on stocks now, he maintains that forward earnings estimates are too high thus creating high P/E ratios and states:
"I would put lower than average faith in today's P/E ratios because they are based on higher than average returns on equity."
Chart 6: Shiller P/E Ratio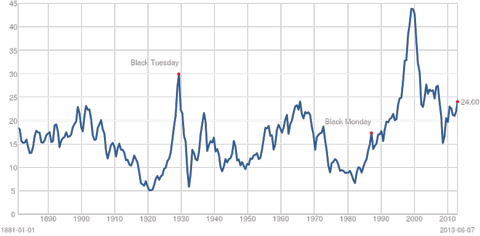 Click to enlarge
Source: Online Data - Robert Shiller
Shiller highlights some interesting data he has compiled on confidence and summarized it in what he calls the Valuation Confidence Index. This measures the percentage of respondents who think that stocks are not overvalued. At the 2007 peak this figure was about 80% for both institutional and individual investors; however, April 2013 figures are 66% and 64% respectively, so by his measure confidence that markets are not too high is fairly low. To put this into perspective, after the Lehman crisis the Index reached 82.81% in April 2009.
John P. Hussman writes about corporate profits reverting to their historical average of about 6% in the coming years:
"On the earnings front, my concern continues to be that investors don't seem to recognize that profit margins are more than 70% above their historical norms, nor the extent to which this surplus is the direct result of a historic (and unsustainable) deficit in the sum of government and household savings…As a result, investors seem oblivious to the likelihood of earnings disappointments not only in coming quarters, but in the next several years. We continue to expect this disappointment to amount to a contraction in earnings over the next 4 years at a rate of roughly 12% annually."
Chart 7: Corporate Profits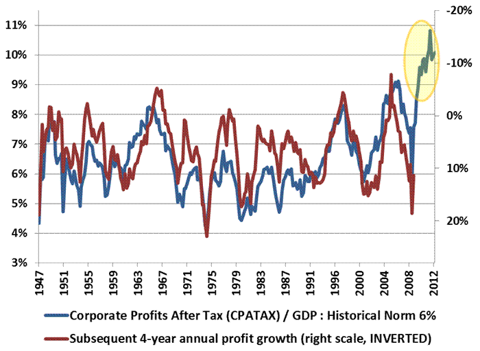 Click to enlarge
Source: Hussman Funds
During the Berkshire Hathaway Inc. (NYSE: BRK.B) annual general meeting this year, Vitalyi Katsenelson tweeted that: "Buffett doesn't think US high corporate profit margins are sustainable," confirming that the Oracle of Omaha is on the same page as Hussman.
Macro Data
Looking at reported earnings of two blue-chip companies, which provide a guide towards the direction of the broader economy, they point towards a slow-paced recovery. Technology giant Oracle Corporation (NASDAQ: ORCL), whose business segments are hardware, software and cloud services reported disappointing numbers. Nucor Corporation (NYSE: NUE) reported Q1 2013 earnings back in April and the numbers did not support the comeback of the economy. From the 10-Q:
"utilization rates of all operating facilities in the steel mills, steel products and raw materials segments were approximately 72%, 51% and 58%, respectively, compared with 79%, 54% and 65%, respectively, in the first quarter of 2012."
Short-run headwinds in the economy are evident through the numbers of these companies and similarly, macroeconomic data such as non-residential construction indicate that growth is taking place too slowly.
During the meeting of the Federal Open Market Committee (FOMC), the projections were revised for forecasted growth downward to 2.3 - 2.8% in real GDP from a December 2012 forecast of 2.3 - 3.0%. Next year's numbers were also revised from 3.0 - 3.5% to 2.9 - 3.4%. If these forecasts are proven true, then the economy will struggle to meet its previous full-employment potential.
Despite a positive number from the Institute for Supply Management's (ISM) Non-Manufacturing Index, which indicates growth in the non-manufacturing sector is at 53.1% as of April 2013, the rate of growth has declined from 56% in February 2013. Non-farm payrolls are still 2.5 million jobs short to pre-recession highs and the 7.5% unemployment rate still is at a level higher than where the Federal Reserve would like it to be to consider ceasing economic stimulus. As seen in chart 8, the civilian labor force participation rate has also declined thus skewing the numbers of the unemployment rate. Paychex, Inc. (NASDAQ: PAYX), the leading payroll outsourcing company for small to medium-sized businesses, reported a 2% payroll revenue growth for its most recent quarter (Q3 2013) which is good progress; however, the CEO Martin Mucci stated that the economy is "slowly picking up" and construction will slowly push more business, but he emphasized the slow pace. This evidence from the largest payroll processor and the economic indicators such as lower than expected U.S. economic growth support the argument of a generally slower than anticipated economic growth. As depicted in chart 9, the probability of a recession in 2014 skews upwards, further supporting the argument towards a correction in the coming year.
Chart 8: CIVPART and UNRATE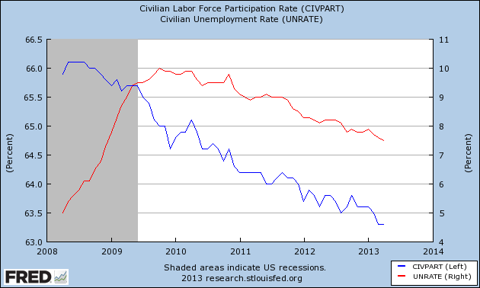 Click to enlarge
Source: Federal Reserve Bank of St. Louis
Chart 9: Probability of U.S. Recession Predicted by Treasury Spread*
Twelve Months Ahead (month average)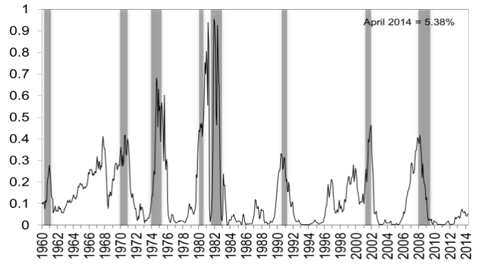 Click to enlarge
Source: Federal Reserve Bank of New York, updated: May 3, 2013
*Parameters estimated using data from January 1959 to December 2009, recession probabilities predicted using data through February 2013. The parameter estimates are α=-0.5333, β=-0.6330
Mark Faber, editor and Publisher The Gloom Boom & Doom Report, is cautious about the US markets and believes a crash from summer onwards is a possibility; however, he is not short due to money printing. He sees two possible outcomes:
1. Correction now, and then a further rise
2. No correction, and then a blow off similar to that of 1987
He also sees revenues disappointing in the coming quarters. Despite the S&P 500 hitting a record high EPS of $26.66 versus $26.36 in Q4 2012 which was higher than expected, revenue numbers fell short of analyst expectations. Cost management therefore is still taking place which is improving the bottom line; however, there seems to be a disparity between top and bottom line. According to FactSet data, of the 487 companies that have reported earnings since the report, 69% have reported earnings above the mean estimate and 46% have reported revenues above the mean estimate. Earnings growth expectations were also revised significantly between March 31 and a month later from 4.4% to 1.4%.
Concluding Thoughts
The average investor misses out in a bull market due to "shell shock" and poor investing habits; however, I would support getting in at these levels, even if a premium has to be paid up front for that privilege instead of waiting around for a better entry point. If a correction takes place, and you have conviction in stocks you are holding or on your watchlist, then do not be afraid to pull the trigger and stay invested in the long run.
David Tepper, founder and Chief Investment Officer of Appaloosa Management, is bullish and estimates that there is $400 billion in the economy looking for a place to go with few alternatives providing the returns of equities. Jonathan Krinsky, Miller Tabak + Co., LLC Chief Technical Analyst, talks about the number of 52-week highs seen in May are the most since November 2010 and historically, moves like this where they exceed six hundred are followed by a correction as seen in October 1997, 2003 and April 2010. The markets have enjoyed a generous return so far, which will not end for some time, however, a pullback or correction (one percent difference distinguishes which definition is used) is increasingly likely.
Personally, I am not short the market, or any stocks for that matter, but just playing devil's advocate. Realize that there is another side to the story and bearing the concept Ray Dalio of Bridgwater Associates calls "thoughtful disagreement" in mind is important.
As Paychex has indicated through its reported numbers in its most recent quarter, companies are still reluctant to increase their hiring plans as worries about the economy continue. Staying short-term bullish with conviction in stocks which have strong fundamentals is the best way to take advantage of the continuing trend upward for equities. Medium-term caution is warranted and a pullback by 2014 as argued would provide a buying opportunity.
My closing remarks are that whichever side you decide to support, that of having a cautious stance and seeing the world through the results of Nucor and Oracle, or remaining bullish and seeing the results of FedEx Corporation (NYSE: FDX) where the U.S. economy has performed well for them in their most recent quarter, beware of confirmation bias. Depending on the valuation tools you seek to look at, you can confirm any side of the argument. Due to the complexity of this topic, I have ignored a myriad of macroeconomic data which could possibly discount my argument. Forecasting the future is impossible to do with any consistent accuracy, but do recognize that the likelihood of a decline in the markets exists.
Before closing I would like to leave you with a quote:
"Investing, when it looks the easiest, is at its hardest. When just about everyone heavily invested is doing well, it is hard for others to resist jumping in. But a market relentlessly rising in the face of challenging fundamentals-recession in Europe and Japan, slowdown in China, fiscal stalemate and high unemployment in the U.S.- is the riskiest environment of all."--Seth Klarman
Disclosure: I have no positions in any stocks mentioned, and no plans to initiate any positions within the next 72 hours. I wrote this article myself, and it expresses my own opinions. I am not receiving compensation for it (other than from Seeking Alpha). I have no business relationship with any company whose stock is mentioned in this article.