By Robert Brealey
Varian Medical Systems (NYSE:VAR) is trading at $68, down from its 52-week high of $75.8. We are bullish on the stock not only because it is currently undervalued, but it is a stock you can buy and hold without having to worry about every day. Our estimate of fair value is over $85 per share with near-term performance accounting for close to 110% of its current share price.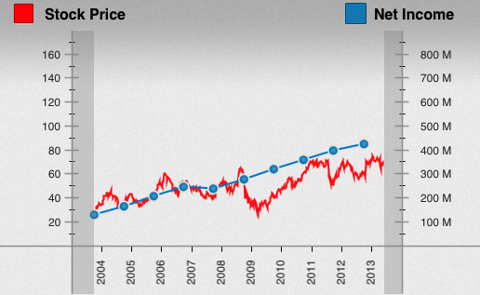 Click to enlarge
Steady historical performance driven by double-digit growth and profitable business model
Over the past 10 years, VAR has delivered close to 10% in annualized stock return compared to 5% of the overall market. A $100 investment would have become over $228 compared to $160 for the overall stock market. A returns decomposition shows that this stock return is clearly driven by a very high 14.5% earnings growth, with a very low 1% capital retention because of the very high 30% return on equity that it enjoys. A decline in Price-Earnings ratios from 30x to 17x pulled down returns, and positioned the stock for better returns in the future.

Click to enlarge
VAR has delivered consistent revenue and earnings growth and ROE performance over the past 10 years. Revenue growth has been between 10% and 19% for most part except a slowdown to 6-8% in 2009 and 2012. Meanwhile ROE has consistently been between 30 and 40%.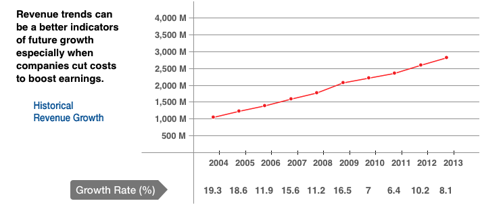 Click to enlarge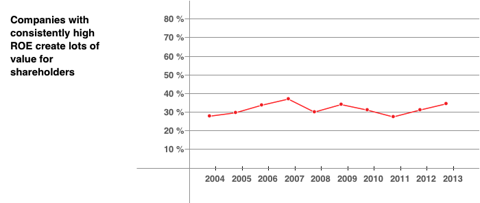 Click to enlarge
VAR's strong financials is grounded in its leading position in a growth industry
VAR's outstanding growth and profitability is grounded in its position as a leading supplier of radiation therapy systems to treat cancer. Used in over 50% cancer cases, radiation therapy is one of the least expensive cancer treatments and most effective in terms of cure and overall survival. VAR is the current leader with slightly over 50% market share, with Elekta (OTCPK:EKTAF), Siemens (SI) and Accuray (NASDAQ:ARAY) as the other suppliers.
VAR is also a strong player in X-ray products, including one of the world's fastest flat-panel digital detectors and imaging software and workstations to produce sharp detail X-ray images for diagnosis. X-ray products account for 18% of total revenue in 2012, growing at 10% annually compared to 8% for the radiotherapy segment.
In April 2012, VAR entered into a strategic partnership with Siemens in which both VAR will represent Siemens diagnostic imaging products to radiation oncology clinics in international markets and in turn Siemens represents VAR's equipment and software products for radiotherapy and radio surgery in North America. We see this as a sign of consolidation in already oligopolistic market.
With a healthy cash balance, mergers and acquisitions continues to be a way that VAR acquires new products, technologies and customers. In 2012, VAR acquired InfiMed, a privately-held supplier of hardware and software for diagnostic images for $20.8 million, and in 2011, VAR acquired Calypso Medical Technologies, a privately held supplier of specialized products and software for real-time tumor tracking during radio surgery and radio therapy. [Source: 2012 Annual Report]
We expect the market for VAR to continue growing at 8-10% annually. As the leading cause of death, new cancer cases diagnosed annually are estimated to grow from 13 million in 2008 to 21 million in 2030, with the total number of people living with cancer compounding at an even higher rate. Currently, the penetration of radiation therapy systems in developing countries like China are still very low and growing rapidly.
VAR is undervalued with a significant margin of safety
Our valuation model shows that VAR is valued at $86 per share assuming a steady 9% earnings growth rate for the next 5 years, RONE of 27% and a future price-earnings ratio of 16.8x (which corresponds to a conservative earnings growth rate of 3% to perpetuity). Note that current earnings and near-term earnings growth account for close to 110% of current share price, which gives us a sizable margin of safety. Expected returns in buying and holding this stock for 5 years is over 12% annualized, driven by a high earnings yield of 5.7%, earnings growth of 9%, a small earnings retention as a result of high return on equity, and a small decline in price-earnings ratio.
On the other hand, if we were more conservative and assumed a 5% earnings growth for the next 5 years, which we believe is the lowest it can go, a RONE of 27% and a future price-earnings ratio of 15.6x (which corresponds to an even more conservative earnings growth rate of 2% to perpetuity), the value of the stock is at $70 per share, which is still higher than its current value.
You can play with our model above.
VAR - an Investment You Don't Have to Look At Every Day
Currently, 9 analysts recommend a buy, 3 hold and 2 sell. Average EPS estimate for FY2013 is $4.10, which is 9% above FY2012 EPS of $3.76, and for FY2014, $4.55, which is 10% above estimated EPS for FY2013. Though the EPS growth rates of the 2Q and 3Q are expected to be around 5% compared to a year ago, it appears that the analysts are seeing a catch up in 4Q of over 12% compared to 4Q a year ago.
In the bullish market today, it is hard to find companies that are fairly or undervalued. We believe VAR is an undervalued stock by a significant safety margin, an investment you can buy and hold without having to worry about every day.
Disclosure: I have no positions in any stocks mentioned, and no plans to initiate any positions within the next 72 hours. I wrote this article myself, and it expresses my own opinions. I am not receiving compensation for it (other than from Seeking Alpha). I have no business relationship with any company whose stock is mentioned in this article.
Additional disclosure: This article was written by Robert Brealey, one of our contributors. Neither CandidMarkets nor Robert Brealey received compensation for this article (other than from Seeking Alpha), and we have no business relationship with any company whose stock is mentioned in this article.