The application software market is a very sensitive one and has been characterized by rapid technological change, shifting customer needs, and frequent new product introductions and enhancements by competitors. Over the past several years, the widespread availability of the Internet, mobile devices, and the explosion of social media have stepped up the pace of change and revolutionized the way that customers learn about, evaluate, and purchase products and services.
About the Company
Intuit Inc. (NASDAQ:INTU) is a leading provider of business and financial management solutions for small businesses, consumers, accounting professionals, and financial institutions primarily in the United States, Canada, the United Kingdom, India, and Singapore. Its flagship products and services include QuickBooks, Quicken, Mint.com, and TurboTax, which simplify small business management and payroll processing, personal finance, and tax preparation/filing. ProSeries and Lacerte are the company's leading tax preparation offerings for professional accountants.
Business Segmentation:
The company's products and services are divided into seven business segments including financial management solutions (17 percent), employee management solutions (12 percent), payment solutions (10 Percent), consumer tax (35 percent), accounting professionals (10 percent) and financial services (9 percent), respectively.
Analysis
Rising trend in Revenues: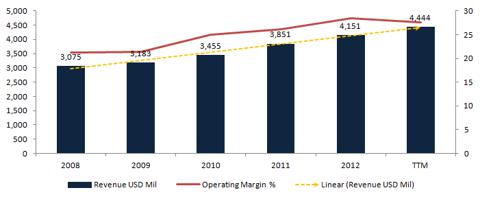 This graph shows the company's revenues and its operating margins since 2008. As you can see, Intel has experienced a constant growth in revenues over the years, indicated by a linear line, with a CAGR of 6.18 percent. Over the years the company has managed to grow its operating margins from 21 percent in 2008 to 28.4 percent in 2012, respectively. The company has also managed to increase its revenues through successful acquisitions in recent years.
DuPont Analysis:

The DuPont analysis indicates that the ROE is viewing an upward trend in the long run, presented by the linear line, and it is majorly supported by net margins. The company has managed to grow its ROE by reducing its financial risk, which is reflected by the decreasing financial leverage ratio of the company and increasing its asset turnover. The increase in asset turnover is also a good sign for investors, which shows that the company is efficiently utilizing its assets to generate its revenues.
Dividends and share buyback:
Before fiscal year 2012, the company paid no cash dividends to its stockholders. In fiscal year 2012, the company paid its first ever cash dividends, which totaled $0.60 per share of outstanding common stock, or $178 million. In August 2012, after a period of one year, the company raised its quarterly cash dividend by 13.33 percent to $0.17 per share. The company has consistently repurchased its shares under a plan announced on August 18, 2011-$2 billion in stock over the three-year period ending on August 15, 2014. At the end of July, 2012 the Board of Directors added up to $1.7 billion to the program. The increase in dividends is a sign of company's confidence in its financial strength and its future cash flows. On the other hand, a company usually begins repurchasing shares when it believes its share price is undervalued.
Multiple Analysis:

The table above indicates a comparison among valuation metrics of Intuit, the respective industry, and the S&P 500, along with Intuit's own five-year average. We can clearly see that the stock price of the company seems to be undervalued across P/E and P/cash flow measures, compared to its competitors and the industry. Compared to its five-year average, the company stock price also evidently indicates that it is currently trading below its five-year average and will begin to increase in the near future.
Forward-looking Guidance:
For the fiscal year 2013 the company expects 10 to 12 percent growth in revenues ($4.55 billion to $4.65 billion), and an EPS of $2.76 to $2.82, for a total growth of 6 to 8 percent. By business segments, the company expects its small business group revenues to grow by 16 percent, consumer tax to grow by 9 percent, accounting professionals by 6 percent, financial services by 7 percent and other businesses by 2 percent, respectively.
Conclusion:
The company is doing business in a very competitive market in which entry barriers are very low, but most of its competitors are offering limited services to its customers. The company has a strong products and services portfolio that not a single competitor can match, which is a huge competitive edge. As mentioned above, the company generates most of its revenues from its consumer tax segment, which is seasonal in nature. But with the help of its strong business segments, it can easily manage this seasonal effect. An important point to note here is that the company's financial performance was not affected by the 2008 crisis, which indicates its business strengths, globally. With its strong financial position, compelling portfolio and increasing dividends, I recommend a buy rating to this stock.
Disclosure: I have no positions in any stocks mentioned, and no plans to initiate any positions within the next 72 hours. I wrote this article myself, and it expresses my own opinions. I am not receiving compensation for it (other than from Seeking Alpha). I have no business relationship with any company whose stock is mentioned in this article.