During the economic meltdown of 2008, 16% of home furnishing stores went under. Companies that survived the recession have grown immense and even stronger today. The home furnishing stores industry was one that had moderate competition within it, with Bed Bath & Beyond (NASDAQ:BBBY), Pier 1 Imports (NYSE:PIR), and Williams-Sonoma Inc. (NYSE:WSM) being the major players of the industry.
Introduction and Growth Prospects:
Bed Bath & Beyond is performing up to expectations. It is growing with every passing year.

Click to enlarge
As can be seen in the table above, its number of comparable stores is increasing. With the exception of 2009, a continuous growth in its sales revenue can be observed. If it follows the same trend, it could be predicted that the company would be opening 71 stores this year. Additional revenue of $589,442 could be expected from the71 new stores, and net sales of $952,347,000 are expected by year's end of 2013. Per-outlet revenue of comparable stores is expected to slightly fall based on the past four-year trend because of a saturation of BBBY stores throughout the U.S.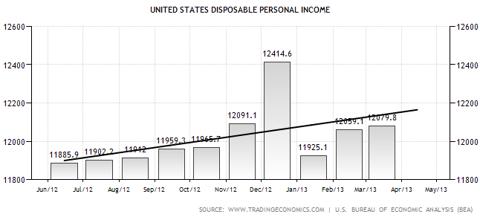 Click to enlargeSource: tradingeconomics.com
As can be seen in the figure above, in the United States disposable personal income has witnessed an increasing trend in the last 12 months. With disposable personal income increasing, consumer spending patterns are also expected to rise. When consumer spending rises, people will also want to fulfill their need for home furnishings.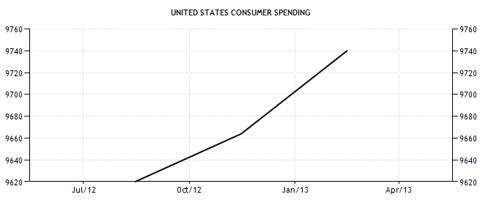 Click to enlarge
When people begin shopping more in home furnishing retail stores, BBBY is expected to gain greater market share from additional customers that are coming in due to its nationwide presence. I see BBBY's revenues exceeding expectations due to the economic growth being experienced in the United States' economy.
Profitability Analysis: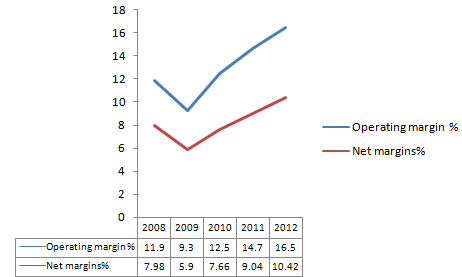 Source: MorningStar.com
A continuous increasing trend can be observed in net and operating margins in the last five years. The only exception to this is 2009, where a dip was observed, which could be credited to the economic meltdown prevailing in the U.S. economy. Increasing operating margins are being witnessed because revenues are growing at a galloping rate, while operating expenses, on the other hand, have slowly crept up in the last five years. Slow growth in its operating expenses could be credited to effective management of BBBY, which has restricted these expenses to low levels. Increasing trends in both margins lead me to believe that the company has been making good money in the past few years, and this should encourage investors to invest more in BBBY.
DuPont Analysis:

Click to enlarge
In the DuPont analysis, it can be seen that a major portion of ROE in each of the four years is coming from net margins, and this is a bright prospect. Asset turnover ratio is the second major contributor towards the return on equity, meaning that the company's management is using its assets quite efficiently. The company's financial leverage is within manageable limits; the fact that it has stayed approximately the same for four years means that the company is not relying on debt as a source of capital.
In the last four years, an increasing trend could be observed in the company's return on equity. It is a very bright prospect for the investor, as an increasing ROE means the company is earning more for the shareholders' money invested in it. This would attract more investors to invest in the company.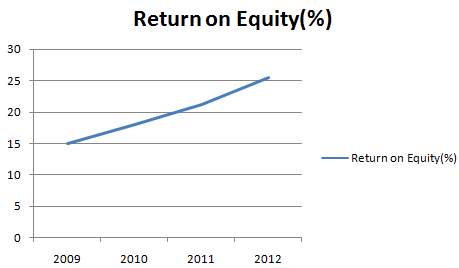 Stock Valuation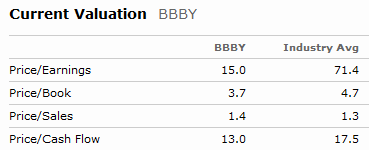 Source: Morningstar.com
When studying the price/earnings ratio of BBBY, it can be seen that it's remarkably lower than the industry average. The company's price/earnings is 15, as compared to the industry average of 71.4, meaning that BBBY stock is undervalued. When price/book is observed, it is 3.7 for the company, while the industry average is 4.7, which also means it is undervalued. With respect to price/sales, BBBY's stock is slightly overvalued, as the company's price/sales is 1.4, and the industry average is 1.4. Price/cash flow also means that BBBY's stock is undervalued, seeing as the industry average is 17.5, while the company's price/cash flow is 13.0. Taking all four valuation methods into consideration, price/sales is the weakest indicator, Considering that the other three measures are more accurate, BBBY's stock is judged to be undervalued in the market.
Conclusion
BBBY has very bright growth prospects; with consumer spending increasing, it is likely to grow even more than expectations. The company's net margins, operating margins and return on equity are continuously increasing, indicating to me that the company is making good money and has very strong financial health. BBBY is growing at a galloping pace, but is not financing its growth through debt. Its leverage has stayed approximately the same throughout the last five years, which is very good for its financial health. The company is not facing any liquidity issues- its current and quick ratios are in comfortable zones. With the stock valuation, BBBY's stock is undervalued in the market. While taking into account the entire position of the company, it could be predicted that BBBY is a market leader of tomorrow, and is a must buy stock.
Disclosure: I have no positions in any stocks mentioned, and no plans to initiate any positions within the next 72 hours. I wrote this article myself, and it expresses my own opinions. I am not receiving compensation for it (other than from Seeking Alpha). I have no business relationship with any company whose stock is mentioned in this article.