When it comes to investment funds mapping the performance of precious metal miners, the Market Vectors Gold Miners ETF (NYSEARCA:GDX) is the undisputed yardstick. With net assets of $7.44B, this fund is light years ahead of competitors such as the iShares MSCI Global Gold Miners ETF (NYSEARCA:RING) with assets of $27.23M or the Global X Pure Gold Miners ETF (NYSEARCA:GGGG) with assets totaling just $3.34M. For these smaller players, it becomes all the more important to distinguish themselves against the large player and present a case for investors to contemplate channeling their hard-earned money away from GDX without turning straight to individual mining companies or turning to the yellow metal itself, for example, by buying bullion or more conveniently via the SPDR Gold Trust ETF (NYSEARCA:GLD). Which begs the question: if exposure to gold is sought, why go to the miners and not the metal? In theory, the miners offer leverage to the metal exaggerating rallies, but also downturns. The chart below illustrates this theory to some degree, comparing GLD with the three mentioned gold miner ETFs: GDX, RING and GGGG, starting April 2012. Not a pretty showing for any of them lately one is tempted to observe.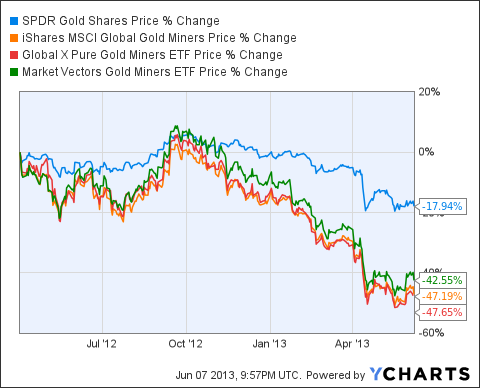 For those entertaining hopes for a gold rally later this year, now might just be the right time to do some research in order to be prepared when the time comes. We have just done that and would like to follow up our last piece on GDX comparing our findings for the market leader with the distant number two, RING by ticker and iShares MSCI Global Gold Miners by name.
Both funds yield similar amounts (GDX: 1.2% and RING: 1.16%) and RING attracts somewhat smaller expenses (GDX: 0.52 and RING: 0.39%). However, at this point in time, we are more interested in the fundamentals.
When looking at the holdings, we note that the largest chunks in GDX as well as in RING are taken up by the big 4 global gold miners: Goldcorp (NYSE:GG), Barrick Gold (NYSE:ABX), Newmont Mining (NYSE:NEM) and Newcrest Mining (OTCPK:NCMGY). Did I say both? Well, not quite. You see, GDX only includes NYSE-listed stocks and Newcrest, the fourth-largest gold miner by market capitalization, does not have a listing in the USA. Instead this miner maintains its proud All-Australian image and its shares are only available in the US via the pink sheets - a no-go for GDX but not a problem for RING. There we have it: our first feature setting the two apart. At 45.5% this group of miners is larger for RING than for GDX where these large-cap miners make up 30.82% of holdings.
The second largest group of gold miners with more than $4B in market capitalization is quite similar for both funds (RING: 33.3% and GDX: 37.9%). With RING this group is made up by Randgold (NASDAQ:GOLD), Yamana Gold (NYSE:AUY), Kinross Gold (NYSE:KGC), AngloGold Ashanti (NYSE:AU), Agnico-Eagle (NYSE:AEM), Eldorado Gold (NYSE:EGO), Gold Fields (NYSE:GFI), Minas Buenaventura (NYSE:BVN) - the usual suspects in other words.
The rest of the holdings differs considerably between the two funds. GDX allocates the remaining portion to a mix of royalty plays, silver miners, junior miners and even explorers; RING on the other hand stays with producing gold miners of different sizes, many of them listed on the pink sheets in the US. The diagram below illustrates and compares the holdings of the two funds by stock groups.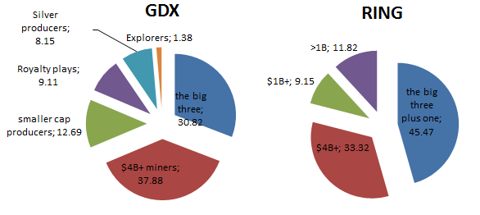 In our previous article, we compiled a diagram illustrating the performance of all individual stocks held by GDX. Below is a similar diagram for RING showing the performance of all included stocks between November 1 and May 31. GDX top performer Nevsun Resources (NYSEMKT:NSU) comes in fourth in the RING ranking beaten by just one stock that is actually listed in the US, namely DRDGold (NYSE:DRD). The other stocks ahead of DRDGold only have listings at overseas exchanges (China Precious Metals and Pan African Resources), or do not have a history of trading in the US long enough to qualify (Koza Altin (OTCPK:KOZAY)). Allied Nevada (NYSEMKT:ANV) brings up the rear of this ranking for the GDX; with RING this questionable honour goes to San Gold (OTC:SGRCF). AngloGold Ashanti and Eldorado Gold are spot on the median in this list with losses of 45.7% during the chosen period of time.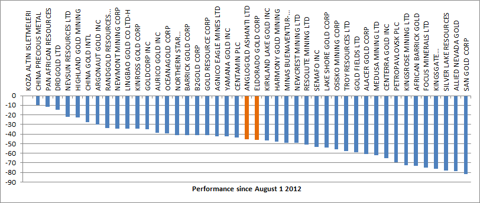 Next we assumed an investment of $1000 and calculated the number of attributable shares this investment would buy us from each company of the funds' holdings. We also compiled production and reserve data of each company included in the fund and computed the amount of gold production and reserve ounces in the ground this $1000 investment would buy.
A $1000 investment in GDX provides participation to 0.28 ounces of gold produced and 7.2 ounces of gold reserves. The same investment in RING provides participation in 0.29 ounces of gold production and 6.38 ounces of gold reserves.
The table below gives a list of all RING holdings and the contribution of each company to this imaginary $1000 investment in the fund. The table also gives the same numbers for $1000 investments directly into each individual company.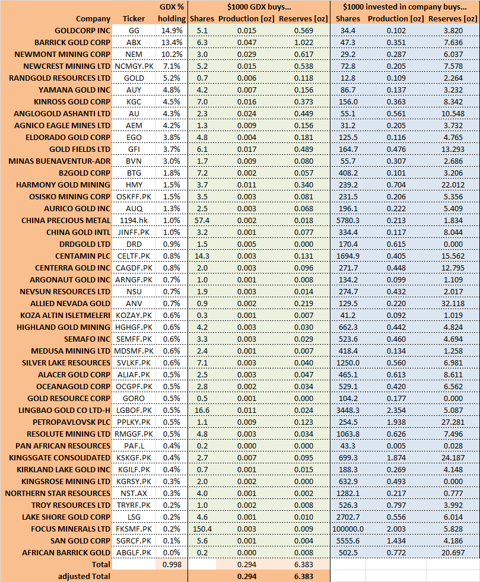 We also undertook an analysis of the countries the funds' companies operate in and computed how much of the attributable gold from production and in reserves originates from these countries. The pie chart below gives the results for RING with the same charts already provided for GDX in our previous offering.
The first 75% of gold production of the companies held by RING takes place in the following countries: Australia (15.39%), USA (13.37%), South Africa (8.51%), Peru (7.32%), Canada (6.63%), China (5.63%), Russia (5.13%), Ghana (5.13%), Mexico (4.42%), Argentina (3.09%).
The first 75% of gold reserves are distributed among the following countries: USA (12.80%), South Africa (12.20%), Australia (9.73%), Chile (6.97%), Papua New Guinea (5.73%), Mexico (5.68%), Canada (5.28%), Ghana (4.79%), Argentina (4.15%), Peru (3.35%), Brazil (3.12%), Russia (2.80%).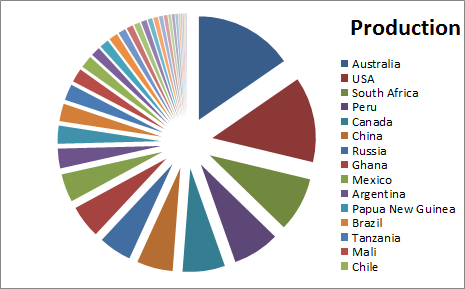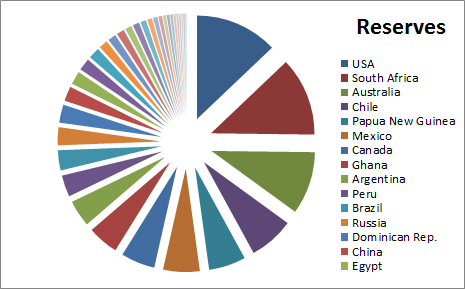 Some Observations
The performance spread of the companies included in RING is considerable and even greater than for GDX, probably due to the inclusion of a large number of junior mining companies. Some of these junior companies seem obscure for US investors, especially the China-based companies with very little public information available on them. On the other hand, the company selection is purely gold-related and does not include silver miners or streamers as is the case for GDX.
Production and reserves attributable to each RING share are spread across more countries and lack the South Africa focus observed for GDX. We would view this as an argument in favor of RING.
Each RING share provides participation in 0.29 ounces of gold production and 6.38 ounces of gold reserves. The number for gold production is slightly more than for GDX, but the number for reserves lags behind.
RING seems to amplify the swings in gold price a bit more than GDX and therefore offers more leverage.
As a trading vehicle GDX is much preferable due to the greater volumes of shares traded each day.
Disclosure: I am long AEM. I wrote this article myself, and it expresses my own opinions. I am not receiving compensation for it (other than from Seeking Alpha). I have no business relationship with any company whose stock is mentioned in this article.