REITs can provide investors with diversification due to low correlations with other asset classes, together with high liquidity and transparency. In this article we will look at continental REITs with broad exposure to one or multiple countries. For individual investors in the US (a crowd that I don't belong to), finding opportunities outside of the homeland may often be overlooked. I think there is great value to be found in real estate across borders and in this article I will sweep over some of the broadest REIT ETFs in North America, Europe, and Asia.
The REITs examined are iShares FTSE EPRA/NAREIT North America (IFNA), iShares FTSE EPRA/NAREIT Developed Europe ((NASDAQ:IFEU)), and iShares Asia Developed REIT ETF (NASDAQ:IFAS). All three have an expense ratio of 0.48% and draw returns from hundreds of underlying REIT structures. Their market cap is in line with large-cap stocks.
With an initial look at the return/volatility profiles, North America wins over most time periods. However, in yield, IFNA lags behind the others. I'll come back with an argument why investing in North America may not be the best pick of the three.
Gross Return %

Volatility %**

3M

YTD

1YR

3YR

5YR

1YR

3YR

5YR

IFNA

-0.9

4.0

13.1

49.5

35

13.7

19.7

33.2

IFEU

5.1

2.3

26.9

47.0

-7.3

19.5

23.3

31.1

IFAS

-8.0

-5.1

27.2

35.3

1.0

17.2

19.6

28.8
* Volatility - 1YR based on 12 months daily data. 3YR based on weekly data. 5YR based on monthly data
Of course, the dividend paid is important and REITs are known to give high payouts. The income of the REIT is passed through to the investor in the form of high yield, and the pass-through tax structure facilitates this. Of the three REITS, exposure to US real estate has the lowest yield, while Asia has an annual dividend in the range of 6%.
| | |
| --- | --- |
| | Dividend yield (%) ttm |
| IFNA | 3.0 |
| IFEU | 4.0 |
| IFAS | 6.3 |
With market caps in hundreds of billions the sector coverage includes most real estate types but their profiles are more heterogeneous in sectors compared to risk & volatility.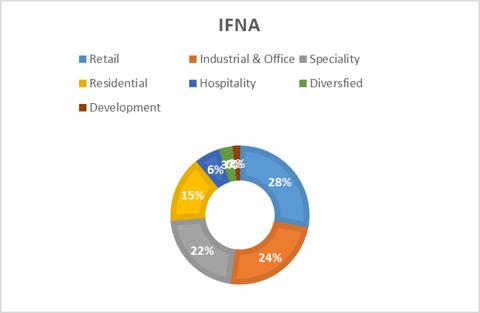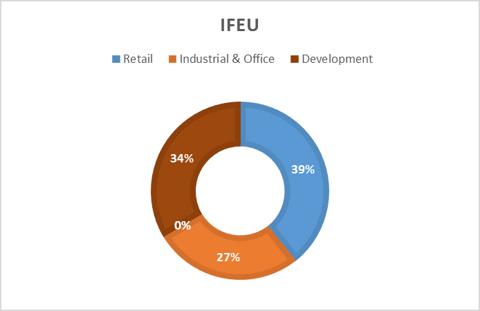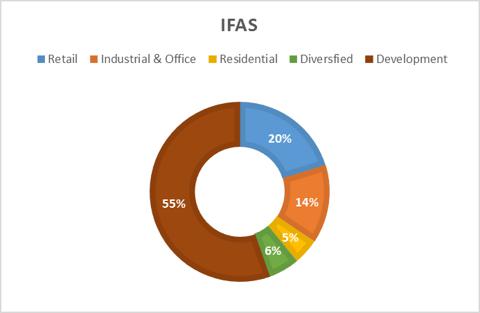 IFNA is clearly the broadest vehicle out of the three. Not only does it have the highest number of holdings, it is also much more evenly distributed across sectors as can be seen in the chart. This fits in well by the lower volatility of the REIT as we saw before. This type of allocation may be suitable for those wishing a steady dividend payment but with less upside/downside risk, due to the very low, almost non-existing, allocation to development. The Asia based REIT has a broad cross-sectional coverage but with a much higher allocation to real estate development. This is in my view a much more opportunistic investment.
Another thing about real estate, and real assets, is that they are not only diversifiers to equity markets they are also excellent hedges against inflation. This can be backed up by hard numbers.
| | | |
| --- | --- | --- |
| | Correlation to S&P 500 | Correlation to US Inflation (5 years) |
| IFNA | 44.1% | 14.4% |
| IFEU | 49.8% | 10.5% |
| IFAS | 52.1% | 0.2% |
It's clear that all continents live up to this and it stand out that IFAS has a correlation close to zero to CPI values, essentially uncorrelated to inflation. Inflation has been steadily dropping the last few years so this may not matter much as long as inflation remains low. As for the future the only certainty is change, and news coming from the Federal Reserve, ECB or BOJ can make the market turn both ways. The higher yield and allocation to real estate development argues for IFAS. On the other hand, does IFNA provide the better hedge against inflation out of the three?
South America and Africa
To gain exposure to other parts of the world is more complicated, at least by investing in a single vehicle with both geographical and sector depth. When directing focus to South Africa and Africa the offerings are much more limited for international retail investors. I found two indices, take note that the indices mentioned are not investable, but can give an initial insight to other foreign markets.
FTSE EPRA/NAREIT Emerging Americas Index
Dow Jones Africa & Middle East Select REIT Index
| | | |
| --- | --- | --- |
| Index | Holdings | Div/yield (%) |
| FTSE EPRA/NAREIT Emerging Americas Index | 24 (100% Brazil) | 2.1 |
| Dow Jones Middle East & Africa Select REIT Index | 4 (100% South America) | 6.6 |
The country exposure is very limited and the number of properties included in these REITs are few which seriously questions if they are suitable as benchmarks for continental regions. The returns presented don't paint a good picture but since they are concentrated to a single country it may not give insight to the markets as a whole. I leave this for another article.
Return

Volatility

3M

YTD

1YR

3YR

5YR

1YR

3YR

5YR

Emerging America Index

-12.8

-11.2

-10.1

-23.3

-40.2

24.2

32.6

49.0

Middle East & Africa Index

-14.15

-15.20

1.38

8.06

14.40

n/a

n/a

n/a
End note
As a last and final paragraph, I would like to reiterate a statement made earlier this year by a real estate strategist at J.P Morgan:
Michael Hudgins, global real estate strategist at J.P. Morgan Funds, wants REIT investors to travel abroad in 2013. "Investors are more confident in global growth," he says, "and we could see an international return premium this year."

Hudgins says sustainable long-term cash flow is typically correlated to GDP, and because of that he finds "significant value" in Asia right now, aside from Japan. "Given the underperformance of Asia and the greater growth prospects in places like Hong Kong and Singapore, they look very cheap." He says the main risks with international REIT investing can be macroeconomic.
Disclosure: I have no positions in any stocks mentioned, and no plans to initiate any positions within the next 72 hours. I wrote this article myself, and it expresses my own opinions. I am not receiving compensation for it (other than from Seeking Alpha). I have no business relationship with any company whose stock is mentioned in this article.