Over the last few years, The Applied Finance Group has been working on expanding its equity research to a global scale since it has helped its clients benefit from the identification of mispriced securities in the U.S. since 1996. The same framework and variables that have proven successful at finding winners and losers domestically, has also proven through vigorous back-tests to be quite successful on a global level (.pdf). Our global research site has coverage on over 30,000 companies around the world with transparent back-test results.

To highlight the capabilities of our global research product we have created a report to display the companies we find most attractive within the UK's FTSE 100 (Footsie 100) which consists of the 100 largest UK companies on the London Stock Exchange. The FTSE 100 is the one of the most widely used market indicators in the UK and represents over 80% of the market cap of the entire exchange. Below are 10 UK companies that look attractive based on AFG's valuation model.
click to enlarge
10 Best UK Companies In FTSE 100 (ex. Financials)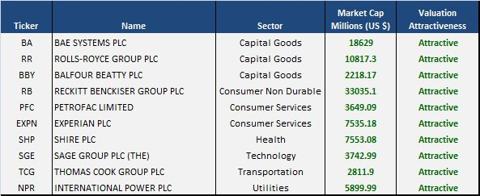 Click to enlarge
Source: (www.EconomicMargin.com)
Insights on AFG's valuation methods:
AFG's Valuation Metric – Measures the percent to target (deviation between a stock's current trading price and its AFG current default target price). To derive the intrinsic value of a firm, AFG uses its proprietary Valuation Model (modified discounted cash flow model).