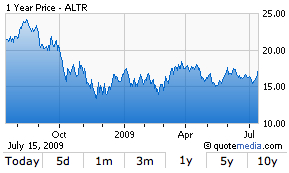 Yesterday, Altera Corporation (NASDAQ:ALTR) (Analyst Report) reported second-quarter earnings of 16 cents per share, which matched our expectations. Sales totaled $279.2 million, up 6% sequentially but down 22% year over year.

Net income came in at $47.4 million (16 cents per share), compared to a net income of $44 million (15 cents per share) in the previous quarter and net income of $98.0 million (32 cents per share) in the year-ago quarter. The results for the most recent quarter included an additional tax expense of $11.5 million charge as a result of a United States court ruling related to worldwide equity compensation cost sharing. This charge reduced EPS by $0.04.

The telecom and wireless segment was once again the growth engine for the company, thanks to communications equipment deployment in Asia, primarily in China.

Going forward, ALTR expects revenues to decline by 1% - 5% sequentially in the third quarter. This equates to a revenue range $265 million to $276 million versus the consensus estimate of $279 million.

The decline reflects a slowdown in communications equipment deployment in China and seasonality in telecom and wireless markets. One of the 3 operators in China (China Unicom (NYSE:CHU) (Analyst Report), China Telecom (NYSE:CHT) (Analyst Report) and China Mobile (NYSE:CHL) (Analyst Report)) slowed its telecom and 2G wireless deployment towards the end of the quarter to solely focus on 3G network performance.

However, management reiterated that China will remain a key market in the long term and the spending will be cyclical. Earlier, rival chipmaker Xilinx (NASDAQ:XLNX) (Analyst Report) had cautioned volatility in sales from China.
The rollout of third-generation mobile networks across Asia will play a huge role in designing the growth chart for the company. Altera has a large exposure to the telecommunications industry. The top 3 communications carriers in China are planning to spend around $42 billion over the next few years in both telecom networking and wireless. Hence, China provides a springboard for growth.

Additionally, ALTR talked about a probable 3G build out in India at the end of 2009 or early 2010.

We believe the fundamentals for ALTR remains strong in the long term and reiterate our Buy rating.