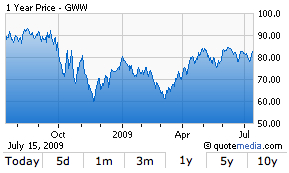 W.W. Grainger, Inc. (NYSE:GWW) (Analyst Report) beat second-quarter forecasts with EPS of $1.21 per share. This was the 6th time the company has surpassed market expectations. However, the second quarter earnings were down 18% compared to $1.47 per share in the prior-year period.

The company posted revenue of $1.53 billion, down 12.7% from $1.76 billion in the second quarter of 2008. GWW is experiencing weak demand as the economic slowdown is driving Grainger's customers to idle or close facilities and delay purchases.

In the United States segment, Grainger witnessed a 12% drop in sales as demand remained weak in all its customer end-markets except government, which was up marginally. The company reported that heavy manufacturing has declined almost 30% and commercial declined in high single digits, while most other segments declined in low to mid teens.

In the Canada (Acklands-Grainger) division, sales were down 19% as the Canadian economy remained weak, particularly in the forestry, manufacturing, transportation and mining industries. The company reported strong sales to government, along with growth in the utilities and infrastructure related sectors.

The current economic conditions are however not deterring the company from investing in long-term growth. Despite a weakening economy, Grainger continues to concentrate on increasing market share through its market expansion and product-line expansion programs.

The company remains focused on expanding its product offering with 233,000 products included in this year's catalog. Grainger expects to add more products throughout the year and targets having almost 300,000 products in its 2010 catalog. The company said that the product-line expansion contributed $231 million in sales in the second quarter.

Given the company's strong balance sheet (cash and cash equivalents of $416 million) and the ability to generate positive cash flow (operating cash flow of $232 million in the first half), we believe Grainger has adequate financial flexibility to pursue additional growth opportunities.