Of late, a lot of ink has been spilled about the fate of mREITs in general, and Annaly Capital Management (NYSE:NLY) in particular. In an attempt to simplify the situation, my view is that investors may be best served by focusing upon understandable, historic metrics versus trying to handicap the media headlines.
Indeed, it's now time to accumulate shares with a long-term view.
NLY is a stock to OWN, not a stock to TRADE.
Annaly Capital Management -- One Year Price and Volume
courtesy of bigcharts.com
In this article, I will present a straightforward chart that cuts to the chase, offer some analysis, then follow on with a F.A.S.T. graph that further indicates to me that the stock trades below fair value.
Exhibit One
Please find below a ten-year chart plotting NLY Price versus the 10 / 2 year Treasury bond yield spread.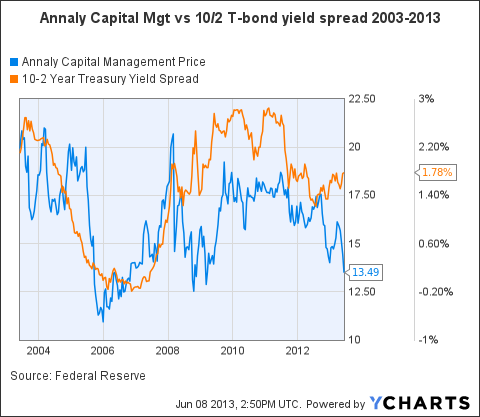 When I look at this chart, I immediately notice two things:
There is a reasonable, decade-long correlation between the stock price and the yield spread
Right now, the price and spread are diverging
For the past decade, whenever the stock price has found its way below the overlay yield spread, it's come back to it. However, over the past few months, the two have diverged to an extent not seen since 2008-09.
This looks like an opportunity, not a threat.
Let's examine this phenomenon more deeply.
Based upon history and the "reversion to the mean," one could reasonably conclude that either the stock price will come up, the 10 / 2 T-bond spread will go down, or a combo of the two. Otherwise, the correlation will be broken.
But what could cause the opposite to happen?
Why Would Yield Spreads Narrow?
Historically, yield curves flatten out prior to the economy going into recession. They may even invert, as did happen in 2006-07 and again during the Great Recession.
I do not believe we are heading into a recession. While the U.S. economic recovery has been tepid, and I agree it may accelerate soon, I question the premise that we are heading into another downturn. Indeed, if the Fed gets even a whiff of recession, the "tapering" argument gets blown out.
On the other hand, if the Fed does begin to reduce its willingness to buy up long-Treasuries, conventional wisdom says this action will tend to push such securities' yields higher, not lower. At that same time, the Fed (which has considerably more control over short-term rates) could act to maintain these low rates. Over time, such a stance would widen the spread, not diminish it.
Many analysts cry from the hilltops that the current interest rate environment has been manufactured by the Federal Reserve; arguably in excess of their normal purview. If so, then why would this same organization undo the past five years of interest rate policy by willfully squeezing spreads (and margins) back down? Would this not pressure up the very financial institutions the Fed has been trying to save?
I contend additional spread compression, sans a recession, will be short-term, as in the past. This time isn't any "different."
Why Would Annaly's Stock Price Stay Down?
In a climate of rising long interest rates, an mREIT like Annaly would initially experience a reduction in prepayments. Mark-to-market securities held on the balance sheet would be valued lower, potentially knocking back book value.
However, new money invested will find a more favorable NIM (Net Interest Margin). The enterprise may borrow low, and buy higher-yielding paper. Furthermore, mREITs could juice the situation by potentially levering up the business.
Lo and behold, Annaly Capital is currently leveraged at a relatively low 6.5:1 ratio.
To be sure, it is possible that dividends may drift lower before regaining traction and moving higher again. I attribute this to the likelihood that the business transition from low rates and tight NIMs to higher rates and higher NIMs may be "sloppy." In this scenario, there will be traders who decide to sell first and ask questions later. REITs are not good candidates for the Dividend Aristocrat list. So be it.
Therefore, while the immediate result of higher interest rates might be lower short-term cash flow, knock-on dividend cuts, and result in a declining share price, the longer-term results most certainly should be lower cost of funds coupled with higher asset yields.
This is good news, not bad news, for NLY investors.
But Ray, Couldn't the Historical Price-to-Spread Correlation be Broken Forever?
While there is no guarantee of any future relationship between these metrics, I cannot find plausible reasons that Annaly stock should remain forever disjointed from historic yield spreads.
This does not mean that there are no possibilities for such an occurrence. Here are a few I can think of:
The NLY senior management transition from CEO Farrell to Denahan results in long-term failure; the company now lacks its previous ability to capitalize upon interest rate margins and leverage in all environments;
The acquisition of the CreXus (a commercial REIT) business will hurt the underlying mREIT business, not help diversify it;
The Fed will "lose control" of the yield curve; thereby breaking with the historical spreads experienced in the past. In other words, forward Fed actions will create a flat yield curve even if there is no looming recession.
While possible, I view the aforementioned outcomes highly unlikely. I welcome readers to disagree or postulate alternative viewpoints.
Current Valuation
Let's say that Annaly isn't in some kind of a long-term pickle. It's just part of the longer-term ebb and flow of the interest rate market. On a standalone basis, that premise doesn't mean the stock is priced for purchase now.
But I think it is.
I will utilize a F.AS.T. graph to provide an overview of the current and historical valuation multiples of NLY stock. For any REIT, the preferred plot is price as a function of FFO (Funds from Operations). FFO is close kin to Operating Cash Flow. Earnings per share mean little to mREITs. Cash is king.
Let's use a fifteen-year chart in order to provide some longer-term historical perspective between price and cash flow: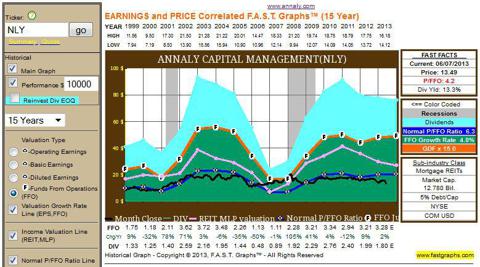 Click to enlarge
courtesy of fastgraphs.com
As one can see, whenever Price (the black line) runs much above or falls below the historic P / FFO multiple, it always returns to it. This may take a year or two, but the pattern is indisputable.
Consensus Wall Street analysts forecast NLY future cash flows increase at the low single digits. If so, the Price-to-FFO line (the blue line) should not retreat. Therefore, unless the historical trends are now somehow broken, the price will eventually follow. Even at a P / FFO multiple of 6x, this year's projected FFO indicates a 2013 price of nearly $19 a share.
Please note the price action in the few years whereas FFO did decline sharply: 2000, 2005 and 2006. The stock price ROSE in anticipation of future cash flows, dividends and recovery.
As an adjunct, the pink line on the chart indicates NLY dividends as a function of cash flow. The trend has been down.
Indeed, the most recent closing price of $13.49 looks like a bargain.
Bottom Line
Here are several key investor points for consideration for those interested in Annaly stock:
Ignore the headlines and focus upon simple, financial linkages and valuation metrics for Annaly Capital Management.
Watch the 10 / 2 T-Note yield spread.
The Fed engineered the current financial backdrop, it has little incentive to undo the past five years now.
If you don't subscribe to the thinking, "This time is different," anticipate the Price / FFO multiple will return to historic norms.
Understand the dividend is not guaranteed. That's the nature of mREITs. Do not recoil from it, embrace this fact.
The current stock price appears below fair value, and below the most recently reported book value. This means Buy in increments, not Sell in panic. Don't worry about finding the exact bottom, either.
NLY is a much easier stock to OWN versus TRADE.
I'll conclude this article with excerpts from remarks made by Annaly Capital CEO Wellington Denahan at the May 2, 2013 first quarter earnings conference call.
I found her story to be of particular insight:
...I want to share the following story, and I will call it, 'The Summer of the Shark'. On July 6, 2001 an eight year boy had his arm bitten off by a shark while wading offshore near Santa Rosa, Florida. Shortly afterwards a New Yorker vacationing in the Bahamas has had his legs severed in a shark attack. And on July 15, there was a third attack, this time on a surfer who was at the spot near where the first attack happened on the small boy, a media frenzy ensued culminating in a Time Magazine cover on July 30, titled 'Summer of the Shark'.

The story was huge and provided an interesting diversion to what was an otherwise slow news summer, but it was misleading, the media attention did not put the risk of shark attack into proper context. As it turns out, there wasn't any surge in shark attacks in 2001, it was just an average year. The number of attacks in 2001 76 was down from the previous year of 85. The number of shark attack fatalities dropped to 5 from 12 the previous year. And in Florida, which leads the nation in shark attacks in over the last half centuries you would have been 50 times more likely to die from lighting strikes as from a shark attack.

I tell this little story not to minimize the risk of shark attacks, but to remind everyone that there is always a risk of shark attack. As a matter of fact I am definitely afraid of sharks and yet I still swim in the ocean. The lesson of the summer of 2001 The Summer of Sharks is that fears rose with the level of media attention, even though there had been no actual change in the risks of shark attacks.

Mortgage REITs are going through their own summer of the sharks. There have been a number of speeches and news articles that have featured the mortgage REIT sector. I'd like to address the storylines with some factual perspective. In terms of our market's history, Annaly and some other mortgage REITs have operated through a range of risks, whether it was the refi wave of 2003, the two years of tightening from 2004 to 2006, the financial crisis of 2008 and 2009, and the challenges of today, a period when rates are very low, dollar prices are very high and the Fed is using agency mortgage-backed as a tool of monetary policy.
Please ensure you do your own thorough due diligence before investing any money in Annaly Capital Management or any security, for that matter. Good luck with all your 2013 investments.
Disclosure: I am long NLY. I wrote this article myself, and it expresses my own opinions. I am not receiving compensation for it (other than from Seeking Alpha). I have no business relationship with any company whose stock is mentioned in this article.