Packaging Corporation of America (NYSE:PKG) is the fourth-largest producer of container board and corrugated packaging products in the United States in terms of production capacity. The company offers customized expertise by achieving economy of scale. With the help of its four container board mills and 71 box plants, strategically located across the country, PKG is able to rapidly meet the local needs of its approximately 9,500 customers in over 18,000 locations, locally and globally.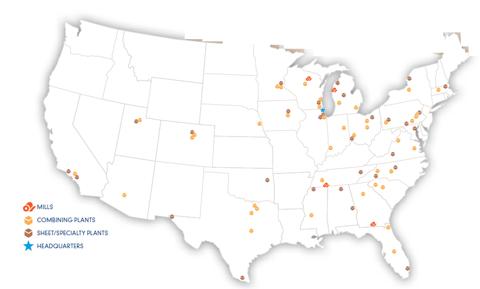 The company operations and financial performance are highly sensitive to changes in economic conditions, fuel costs and material costs. A weakening in the economy and lower consumer spending could reduce the demand for products and ultimately lower the earnings and cash flows. Lower earnings and reduced cash flow could impact its ability to fund operations, capital requirements, and common stock dividend payments.
In fiscal year 2012, the company produced 2.6 million tons of container board, of which about 83 percent was consumed in Packaging Corporation corrugated products manufacturing plants, 10 percent was sold in the export market and 7 percent was sold to domestic customers. Its corrugated products manufacturing plants sold around 34.7 billion square feet of corrugated products.
Business Segment
Packaging Corporation operates through only one segment. This single line of business is the integrated manufacture and sale of packaging materials, boxes, and containers for industrial and consumer markets.
The company generated two-thirds of its sales from regional and local customers, which are broadly diversified across industries and geographic locations. The remaining one-third of sales were generated from international accounts.
Fundamental Analysis
Revenue Growth: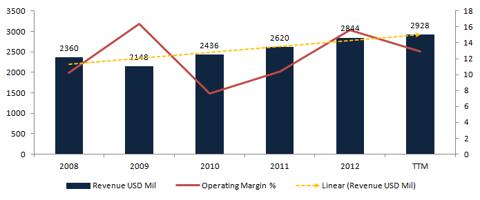 Source: Morningstar
The graph above shows the company's revenues and its operating margins since 2008. As you can see, a consistent growth in revenues over a long-term period is indicated by a linear line, with CAGR of 3.8 percent. Over the years, the company managed to grow its operating margins from 10.2 percent in 2008 to 15.6 percent in 2012, respectively. The company has also managed to improve its margins by reducing its operating expenses.
DuPont Analysis:

Source: Morningstar
The above chart indicates a breakdown of Packaging Corporation ROE into three parts including net margin, asset turnover and financial leverage. This analysis shows that the ROE is showing an upward trend in the long run, represented by the linear trend line, and it is supported majorly by net margins. The company has managed to grow its ROE by reducing its financial risk, which is reflected by the decreasing financial leverage ratio of the company and increasing profit margins. The increase in asset turnover is also a good sign for investors, which shows that the company is efficiently utilizing its assets to generate revenues. A slight drop in net margins in 2012 was caused by a plant shutdown in October 2012 due to renovations.
Growth in dividends and Share buyback: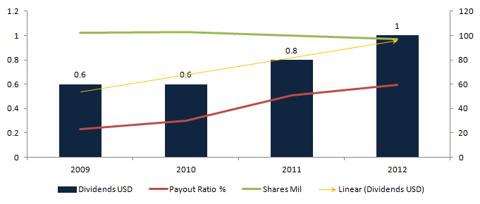 Source: Morningstar
The graph above shows the company's dividend growth, its payout ratio and its number of outstanding shares. As you can see, there is a steady growth in dividends over the years. On January 14, 2013, the company announced another increase in its quarterly cash dividend on its company stock from an annual payout of $1.00 per share to $1.25 per share. Moreover, the consistent drop in outstanding shares is a sign that the company has been repurchasing its shares over the years. As of December 31, 2012, $105.9 million of the $150.0 million authorization remained available for repurchase of the company's common stock. An increase in dividends per share reflects the company's confidence in its financial strength, long-term growth prospects and its commitment to increase shareholder value.
Competitive Landscape:
The container board and corrugated products industry is highly competitive, with no single container board or corrugated packaging producer having a dominant position. This business generally cannot be differentiated by producer, rather, differentiated on the basis of pricing, quality, service, design and product innovation.
According to industry sources, corrugated products are produced by about 570 US companies of different sizes, operating approximately 1,240 plants. Most corrugated products are manufactured to the customers' specifications. The important point to be noted here is that corrugated producers generally sell within a 150-mile radius of their plants and compete with other corrugated producers in their local market.
The company is largely competing against six major producers of packaging products. Its major competitors include International Paper Company (NYSE:IP), Weyerhaeuser (NYSE:WY), Smurfit-Stone Container (NYSE:SSCC), Temple-Inland (NYSE:TIN) and Rock-Tenn Company (RKT), as well as other small regional competitors.
Competitive advantage:
The company is competing with its peers on the basis of cost reduction. The company uses efficient equipment that can switch between energy sources such as electricity, natural gas, oil and coal to produce steam to power its production lines. It can also switch between raw materials with little cost or labor, it is able to purchase a mix of raw materials that results in the lowest possible manufacturing costs. The company's flexibility gives it an advantage over other corrugated product producers, many of whom are tied to certain raw materials by the machinery they use.
Comparative Analysis
Source:

Source: Annual Report 2012
The graph above shows a comparison of cumulative total return of the company with respect to industry indices and peer group, over a period of five years (assuming $100 was invested in 2007 in stock or index, including reinvestment of dividends). You can see that the company outperformed its sector and the industry index with impressive margins. Over the five-year period the company was able to generate a CAGR of 8.6 percent, while the S&P MidCap 400 Index, the S&P 500 and its peers generated a CAGR of 1.4 percent, 4.3 percent and 7.3 percent, respectively.
Historic Stock performance:

Source: Ycharts
The chart above indicates the historic price performance of big players of the container & packaging industry along with the industry index, since June 2012. As you can see, the company stock outperformed its peers with a price appreciation of 82.64 percent, over the period of one year.
Conclusion:
Packaging Corporation has a very strong financial position. Its strong production and distribution network and flexibility to switch energy sources makes it more competitive in an extremely sensitive and highly competitive market. The US economy is in recovery mode and consumer spending is increasing, which will result in increasing demand in coming years. In other words, the future outlook of the company seems quite attractive. Furthermore, lower cost of energy and recycled fiber will help it to reduce its operating costs, which will lead to higher earnings and cash flows. On the basis of its financial strength and strong market position, I recommend investors to take a long position on this stock.
Disclosure: I have no positions in any stocks mentioned, and no plans to initiate any positions within the next 72 hours. I wrote this article myself, and it expresses my own opinions. I am not receiving compensation for it (other than from Seeking Alpha). I have no business relationship with any company whose stock is mentioned in this article.