A few months ago, Eisai (ESLAY.PK), marketing partner to Arena Pharmaceuticals (NASDAQ:ARNA) on the anti-obesity drug Belviq, established a wholesale price of $200 per month for a prescription. At the time the $200 price point would make Belviq the most expensive prescription option on the market. At the time I noted that the $200 price point was a great starting point.
I find the pricing at $200 wholesale to be a great starting point for Arena's Belviq. The key here is to try to maximize revenue while not underselling itself. It is far easier to adjust a price downward if needed than to try to adjust a price upward.
I also stated at that time that I felt that Arena would wait to see initial sales prior to beginning any discount programs. This is what competitor Vivus (NASDAQ:VVUS) did, and it makes sense from a pure revenue standpoint.
From an investor's standpoint a $200 wholesale price is wonderful news. It is now time to see if consumers will bite at the current price point. Investors should bear in mind that insurance coverage of these treatments is a hurdle for both Vivus and Arena.
Contrary to what I thought would happen, Arena and Eisai are discounting Belviq in conjunction with the launch. This could mean that the duo are leaving money on the table. We will never really know the answer to that question. What we must do now is adjust our models to consider immediate discounts, bearing in mind that there will be some consumers that will simply pay the retail price and forego the hoops that getting discounts requires.
Over the past few months analysts and savvy investors have taken the time and effort to model Belviq sales. I myself have several models, but have been working with the $200 per month price point simply because that was the "official" price established by Arena and Eisai. Discounts impact revenue. By example, at $200 per script it would take 5,000 scripts to bring in gross revenue of $1 million. If the price is cut to $100, the number of scripts needed rises to 10,000. This is very important to consider because the bonus and sales targets for Arena are based on NET revenue not the number of scripts.
As stated, Arena and Eisai are discounting coming out of the gate. From the verbiage on the website for Belviq we can see that Eisai reps are giving doctors discount coupons to pass along to patients. If a patient did not receive one from a doctor they can simply fill out a form on the website to get a discount card.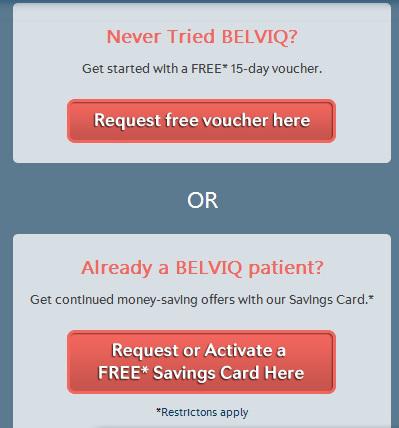 Essentially, patients get 15 days for free for simply trying Belviq. That represents a $100 discount (50% off the first month). Patients can then get continued savings of $75 per month if their "co-pay" or "out-of-pocket" expense is greater than $50. That puts the price point at $125.00 instead of $200. The recurring revenue is discounted by just under 40%.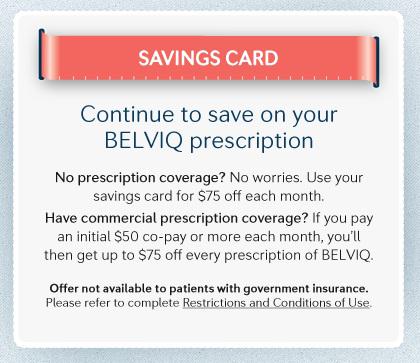 These things are very important for investors to consider. Remember, the Arena deal with Eisai is based on the NET, and these discounts come off of that $200 wholesale number. I have received several e-mails from readers who are somewhat confused about the deal and seem to think that Arena sells the drug to Eisai at wholesale (receiving revenue), then Eisai prices it at $200 and sells the drug to pharmacies of which Arena receives about 33%. This is not at all the case. The Eisai deal is that Arena gets about 33% of NET sales. There is no selling of the drug to Eisai. If every patient were to take advantage of the first $100 discount and follow it up with 11 months taking advantage of the $75 discount on the revenue split would be based on $1,475 instead of $2,400 (very simplistic and oversimplified model). That represents about a 38.5% cut in the size of the revenue pie.
So Why Discount Right Away?
While I am of the opinion that the company should test the waters a bit first, I am also sensitive to a few other factors. For example, analysts at Leerink Swan surveyed obese people and found that just 3.3% would be willing to pay $50 or more for a prescription weight loss drug. That data is meaningful. Another factor is perceived success of the launch. There is a lot at stake here, and while revenue is important, the number of scripts written will drive the brand and the equity. If Arena were to repeat the performance Vivus saw when it launched Qsymia, it would be a disaster. Arena and Eisai need to show traction right away. In that sense it would seem prudent to sacrifice some revenue for the sake of a launch success. Lastly, the fact that there is still an insurance issue in getting these drugs covered is huge. As of right now about 30% of consumers have insurance that will cover these drugs to some extent. The slow traction from insurers is indeed impacting things in the sector.
It is great that a doctor writes a script or several scripts. That is the start of the process that leads to revenue. The next important step is in the hands of the consumer. Do they fill the script? If a drug is too expensive, the patient may simply opt out before ever opting in. Revenue only happens if scripts are filled. These are the sales that will lead to Arena getting its share of about 33%.
What we know already is that getting to the lowest $250 million in sales will now require more scripts than perhaps many initially modeled. Rebates and discount programs do eat away at revenue. Thankfully (from an investor's standpoint), the number of people that take advantage of these is limited. Believe it or not, there are many that simply will not take the time to get the discounts and pay full price because there is less hassle.
As investors we will need to be patient. Channel checks will move the equity, but it will be the quarterly reports that give us a sense of how much revenue the company is getting out of each prescription sold. Long term holders need only to be patient. Active traders will play the channel checks, quarterly reports, and news flow. Those on the sidelines looking to enter the equity have what I consider a decent opportunity at current levels.
In my opinion these discounts will be a big boost to the shorter term as they will help drive sales and convert scripts into sales that might not have otherwise happened. Both of these factors point to a decent chance of positive news in the early channel checks. In the mid term it will be actual revenues that become the focal point. The key there is getting high enough revenue to project out to at least $250 million by June 6, 2014. It is the $250 million in sales level that Arena would receive bonus payments and price adjustments.
Simply stated, the short term is all about channel checks of actual sales. The mid term is all about analyzing the revenue. The longer term is about bonuses, price adjustments, and continued growth.
Disclosure: I am long ARNA. I wrote this article myself, and it expresses my own opinions. I am not receiving compensation for it (other than from Seeking Alpha). I have no business relationship with any company whose stock is mentioned in this article.
Additional disclosure: I have no position in Vivus.