GW Pharmaceuticals (NASDAQ:GWPH) is an UK-based biopharmaceutical company focused on the discovery and development of cannabinoid-based products for a wide range of indications. GW has established a technology platform based on genetically modified cannabis plants and has become a leader in plant-derived cannabinoid therapeutics. GW's lead program is Sativex, a cannabis extract based oromucosal spray whose main actives are the cannabinoids delta-9- tetrahydrocannabinol (THC), and cannabidiol (CBD). It is approved for the treatment of multiple sclerosis (MS) spasticity in 21 countries outside of the U.S and already marketed in seven countries (eight following Italian launch in Q213).
MS is the most common disabling neurological condition affecting young adults. According to the World Health Organization, MS affects more than 400,000 patients in the U.S., 600,000 in Europe and 1.3 million people worldwide. MS affects twice as many women as men and typically develops between the ages of 20 and 40 years. Spasticity is one of the most common, chronic, and disabling of MS' symptoms, affecting up to 80-90% of patients over their lifetimes.
However, Because of a relatively low EU price, Sativex's ex-U.S. MS opportunity is limited, but the U.S. market could prove more fruitful. The company held a pre-IND meeting with the FDA in December 2012 to outline a development strategy for Sativex in MS spasticity in the U.S. The company expects to submit an IND, including the design of a proposed Phase III trial, in mid-2013, and to initiate the Phase III by the end of 2013.
While MS spasticity has provided proof-of-concept in the worldwide approvability of Sativex, a more meaningful commercial opportunity is in the treatment of opioid-refractory cancer pain. Sativex has been tested in two Phase II trials in cancer pain. The trials have demonstrated that Sativex is safe and effective when used in addition to opioids in patients whose cancer pain is not sufficiently managed by opioids alone. Based on these results, GW has initiated three Phase III trials. The first two are expected to complete during 2014 and support an FDA filing.
Annually, over 10 million people are diagnosed with cancer globally, and some project that more than 15 million will be diagnosed annually by 2020. Around 30-50% of all patients undergoing treatment experience pain, and this number increases to 70-90% of patients with advanced cancer. According to Data Monitor, there were 4.75 million cancer patients in the United States in 2009. Approximately 70% of those patients experience pain. According to market research conducted on behalf of Otsuka as part of its collaboration with GW, approximately 72% of these patients have advanced cancer, of which 89% are treated with opioid medications. Moreover, pain is uncontrolled with opioid treatments in approximately 20% of patients with advanced cancer in the U.S. Clearly, advanced cancer pain is a large market with significant unmet need. With that said, Sativex is currently the only cannabinoid in pivotal development for late stage cancer pain, and therefore is expected to capture meaningful share of the market.

GW currently has two major partnerships that defray a very significant portion of Sativex's development and commercialization costs. Otsuka (the second largest pharmaceutical company in Japan) currently funds Sativex cancer pain development in the U.S. and Almirall (a Spain-based biopharmaceutical company) funds commercialization for most of the EU (except for the UK).
Behind Sativex, GW also has an extensive pipeline of additional cannabinoid drug candidates, including two other compounds, GWP42004 and GWP42003, in Phase 2 clinical development for Type 2 diabetes and ulcerative colitis, respectively. GW also has two other drug candidate programs expected to advance into Phase 1 and Phase 2 clinical trials over the next year in CNS indications and disorders, such as epilepsy, schizophrenia and glioblastoma. While all are too early in development to be a major focus of investors today, these programs could drive long term shareholder value.
As for the financial aspect, the company had cash and cash equivalents of $42.3 million in the end of the first quarter. In May, the company raised $31.15 million (initial public offering) through a sale of 3.5 million American Depository Shares (ADSs) on NASDAQ at $8.90 per ADS. This represents almost 24 months of cash on hand. The company is now well capitalized to execute its commercial strategy - maximizing the value of Sativex, and R&D plans - advance its pipeline of cannabinoid therapies. The raise also precedes key clinical milestones for Sativex in the U.S., including Phase III results in cancer pain (mid-14) and initiation of Phase III development in MS spasticity (H114).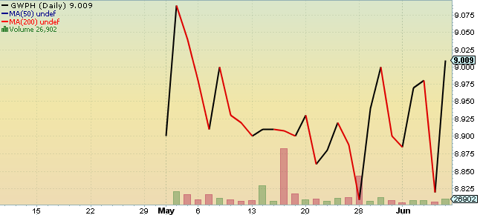 Disclosure: I have no positions in any stocks mentioned, and no plans to initiate any positions within the next 72 hours. I wrote this article myself, and it expresses my own opinions. I am not receiving compensation for it (other than from Seeking Alpha). I have no business relationship with any company whose stock is mentioned in this article.