There are about 300 million iOS devices in use today, according to most estimates, making up the bulk of the 350 million odd iOS devices ever sold.
Apple (NASDAQ:AAPL) receives about $12 billion revenue annually by selling music, software and applications (collectively "Services") for these devices, or in round numbers about $35 to $40 per iOS device in use. The Services business is very high margin for Apple, likely in the range of 70% of sales. If this is so, then $12 billion in revenue produced over $8 billion of Apple's pre-tax income of $55 billion in 2012. iOS devices tend to be "sticky" with the vast majority of the cumulative devices sold still in use, as set out above. As a result, the Services business is a growing annuity so long as Apple continues to grow its user base. This is why, in my opinion, market share is important to Apple.
Looking at the smartphone market alone, IDC forecasts over 918 million devices will be sold in 2013, and some forecasts exceed 1 billion. Apple held about 18% of the smartphone market in 2012 according to Digitimes Research.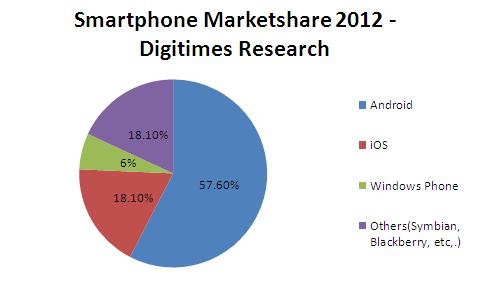 iPhones represent the largest profit generator for Apple, comprising over $80 billion revenue in 2012 and generating something on the order of 45% gross margins, the iPhone contributes about $36 billion in gross profit. Together, iPhones and Services comprised well over 80% of Apple's profits in 2012. This concentration is both a major strength and a key vulnerability for Apple.
According to Gartner data, Apple lost over 4 percentage points of market share between Q1 2013 and Q1 2012. That represents over 8 million iPhones displaced by competing devices in Q1 2013 alone.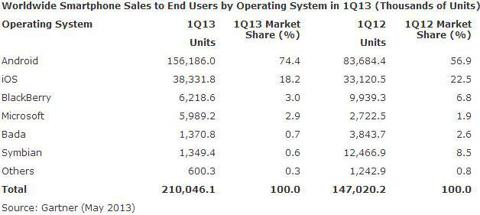 Click to enlarge
(Click to enlarge)
Apple is likely to fight back through the introduction of new devices later this year but has not set protection of market share as a target. In my opinion, Apple is willing to concede market share to protect margins. Let's assume that in 2013 Apple concedes 2 percentage points of its market share rather than compete on price. This is not that hypothetical - it is already happening and Apple is forecasting flat revenue for the current quarter despite rapid growth in its markets.
A 2 percentage point loss of market share in 2013 is something like 20 million devices at $600 plus per device. Revenue of $12 billion would be lost from device sales, and Apple would forego over $5.4 billion of gross margin. At the same time, at $35 per device, another $700 million in Services revenue disappears with 20 million fewer iOS devices in use. That Services revenue is repeatable so the loss is cumulative over time.
The dilemma is that the iPhone is so profitable and represents so much of Apple's business that it is loathe to compete on price. Yet analysts believe that introducing a lower priced iPhone would actually increase Apple's gross margin.
In my view, the Apple ecosystem is its most powerful competitive weapon. To use it effectively, Apple needs to build its user base, and in my opinion build it at rate that at least equals the rate of growth in the market. That is not happening today.
To hold market share without sacrifice of earnings is not only possible but also is necessary for Apple to have a longer term path that will reward investors, as I see it. What are the steps Apple should take to do so? I believe they are neither complex nor beyond Apple's capabilities. They are:
Create a

smartphone specifically tailored to the Chinese and Indian markets with features that are important locally. They could be identified as specifically as "iPhone5 - China Edition" and "iPhone5 - India Edition". They would be priced competitively and sold only in those markets. The Apple application store would have a separate section for Applications that would have local importance in those markets to make it clear that customers in each market were important to Apple.

Embrace competitors' key applications and ensure they are available and run smoothly on iOS. For example, Apple should ensure all the key Google (NASDAQ:GOOG) applications and BlackBerry's (NASDAQ:BBRY) BBM messenger application are available for iOS devices. Apple should not give potential customers an excuse to buy a competing device.
Introduce an iPhone with a 4.8" or larger screen to meet the HTC (OTC:HTCCY) and Samsung (OTC:SSNHY) "phablet" offerings head on.
Introduce an iPad with a form factor similar to the very attractive Microsoft (NASDAQ:MSFT) Surface tablet.
Work directly with Microsoft to develop MS Office for IOS if possible.
Continue to expand digital content through licensing agreements and acquisitions.
Apple sees itself as a "device" company in my view. It would benefit if it saw itself as a "services" company that also sold devices.
In an increasingly competitive smart device market, and from a purely investment perspective (since I admire Apple and believe it produces elegant and very functional devices) I think Apple is in danger. Both Android and Microsoft - Nokia (NYSE:NOK) are developing very strong competing ecosystems and each is advancing, with the new Intel processors giving them opportunity to meet or beat Apple products on performance, battery life and form factor. BlackBerry is making steady progress building on its BB10 introduction in an effort to remain a vital part of the industry. In Asian markets, Lenovo (OTCPK:LNVGF) and Huawei are attacking on several fronts and enjoying success, as very well set out in an excellent recent SA article by fellow contributor Retracement. LG (LG) has introduced some exciting new high end products and shipped over 10 million smartphones in the first quarter 2013.
Monday will be an interesting day for Apple fans and critics as it starts its Worldwide Developers Conference. A lot of fans have high expectations that Apple will make an announcement of the "next big thing" and that will propel its shares back towards their $700 plus high of not that long ago.
I don't think it will happen. I expect Apple to make some vague promises of "later this year or early next year" product innovations; to announce incremental improvements to its current products; and, to hint at a payment scheme that will pave the way for entry into the electronic payments space currently served by PayPal and others.
In my view, Apple appears to be more concerned about protecting short term margin rates and profit ratios than in meeting competitive threats. As a result, I am short Apple today.
Disclosure: I am short AAPL. I wrote this article myself, and it expresses my own opinions. I am not receiving compensation for it (other than from Seeking Alpha). I have no business relationship with any company whose stock is mentioned in this article.