This weekend we spent some considerable time researching stocks we have recommended in the past and wanting to provide an update on those names for readers. Names not covered today shall appear in future updates as warranted, but today we cover a good many names that readers should be familiar with. We do feel that some names in the market are getting expensive, however if one must choose whether to be long a stock looking 'toppy' and being in cash on the sideline, we would rather ride momentum than be idle.
Chart of the Day:
The volatility continues in Japan, however overnight the market there opened higher and continued higher throughout the session. The Nikkei closed above 13.500 and that in our eyes is bullish, especially with the market rising nearly 5%.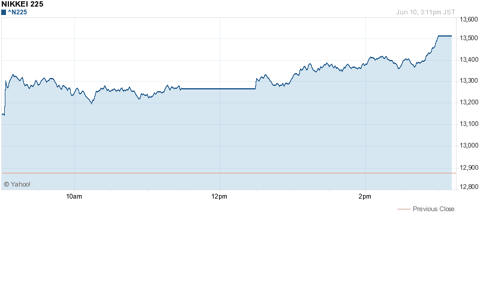 Click to enlarge
Chart courtesy of Yahoo Finance.
We do not have economic news due out today, but will tomorrow.
Asian markets finished higher today:
All Ordinaries -- CLOSED
Shanghai Composite -- CLOSED
Nikkei 225 -- up 4.94%
NZSE 50 -- up 0.76%
Seoul Composite -- up 0.46%
In Europe, markets are higher this morning:
CAC 40 -- down 0.05%
DAX -- up 0.92%
FTSE 100 -- up 1.16%
OSE -- up 0.06%
Airlines
The solid day on Friday was good for investors as it gave us some positive momentum going into the weekend and allowed traders in Asia and Europe to take a step back and survey the field. It is a task we also did over the weekend while doing more research on one of our favorite manufacturing names, Boeing (NYSE:BA). We were trying to decide whether profits needed to be taken by those who we had advised to buy shares (readers included) and while doing the due diligence realized that the multi-year, and quite possibly the multi-decade, ramp-up is here. The stock continues to gain altitude and the close at $102.49/share, a new high by the way, only goes to show investors' confidence.
The latest leg up has been impressive, but this could be the start of a multi-year move higher and we are still bullish.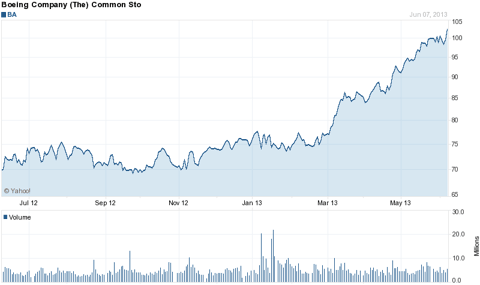 Click to enlarge
Chart courtesy of Yahoo Finance.
What makes us even more bullish on the name is the fact that its customers are doing so well. For the first time in many years the airlines are profitable across the board, and extremely so. The industry's aging fleet is being upgraded across the board and although expensive the new planes are offering new revenue avenues as well as tremendous cost savings.
The mergers have created tons of cost savings for the major airlines and moved the competition from ticket prices to operations, with the increased margins benefiting shareholders. We noticed Delta Airlines (NYSE:DAL) rising just over 5% on Friday with United Continental (NYSE:UAL) rising nearly 7.5% as Goldman's comments moved the sector as a whole. Specifically Goldman stated that they thought Delta was their top buy idea for the sector and that they were raising United Continental from a 'Sale' to a 'Buy'.
Retailers
Two of our favorite names in retail have continued to rally and hit fresh new highs and this was the case on Friday as both Gap (NYSE:GPS) and Starbucks (NASDAQ:SBUX) rallied strongly.
This name continues to impress and appears to be gaining momentum on the retail sector, not losing it.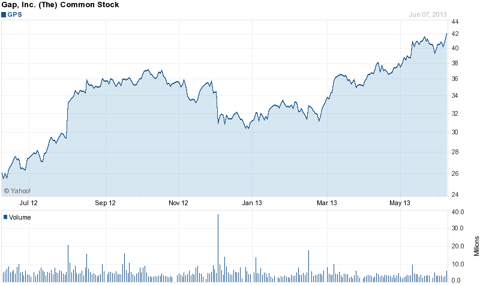 Click to enlarge
Chart courtesy of Yahoo Finance.
As Gap's comps have become more difficult due to their strong year last year they have still found a way to top expectations. It may not sound too impressive right off the bat, however when one thinks about the fact that competitors are having difficulty in trying to meet abysmal sales figures from prior periods and having difficulty everything becomes a bit more clear. Same store sales in May rose 7%, mainly on strength at the flagship Gap stores along with the Old Navy brand. The reports we had read leading up to the report was that most analysts were looking for something in the 4-5% range. It is safe to say that we are still very bullish here.
We are growing less bullish on shares of Starbucks however, which has been a strong performer for readers over the past year or so. Coffee prices are falling, and the company is ramping up growth via new business lines and brands but with the nearly 10% rise since earnings and the large rise before that, we are left to wonder how much is still left for investors to gain here. It is our belief that money should be taken off of the table and reinvested elsewhere after the amazing run here, however we are not against holding on to positions entirely until new investment ideas of merit are found. This is for the simple fact that we would rather be invested in this market than not.
Disclosure: I have no positions in any stocks mentioned, and no plans to initiate any positions within the next 72 hours. I wrote this article myself, and it expresses my own opinions. I am not receiving compensation for it (other than from Seeking Alpha). I have no business relationship with any company whose stock is mentioned in this article.