The Canadian oil sands represents the second largest source in the world in terms of oil reserves, only behind Saudi Arabia. Canada is the largest supplier of petroleum for the U.S. One of the most prolific region for the Canadian oil sands is the specific area of Athabasca. However, a larger disregarded region of Alberta is quietly making a name for itself: the Carbonate Triangle. After discussing a quick recap of the global rising demand for oil, I will look at the outlook of the U.S. production of crude oil for the next generation as well as the Canadian oil sands reserves.
Then, I will introduce this marginally known region as the Carbonate Triangle and the processes used by different producers to extract an unconventional resource. Finally, the conclusion will assess the potential of this specific play as more players are getting into the region to extract the abundant resource.
Global Rising Demand For Oil
The recovery from the 2008-09 recession has been slow. Consumers' confidence surveys are still roughly 25% below pre-recession levels nearly two years after the official end of the recession in 2009. The slower economic growth lead to a slower recovery in employment as well. Oil prices fluctuated.
U.S. energy use per capita is estimated to decline to 274Mmbtu in 2035. However, total primary energy consumption, including fuels used for electricity generation is expecting to grow by 0.3% per year from 2010 to 2035 to reach 106.9 quadrillion Btu in 2035. Total U.S. consumption of liquid fuels, including both petroleum-based fuels and biofuels, which was 18.9Mmbls/d in 2011, should increase to 19.8Mmbbls/d in 2019, according to the 2013 AEO (Annual Energy Outlook), then decline to 18.9Mmbls/d in 2035 before rising to 18.9Mmbls/d in 2040.
The demand for oil is rising globally, including in the U.S. Its northern neighbor, Canada, produces more oil than needed to supply its demand. Therefore, finding ways to move the crude towards the U.S market and ultimately, Asia and Europe appears to be crucial. Few projects are currently under way to transport oil to the U.S.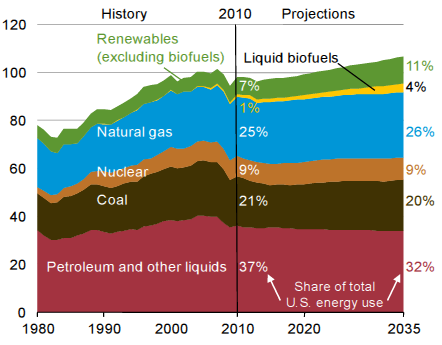 Source: EIA 2012 Annual Energy Outlook
Although many ways are possible, pipelines remain the safest way to achieve this ultimate goal. As a matter of fact, given the pending approval of TransCanada's (NYSE:TRP) Keystone XL extension, more Canadian crude is expected to flow from Alberta, Canada, to supply the country.
The Keystone XL Pipeline Project is a proposed 1,179-mile, 36-inch-diameter crude oil pipeline, beginning in Hardisty, Alberta and extending south to Steele City, Nebraska. This pipeline is a critical infrastructure project for the energy security of the U.S. and for strengthening the American economy. More information about the benefits of the project can be found here.
Another similar project lead by Enbridge (NYSE:ENB), the $5.5 billion Enbridge Northern Gateway Project, was being planned to provide Canada access to large and growing international markets in Asia and the U.S. West coast. However, the project was rejected on May 31st, by the Government of British Columbia, stating that Enbridge has not shown that it will be able to effectively respond to oil spills. The company should revise its project in the coming weeks.
Whatever the project, the U.S. needs Canadian crude oil to offset its rising demand for energy, as this oil is cheaper than the WTI crude or foreign oil.
The U.S Crude Oil Production Forecasts
According to the 2013 AEO, U.S. production of crude oil should increase from 5.7Mmbls/d in 2011 to 7.5Mmbls/d in 2019, 13% higher than what was estimated in the 2012 AEO. Despite a decline after 2019, the U.S. crude oil production should remain above 6Mmbls/d through 2040. Higher production volumes result mainly from increased onshore oil production, predominantly from tight formations.
Onshore tight oil production accounts for 51% of total lower 48 onshore oil production in 2040, up from 33% in 2011. Offshore crude oil production trends upward over time, fluctuating between 1.4-1.8Mmbls/d, as the pace of development activity quickens and new large development projects, predominantly in the deepwater and ultra-deepwater portions of the Gulf of Mexico, are brought into production.
U.S. dependence on imported liquid fuels continues to decline, according to the 2013 AEO reference case, primarily as a result of increased domestic oil production. Imported liquid fuels as a share of total U.S. liquid fuel use reached 60% in 2005 before dipping below 50% in 2010 and falling further to 45% in 2011. The import share should continue to decline to 34% in 2019 and then rise to approximately 37% in 2040, due to a decline in domestic production of tight oil that should begin around 2021.
Furthermore, excluding crude oil and NGL, U.S. and Brazilian biofuels, Canadian bitumen accounts for more than 70% of the total world increase in petroleum and other liquids production from 2010 to 2035, according to predictions assessed by the 2013 AEO. Canada and Mexico were the largest suppliers of U.S. petroleum and other liquids imports in 2010, providing 2.5Mmbls/d and 1.3Mmbls/d, respectively.
The Oil Sands Of Alberta To Beat Them All
Canada has the third-largest oil reserve in the world, after Saudi Arabia and Venezuela. Of Canada's 174 billion barrels of oil reserve, 170 billion barrels are located in Alberta or about 13% of total global oil reserve, and about 169 billion barrels are recoverable from bitumen with today's technology. As a matter of fact, with new technologies, this reserve estimate could be significantly increased. In fact, total oil sands reserve is estimated at 1.8 trillion barrels. However, approximately 15% of the 169 billion barrels are currently under active development. This is a resource that has been developed for decades but is now gaining increased global attention.
According to the ERCB's 2011 Energy Reserves Supply/Demand Outlook, bitumen production accounted for 78% of Alberta's total crude oil and raw bitumen production in 2011. Bitumen production increased by 4% at mining projects and by 13% at in situ projects in 2011, resulting in an overall raw bitumen production increase of 8% relative to 2010. For 2012, the oil sands industry has drilled 2,171 wells, producing 1.7 million barrels per day of crude bitumen.
Total raw bitumen production is projected to reach 3.7Mmbls/d by 2021. Thus, production from in situ bitumen projects is estimated to surpass that of bitumen from mining projects by 2015. Furthermore, the share of bitumen production from mining is estimated to decrease from 51% in 2011 to 35% in 2046. By the end of the projection period in 2046, in situ bitumen will be accounting for 65% of total production volumes.
Alberta's 2011 supply of crude oil and equivalent reached 2.2Mmbls/d, a 9% increase compared with 2010. Production is forecasted to reach 4.0Mmbls/d by 2021.
Source: ERCB's 2011 Energy Reserves Supply/Demand Outlook
Carbonate-hosted Bitumen, An Unconventional Resource
Natural bitumen is characterized by high viscosity, high density (low API gravity), and high concentrations of nitrogen, oxygen, sulfur, and heavy metals. Two of the most important physical crude qualities are density and sulfur content. The remnants of very large volumes of conventional oils that have been generated and degraded, principally by bacterial action. Chemically and texturally, bitumen resemble the residuum generated by refinery distillation of light oil. Carbonate bitumen derived crudes measure high in sulfur content and low on gravity as compared to some other crudes. These characteristics result in higher costs for extraction, transportation, and refining compared to conventional oil.
Unconventional oil is gaining attraction within the industry, with bitumen being identified as one of the higher quality resources. The resource base of natural bitumen is immense and not a constraint on the expansion of production. Despite its cost and technical challenges, major international oil companies have found it desirable to acquire, develop, and produce these resources in increasing volumes. Large in-place resource volumes provide a reliable long-term flow of liquid hydrocarbons and provide substantial payoff for any incremental improvements in recovery.
The Carbonate Triangle Region
There are three major oil sands areas in Alberta where 15 deposits are covering the geological plays containing the oil sands. The largest is the well-known Athabasca deposit, which is located in the province's northeast in the Regional Municipality of Wood Buffalo. The second-largest oil sands deposit is called Cold Lake, named after the main population centre located nearby, the city of Cold Lake. This deposit is situated just south of Athabasca. The smallest oil sands deposit is known as Peace River, which is located in northwest-central Alberta. A fourth deposit called Wabasca links to the Athabasca and is generally lumped in with that area.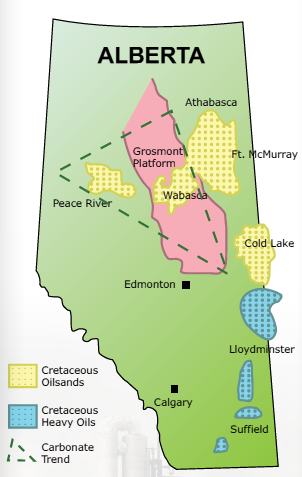 Source: Strata Oil & Gas
The Carbonate Triangle refers to a region delimited by the current trend of the three carbonate-hosted bitumen deposits beneath the region's surface, forming a triangle.
The Carbonate Triangle is the third largest crude reserve in the world according to the ERCB (Alberta Energy Resources Conservation Board).
In its Canadian Oil Sands Supply Costs and Development Projects 2012-2046, the CERI (Canadian Energy Research Institute) reported that crude bitumen reserves under active development in the Carbonate Triangle reached 169 billion barrels. Moreover, by 2020, the bitumen production capacity is expected to reach 3.9Mmb/d and should grow to 6.1Mmb/d by 2046, with a peak capacity of 6.3Mmb/d occurring in 2034. Therefore, upgraded in situ bitumen production is expected to grow from 9% of total production in 2011 to 14% by 2021.
Source: ERCB's 2011 Energy Reserves Supply/Demand Outlook
Extraction Methods To Recover Bitumen
Bitumen is produced as an energy source by two means: mining and in situ which means in place. In 2011, according to the Government of Alberta, 51% of oil sands production came from mines, but by 2015, in situ bitumen production is expected to surpass mined bitumen production, according to the ERCB's report.
Source: ERCB's 2011 Energy Reserves Supply/Demand Outlook
Alberta will need to rely to a greater extent on in situ production in the future, as 80% of the province's proven bitumen reserves are too deep underground to recover using mining methods.
Two methods are being used when the bitumen is extracted from in situ: CSS and SAGD. In CSS (cyclic steam stimulation), high-pressure steam is injected into directional wells drilled from pads for a period of time, then the steam is left to soak in the reservoir for a period, melting the bitumen and then, the same wells are switched into production mode, bringing the bitumen to the surface.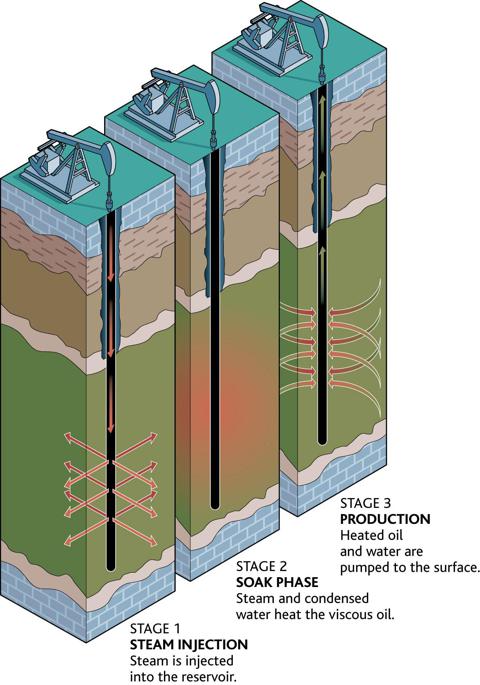 (Click to enlarge)
Source: The Oil Sands Developers Group
In SAGD (steam assisted gravity drainage), parallel horizontal well pairs are drilled from well pads at the surface. One is drilled near the top of the target reservoir while the other is drilled near its bottom. Steam is injected into the top well, a steam chamber forms and the melted bitumen flows into the lower well via gravity and is pumped to the surface using artificial lift.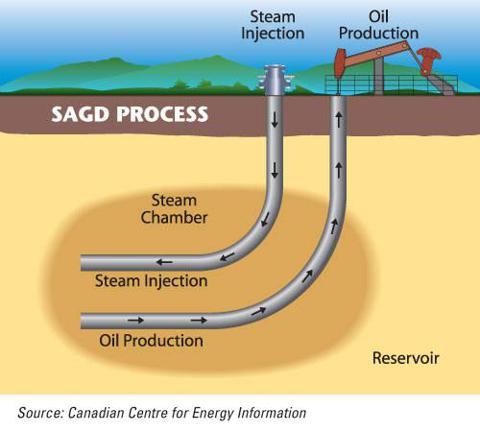 Both SAGD and CSS are used in the Cold Lake and Peace River deposits while SAGD is the in situ technology of choice in the Athabasca deposit. The selection is based on a number of factors, including geology. The technologies combined currently produce just over one million barrels per day.
Carbonate Bitumen, The Next Great Untapped Resource
The ERCB based the following analysis on the expectation that the crude oil price in North America, measured by WTI (West Texas Intermediate) benchmark, will continue to be volatile. The ERCB projected that WTI averaged $102 per barrel in 2012 with a range from $92 per barrel to $112 per barrel. The forecasted price of WTI is expected to increase throughout the expected period as increasing crude oil demand exerts upward pressure on supplies and price. By 2021, WTI prices are projected to be $113 per barrel with a range from $105 per barrel to $121 per barrel.
Source: ERCB's 2011 Energy Reserves Supply/Demand Outlook
Historical in situ production and the price of heavy crude oil are shown in the picture below. Regionally, in situ production growth in 2011, as in recent years, was strongest in Athabasca with 15% increase, followed by Cold Lake with 12% increase, and Peace River with 2% increase.
Source: ERCB's 2011 Energy Reserves Supply/Demand Outlook
The ERCB stated that oil sands capital expenditures increased to $19.9 billion in 2011 compared with $17.2 billion in 2010 and $11.2 billion in 2009. Investment is predicted to increase from $21.5 billion in 2012 and peak in 2015 at $24.7 billion. Production from upgraded and non-upgraded bitumen derived from the oil sands will more than offset the decline in conventional resource production, increasing from 58.4% of total revenues in 2011 to an average of 69% of total revenues from 2014 to 2021. Therefore, continued investment in oil sands mining, upgrading and in situ bitumen projects will continue to drive Alberta's production and export growth for years to come.
A comparison of conventional oil and bitumen production over the last 10 years, as illustrated in the picture below, clearly shows the increasing contribution of bitumen to Alberta's oil production.
Source: ERCB's 2011 Energy Reserves Supply/Demand Outlook
The ERCB estimated that bitumen production will more than double by 2021. Over the forecasted period, as illustrated, the growth in production of upgraded and non-upgraded bitumen is expected
to more than offset the projected long-term decline in conventional crude oil. The share of upgraded and non-upgraded bitumen will account for close to 90% of total production by 2021, compared with about 73% in 2011. Since 2003, upgraded and non-upgraded bitumen has accounted for more than 50% of total production.
The Supply Costs For Extracting The Resource
For an oil sands producer, a project's viability relies on many factors such as, but not limited to, the demand-supply relationship between production, operating and transportation costs and the market price for blended bitumen and SCO (Synthetic Crude Oil).
On average, supply costs, which exclude transportation and blending costs, are $30.32/Bbl, $47.57/Bbl, $99.02/Bbl and $68.30/Bbl for primary recovery, SAGD, integrated mining and upgrading, and stand-alone mining respectively (see the chart below). A cost comparison with last year's estimates indicate that the cost for a SAGD producer had risen by 6.3%, 10.9% for an integrated mine, and by 13.2% for a stand-alone mine.
Source: CERI
After adjusting for blending and transportation, the WTI equivalent supply costs at Cushing, Oklahoma is $58.61/Bbl for primary recovery, $77.85/Bbl for SAGD projects, $103.16/Bbl for integrated mining and upgrading projects and $99.49/Bbl for stand-alone mining projects.
As seen above, the WTI barrel of crude oil averages $102. However, the benchmark for Canada's crude oil is the WCS (Western Canadian Select), a blend of conventional Western Canadian heavy oil and crude bitumen that has been blended with sweet SCO and diluents.
A barrel of WCS crude ranges from $51 to $82, depending on several factors such as the global growth in oil demand, geopolitical concerns, size of the resource base and proximity to the large U.S. market. Notably, the differential between WTI and WCS has fluctuated from a low of just under $6/Bbl in April 2009 to a high of almost $40/Bbl in December 2012, with average and median differentials at about $18/Bbl. Therefore, based on historical data, the light-heavy differential is assumed to be constant at $15/Bbl.
The chart below illustrates the light-heavy crude oils differentials (US$/Bbl).
Source: CERI's Canadian Oil Sands Supply Costs & Dev. Projects
The NEB (National Energy Board) also estimated that integrated mined or in situ-processed bitumen would be economic at $30 to $35 per barrel of WTI as it is required to provide a 10% real rate of return to the producer. Continued escalation in capital costs, natural gas costs, diluents availability and technology pose a risk to this outlook as well as a drop in crude oil prices.
Each 10% increase in capital costs is estimated to increase the required WTI price by $1.50 to $2 per barrel. However, advancement in recovery and upgrading technologies hold potential to reduce the supply costs.
Notably, the low yield of high-valued products explains why most refineries steeply discount the prices paid for heavy oil relative to light oil when upgrading bitumen. The picture below illustrates the upgrading process.
Source: Swims With Seals
Unless there is on-site upgrading and transportation of the bitumen, it requires that the oil be heated or, alternatively, blended with diluents (naphtha, gas condensates, or light oils) to reduce viscosity.
The upgrading process is profitable when the spread between the light and heavy oil prices is sufficient to cover the costs of upgrading. The refiner's price differential between heavy oil and light oil can be notoriously unstable so there is a real risk that the bitumen producers and upgrade plant operators may be unable to recover operating costs when light oil is in oversupply and light oil prices are in decline.
Conclusion
As discussed above, the Canadian oil sands represents a very good opportunity for oil producers since the contribution of carbonate-hosted bitumen to Alberta's oil total production is increasing year after year. As a matter of fact, the ERCB estimated that the production of this unconventional resource will more than double by 2021.
The Carbonate Triangle offers a lot of potential for investors interesting to seize the opportunity of investing in the abundant oil sands of Alberta. As a matter of fact, since the region is the third largest crude reserve in the world, I believe the region's upside talks for itself. Therefore, this untapped resource is definitely representing the present and the future in energy.
Now that we have seen the incredible potential that the Carbonate Triangle has to offer, the next series of articles will look deeper by analyzing the three areas involved, Athabasca, Cold Lake and Peace River to assess each its own potential, the most notable players involved in a particular play as well as some small-cap players with lots of potential for growth. Therefore, the next article will start with the Peace River area, a location generally considered to be the last stop before the wilderness of Northern Alberta. Peace River is believed to have the potential to gather more than 7 billion barrels of oil with current technologies out of more than 90 billion barrels in the deposits.
Disclosure: I have no positions in any stocks mentioned, and no plans to initiate any positions within the next 72 hours. I wrote this article myself, and it expresses my own opinions. I am not receiving compensation for it (other than from Seeking Alpha). I have no business relationship with any company whose stock is mentioned in this article.