We are finding the linkage between natural gas and coal to be interesting here as it seems that neither one can build enough momentum to rise above certain resistance points in the charts. Worse still is the fact that as each of the commodities rises the market is supplied with more of the commodity right away. It was part of the reason we suspected that natural gas would not rise back above $3 and why we figured we would go sub-$1, which never happened. It is interesting watching two oversupplied, interchangeable commodities go head to head in the open market and something we really have not seen before. Take notes and learn from this situation because one never knows when it will happen again but it is better to be prepared for it then than be forced to ask those who were paying attention and taking notes.
Chart of the Day:
Last week was rough for the coal names, but any hopes for gains on Friday were dashed with Raymond James coming out with negative comments on the industry as a whole as well as the five specific names included in the chart below.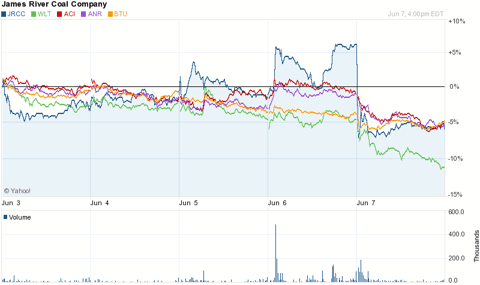 Chart courtesy of Yahoo Finance.
Commodity prices this morning are as follows:
Gold: $1379.90/ounce, down by $3.10/ounce
Silver: $21.54/ounce, down by $0.203/ounce
Oil: $95.65/barrel, down by $0.38/barrel
RBOB Gas: $2.8679/gallon, down by $0.0036/gallon
Natural Gas: $3.849/MMbtu, up by $0.021/MMbtu
Coal
Long-time readers know we have watched Cliffs Natural Resources (NYSE:CLF) for some time and watched in awe as investors took the company's stock apart due to bad results and poor management guidance. We even created a section within our daily commentary dubbed 'Cliff Watching' to highlight its moves when volatility was high. Many breathed a sigh of relief when shares rose up above the $21/share mark and put some space between the stock price and the $20/share level which had become important in the bull/bear fight.
Well all is not well in coal/iron ore land and investors once again find their shares trading below $20/share, heck below $18/share with the close Friday at $17.94/share after falling over 3% on the session.
They were not alone as the rest of the sector was lower too, but none attracted as much attention as Walter Energy (NYSE:WLT) which saw shares get clobbered by nearly 7% on volume of 11.1 million shares as it hit a new 52-week low on the session.
What caused all of the commotion to the downside? That would have been Raymond James's downgrade of the sector as a whole and five names specifically. Walter was included in that list, and although Cliffs was not, it is considered by many to be one of the weaker names in the sector due to its higher production costs. We are glad we stayed away on the last downturn and hope readers did too.
Oil & Natural Gas
We are really liking the price action in Chesapeake Energy (NYSE:CHK) shares as they are very near a 52-week high and have shown resiliency even in the wake of natural gas prices beginning to retreat on higher production which is causing storage to rise. Ironically investors are beginning to pay attention to Chesapeake's growth in liquids and not allowing the negativity which surrounds the volatility in natural gas weigh on the shares. This is probably due to the company's focus on its most lucrative targets in the portfolio right now rather than trying to lock up all of its leases. Yes lease prices on sales have been forced down due to this, but more importantly the company is focusing on cash flow and living within its means, something this new focus does for it. Although we would like to see more focus on the oil window in the Utica, one can hardly argue with the decision to spend capital on the wet window which has proven to be tremendous for those who have invested the time and effort to understand the play. It should only get better over the next few years.
Will we see Chesapeake break out this time? Hard to say with the lower volume as the shares move higher.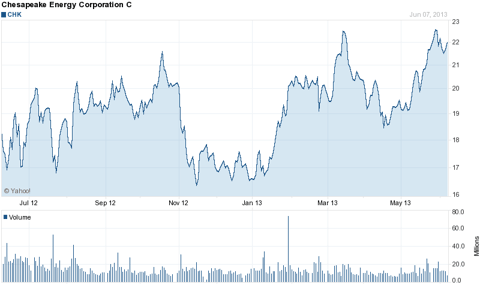 Chart courtesy of Yahoo Finance.
Which brings us to our next thought this morning. Halcon Resources (NYSE:HK) has been in the dog house with investors, and its performance warrants ending up in ours too. The stock price has come under fire since the last quarterly report when they reported some results in the Utica and announced production which was a bit short of expectations. In fact they were far enough below expectations that we were told that many were calling into question their full year production guidance. If there is one thing we have learned in our time investing in commodities it is that with companies developing plays and large land positions, especially a portfolio of projects across many plays, it is nearly impossible to predict with any accuracy the production numbers a year into the future. This especially holds true for plays which lack the infrastructure to fully develop fields and that is enough for us to forgive the past blunder, if one wants to call it that, and instead look at the big picture.
It has been a rough year for Halcon shareholders, which we are one, but a rougher last few months as it has been a constant downtrend. We think that at these levels one should be a buyer though. Plain and simple.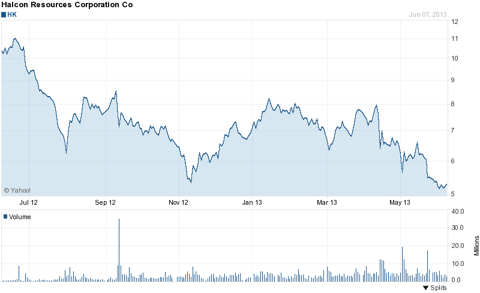 Chart courtesy of Yahoo Finance.
Because honestly that could lead to another big winner for the portfolio such as PDC Energy (NASDAQ:PDCE) which we initially rode higher for a 20-30% gain and then traded in and out of for 25-30% gains along with readers (Note: PDC was close to hitting a new 52-week high on Friday). We make this connection for a few reasons, first being that PDC was plagued by midstream issues, and still is. The second is that had one not bought on that negativity then a lot of money would have been left on the table. PDC is hitting on all cylinders right now with their exploration however they are creating tremendous amounts of value for shareholders by drilling where no one else is really looking, which means that midstream infrastructure take longer to build and get production out of the area. This is not all that plagues Halcon, but until they get their drilling program set up in the Utica where efficiency is normalized and their well cost is in line with peers we do not feel it is fair to judge them apples to apples.
Disclosure: I am long HK. I wrote this article myself, and it expresses my own opinions. I am not receiving compensation for it (other than from Seeking Alpha). I have no business relationship with any company whose stock is mentioned in this article.