In my most recent article, I demonstrated what appears to be a graphical performance advantage for Advanced Micro Devices' (NYSE:AMD) APU over Intel's (NASDAQ:INTC) upcoming Bay Trail. In this article, I'll explain why this advantage is so important for AMD, delve deeper into the likely performance metrics of AMD's Jaguar compared to Intel's Bay Trail architecture and how the consumer will actually relate to those metrics, and finally demonstrate the importance of mobile computing to AMD's revenue stream. In the summary I will also show other positive catalysts for AMD. I apologize in advance for the length of the article, but I would like to give investors more of a complete view of AMD's performance advancements and overall vision.
If you are not a technical person and do not like the details, I will highlight a few of my important points (4 total, labeled as *POINT*) so you can skip to the conclusion without suffering the details.
I would like to point out to Nvidia (NASDAQ:NVDA) and ARM Holdings (NASDAQ:ARMH) longs the competition from AMD and Intel in tablets and Intel in smartphones will have a chance to significantly affect the companies' respective revenues. If you are long ARMH or NVDA, I recommend monitoring how quickly these sales of x86 tablets and later smartphones gain traction. ARM licenses IP for most smartphones and tablets, and Nvidia's Tegra line of SoCs will see competition.
If you're long Microsoft (NASDAQ:MSFT), the success of x86 Windows tablets could help give your portfolio a lift. Bay Trail and Temash will help bring the price of Windows tablets down so they are competitive in both functionality and price.
AMD will be competing with Intel's Clover Trail+ based Atom until closer to the end of the year; not Bay Trail. This gives AMD a sizeable performance advantage over Intel's Atom until Bay Trail debuts.
Data from the following slides will be referenced to try and get a rough estimate of performance between AMD's Temash and Intel's Bay Trail.
All images from AMD's PR slides taken from TheVerge.com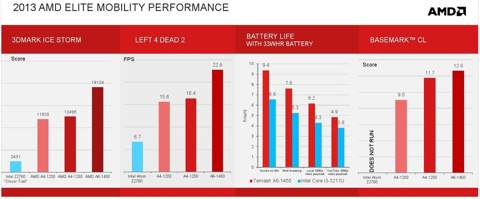 Image taken from Intel.com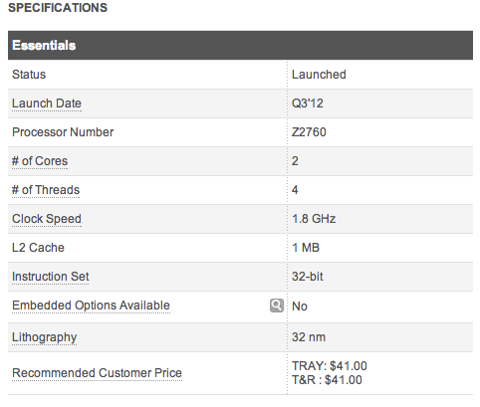 Images taken from HotHardware.com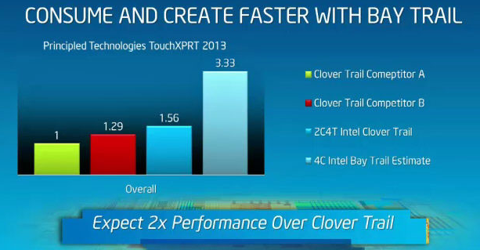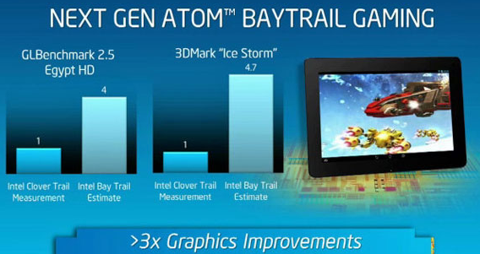 And for the last image, which was a pretty incredible find from fellow contributor Ashraf Eassa, can be found in one of his Seeking Alpha Stock Talks.

It *appears* the graphic slides from HotHardware are based on a 2.4 GHz 4 core Bay Trail Atom, possibly in a 2W 'SDP'. However, I cannot verify this since there is limited text on the last slide.
AMD's Golden Window
According to Intel's PR website, Bay Trail powered Tablets will launch in time for the holidays this year. Intel had several announced design wins during Computex, and from what I gathered, this means AMD will be up against Intel's Clover Trail+, not Bay Trail, which should give AMD a clear win in performance until Bay Trail devices show up.
AMD's biggest problem will be market penetration. At Computex, AMD advertised tablet offerings from MSI, Gigabyte, and Quanta. The Gigabyte tablet looks a little chunky, but the MSI tablet is reported to be around 10mm thick. Amazon.com has an Acer Aspire V5-122, 11.6" touchscreen notebook, and HP is refreshing their line of notebooks with touchscreens, both of which will feature AMD APUs. The HP will be available on June 26. Lisa Su, a Senior VP at AMD, announced during their press conference that we can expect to see more design wins announced over the next few weeks. The trick will be to get the Temash design into more tablets or convertibles.
*POINT* AMD should have more design wins for Temash powered devices that will be appearing soon. MSI, Galaxy, and Quanta have announced AMD powered tablets. Both HP and Acer have announced small form-factor, touchscreen based notebooks. A tablet win from a company the size of Asus, Acer, or HP would be a great win for AMD. AMD's new Jaguar based APUs will be competing with Intel's weaker Atom until Bay Trail devices launch at the end of the year, giving AMD a time to market advantage.
Comparing Temash and Bay Trail
Pure graphical benchmarks, like the 3DMark Ice Storm comparison I made in my first article, do a decent job of isolating and measuring GPU performance. So if you look at only the 3DMark Ice Storm benchmark, you can see that AMD's weakest APU appears to have as much graphical horsepower as what is most likely Intel's most powerful Bay Trail-T. However, in real life, the CPU can bottleneck the GPU, leading to reduced frame rates because the GPU is "starving" for data. So if you look at the L4D2 benchmark, Intel's 4C/4T Bay Trail-T will most likely edge out AMD's 2C Temash offerings, but lose against AMD's 4 Core Temash in real world applications, based on Intel's "3x Graphics Improvements" estimate.
Taken from Anandtech.com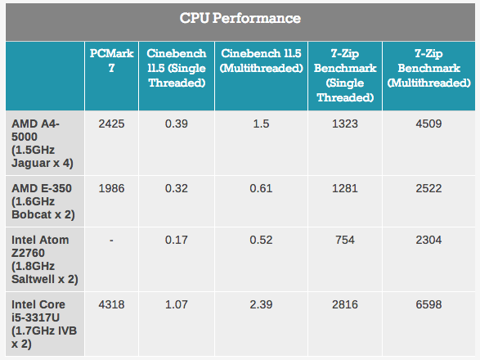 Comparing the CPU is a little more difficult, so please bare with the rough math for a second. All of the new AMD Temash and Kabini SoCs are based on Jaguar architecture, so they should scale fairly linearly with clockspeed. For Intel's Atom it gets a little trickier. Intel's z2760 uses Hyper-threading, which creates 4 separate threads from 2 cores. I will attempt to make as close to an apples to apples comparison as I can here. As an aside, interestingly Anandtech notes,
The 1.7GHz Ivy Bridge part is obviously quicker, but what's interesting is that if we limit the IVB CPU's frequency to 800MHz Kabini is actually a near identical performer.
I will explain why this is important later.
If the A4-5000 were underclocked to 1 GHz to match the A6-1450, it should yield roughly 67% of the performance (1 GHz/1.5 GHz). Intel's PR slides state that Bay Trail should perform roughly 2x as well as Clover Trail. Taking these into consideration, I come up with the following relative CPU metrics.
| | | | | | |
| --- | --- | --- | --- | --- | --- |
| | PCMark 7 | Cinebench (Single) | Cinebench(multi) | 7-Zip (single) | 7-Zip(multi) |
| A6-1450 | 1625 | .26 | 1 | 886 | 3021 |
| Bay Trail-T | - | .34 | 1.04 | 1508 | 4608 |
So you can see that the 2W 'SDP' Bay Trail offers roughly a decent 40% CPU processing power over AMD's 8W 'TDP' Temash, with perfect scaling and provided Bay Trail is truly 2x the processing power of Clover Trail.
Most likely this is conservative. Benchmarks rarely scale in a perfect, linear fashion with clock speed. 75% or so would probably be a more accurate, less conservative factor for scaling, which would give closer to a 30-35% performance lead for Bay Trail-T.
Comparing the L4D2 benchmark and assuming a 3x graphics improvement between Clover Trail and Bay Trail, we can see that the AMD has roughly a 15% graphics power advantage over Bay Trail-T in a real world gaming scenario.
*POINT* Bay Trail-T should offer roughly about a 40% CPU advantage over the A6-1450, while the A6-1450 should hold about a 15% GPU advantage.
So Which Is More Useful in a Tablet: Graphics or CPU Horse Power?
It amazes me the number of people I see in an airport converting the Lord of the Rings Extended Trilogy to h.264 while looking at a stop watch. Or maybe they are surfing the internet and watching Netflix to pass the time. I get those mixed up...
That should help remind people what tablets are actually used for. In 99% of tablet applications, the roughly calculated 40% increased processing power that Bay Trail offers may make the tablet feel a little "snappier." Both Bay Trail and Temash can cut ropes, shoot birds, crush candy, check Facebook, surf the web, and use MS Office.
One of the points that gets brought up frequently is trying to compare Intel and AMD by simply looking at the frequency of the SoC. You can see this is an invalid argument simply by looking at AMD's A4-5000 at 1.5 GHz to Intel's z2760 at 1.8 GHz. Although the A4-5000 has 4 cores, both have 4 threads. You can clearly see the Clover Trail based Atom does not beat the AMD APU by 20% - even at 1 GHz AMD's A4-5000 should still be faster than the 4 thread Clover Trail Atom.
I have used these benchmarks from Tom's Hardware before to illustrate the type of games that the majority play. Dota 2 and League of Legends are two of the largest free to play games in the world.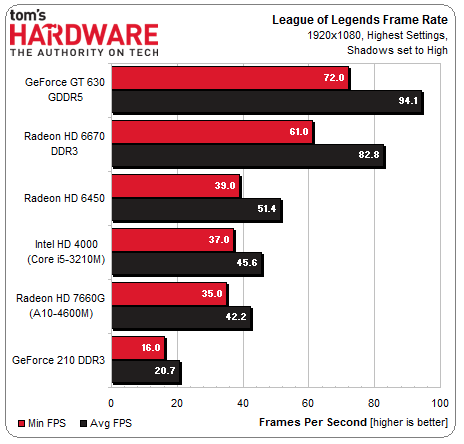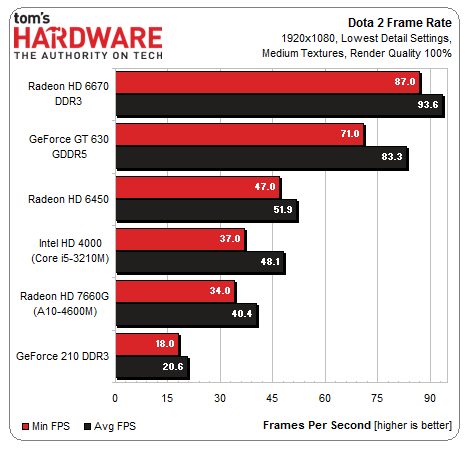 From Notebookcheck.net
Depending on the benchmark the integrated Radeon HD 8250 partly only reaches the performance of its predecessor (3DMark06), but can also sometimes nearly approach the performance of Intel's HD Graphics 4000. This might be because the older 3DMark benchmarks depend on the CPU. To summarize, the GPU performance is about on par with the HD Graphics (Ivy Bridge)'s or the dedicated Radeon HD 6450M's.
Bear in mind, the AMD A6-1450 has the ability to operate at higher powers, and this review is based on the Acer Aspire laptop I mentioned above. This means the A4-1250 or A6-1450 undocked would operate at about 75% of the HD4000, which should still be capable of rendering both games playable at 1080p and greater than 30 fps. They should be very fluid at 720p. If you account for the 15% performance difference regarding graphics between Bay Trail-T and Temash I calculated earlier, this could drop LoL just under the 30 fps (1080p) cap at which most gamers consider a game playable. But anyone interested in gaming on a tablet will most likely factor gaming performance and price when making a decision.
*POINT* If you're planning on playing BF3 on a tablet, you should wait a few years. But if you'd like to play some very popular free to play games (which are the most popular in the world) you'll be well served by AMD's APU. Tablets are used for entertainment and some light productivity. Bay Trail tablets may feel a little snappier, while AMD tablets should be better for killing monsters.
SDP vs. TDP, and the Rest of the System
Most SoCs measure power consumption in 'TDP.' This stands for "Thermal Design Power", and dictates how much cooling a chip will need to prevent from exceeding thermal design limits under load.
Intel appears to use some clever marketing to advertise lower power envelopes than the competition. Rather than using TDP, Intel uses the SDP metric. Anandtech.com, Arstechnica.com, and TheVerge.com all criticized Intel for over-inflating their power savings by using the 'SDP' metric. "Scenario Design Power" is the metric that Intel uses to advertise lower wattage parts. According to TheVerge.com's example, Intel's Core i7-3689Y is a 1.5 GHz, 7W 'SDP' part. However, the chip actually runs at 800 MHz, but can turbo boost to 2.6 GHz, provided there is thermal headroom.
To save the extra 6W of power consumption between TDP and SDP, the Core i7-3689Y runs at almost half of its 1.5 GHz advertised frequency. The 1.5 GHz applies to the device running a 13W TDP envelope; 800 Mhz is what it runs at in a 7W SDP envelope. Ivy Bridge was built using trigate transistors similar to Haswell's.
Remember Anand's statement from above that the A4-5000 would perform similarly to an i5-3317U underclocked to 800 MHz? The AMD A4-5000 is a 15W TDP part. But TDPs are maximums, so let's look at actual power consumed.
Notice the 2x TDP increase between the A4-1200 and A4-1250. This results from a 75 MHz clock bump between the two GPUs; AMD places a lot of power in their GPUs. But when you double the number of cores between the A4-1250 and A6-1450, we stay at the same TDP. This may seem counter-intuitive, but it illustrates an important point.
Trustedreviews.com explains that for AMD the GPU can act as a heatsink for the CPU and vice versa depending on which is under stress at the time. Since AMD has limited the CPU core clocks to 1 GHz, the addition of the extra cores doesn't add much in terms of power consumption. This also shows that for general computing, the Jaguar cores are extremely efficient. That is why notebookcheck.net's review of the A6-1450 states that the power consumption of the APU has an overall positive effect on the system.
This makes a direct comparison of the CPU benchmarks I used above even more difficult. The A6-1450 is an 8W TDP. I compared it against a 2.4 GHz, 2W SDP Atom. There is no way to know how much power the Atom was actually consuming during that task, or if Bay Trail is underclocked to operate in its 2W SDP envelope, similar to the core i7 I mentioned earlier.
At the end of the day, power consumption boils down to cooling requirements and battery life.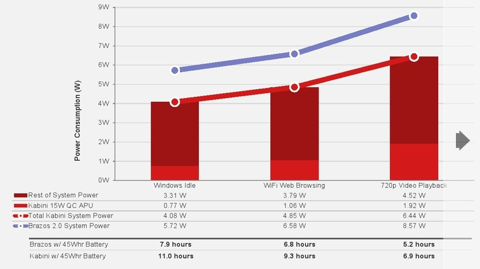 The above graph references the more powerful 1.5 GHz A4-5000, but it easily shows something I would like to point out. Even while rendering 720p video, the A4-5000 only draws 2W of power. The rest of the system consumes over 2x that amount. Intel has better idle power management than AMD. But in reality it doesn't matter that much in tablets. The graph above is based on a 45Whr battery. The A4-5000 has an idle power consumption of .77W, or 770 mW. If the 15W TDP A4-5000 APU were to get tossed out and replaced with Bay Trail, and we assume the idle power drops to 0 mW (roughly infinitely less idle power) the system would last about 13.6 hours. So if you enjoy watching your laptop idle, in this instance you could do so for about 2.6 more hours. For a comparison to what to expect in tablets, start with a few battery sizes from Anand.

The following example assumes the tablet is not allowed to go into standby mode.
So let's assume an average battery size of 30Whr, a "rest of system" draw of 2W, AMD's APU draws *750 mW* (that's probably too big) idle, and Intel's Bay Trail is perfect, and draws *none* (that's probably too small). 30 Whr/2.75W is roughly 11 hours of idle time for AMD. A similar calculation gives an extra 4 hours of idle time (not standby time) for Intel's Bay Trail-T, that hypothetically consumes 0 power when in idle.
Because of Intel's better power management, it will most likely have a better standby (think screen powered down) battery life, but that is only speculation on my part.
As you can see, the power usage of the rest of the system and battery size have an overall larger impact on battery life. The Bay Trail-M variant designed for smartphones will be used in applications with smaller batteries where these power characteristics are more important, but for tablets the difference is easily masked by the larger battery size and power draw from the larger screen.
Intel more actively manages the power consumption of their cores by dynamically controlling clock speeds. All three AMD Temash SoCs limit Jaguar cores to 1 GHz. These lower clock frequencies are what enable the Jaguar cores to operate in the thermal envelopes for tablet form factors.
Look at the TDP when the GPU clock frequency is raised from 225 MHz to 300 MHz. TDP doubles from 4W to 8W. The undocked TDP of the 4 core A6-1450 maintains at 8W, despite the addition of 2 extra cores. This alludes to two details. First, AMD puts a lot of emphasis on the power of their graphics cores. Second, the actual CPU cores do not consume nearly as much energy as the graphics cores. So if you're just surfing the web, power consumption should be pretty low. The performance figures in the first slide of AMD having the battery life to surf the web at 7 hours or watching 6 hours of HD video on a 33 Whr battery seem believable.
For the final point on power consumption, the 1.5 GHz A4-5000 consumes 2W when watching 720p video, or 1W when web surfing. AMD's tablet APUs should consume a little less than this, which make them competitive with Intel in power consumption while performing the types of activities expected on a tablet. The fact that the A4-5000 has a 15W TDP doesn't mean it consumers *nearly* that much when performing tasks.
*POINT* In tablet form factors where larger batteries can be used, the power drain of the SoC is less important than the size of the battery. The real world affects of Intel's active power management are decent enough, but by no means game changers. Users can simply turn off the device or put it in standby to save some of the power lost. While performing tasks like surfing the web or watching movies, AMD's more powerful A4-5000 only draws between 1-2W of power, compared to its *15W* TDP. At a 4W TDP, AMD has at least one offering which will easily fit in a sleek tablet. Intel's SDP metric makes it more difficult to make an accurate clock-for-clock and power consumption comparisons between Bay Trail and Jaguar. If Bay Trail is marketed using scenario design power, it may operate at a lower clock frequency than expected, which will lower performance.
Performance from an Investment Perspective
AMD won spots in all next gen consoles, announced low power Jaguar server designs, and now have an SoC that will be suitable for tablet designs.
Factor in AMD's direct competition in the x86 tablet space: Clover Trail+. Anandtech's Jarred Walton noted how far behind the Clover Trail is:
The current generation Atom comparison here is just laughable-Jaguar offers more than twice the performance of Clover Trail in single threaded Cinebench.
AMD has roughly a 4-5 month time to market advantage over Bay Trail-T. The 2 core A4-1200 should have a little more processing power than Intel's 2C/4T Clover Trail, and between 2-4x the graphics horsepower depending on application. If AMD releases additional Temash SKUs, a variant of the A4-1200 with a 5W TDP used to raise Jaguar core clocks could be a very interesting product. Provided more OEMs release Temash based tablets, AMD has the chance to capitalize on what should be a decent performance advantage. The 11.6" touchscreen notebooks start at around $400 USD, and should bring the PC market a little closer to direct competition with the growing tablet market. These small form factor notebooks will also be available with the more powerful AMD Temash offerings, giving users an even larger performance advantage compared to Clover Trail+ based Windows tablets, while still being very portable. While operated docked, the A6-1450 I used for comparison against Intel's Bay Trail-T should have similar CPU power based on a 400 MHz CPU clock increase, and will extend their graphics lead over the competition from a 100 MHz GPU clock bump.
Microsoft is fighting very hard to push into the mobile space, along with Intel and AMD. According to the IDC about 1.6M Windows tablets shipped Q1 2013.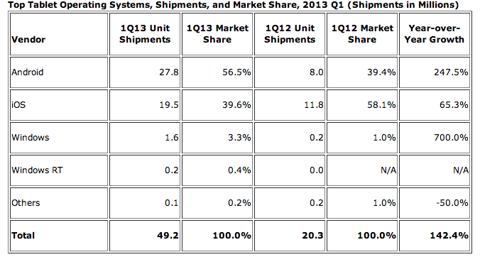 If we assume by next year 10M Windows tablets are shipping in 1Q14, and AMD has 15% of the market share (similar to PCs), that would equate to about $18M for AMD, assuming a Temash ASP of $30-35 and a margin of roughly 40%.
This may seem overly aggressive to some, but it is most likely on the conservative side. Surface Pro tablets are expensive, and started shipping in February, and are still rolling out worldwide. Bay Trail and Temash will bring the overall price of Windows tablets down. Microsoft is taking a much more aggressive pricing approach to enter into the tablet space. The reduced price from lower Windows licensing fees and cheaper, yet capable SoCs will bring the price of Windows tablets down to near Google's (NASDAQ:GOOG) Android levels.
AMD's goal is to return to profitability in 2H2013. Last quarter they operated at a non-GAAP net loss of roughly $94M. Even if they win only 15% of the 10M x86 Windows tablet market share I predicted by 1Q2014, this still helps their goal of returning to profitability.
Intel has a process advantage over the competition. This process advantage should help them enter the smartphone sector where battery life is limited and therefore SoC power usage is exponentially more important, but AMD will most likely not be competing against Intel here anytime soon.
I feel AMD has a much higher ROI, but with added risk. AMD has console wins to offset declining PC revenues. Optimizations for console games should filter to their Radeon graphics - this along with their Never Settle campaign should help them recover market share in the graphics segment.
We can see the affect of some of these optimizations now, and how the efficiency in which software and hardware communicate is as important as the hardware itself. Take a look at a couple of benchmarks from Anandtech's review of the GTX 780: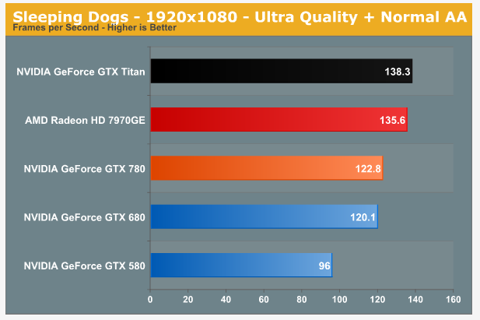 The red line, the AMD 7970 GHz edition, is a $450 GPU against Nvidia's $1000 GTX Titan. This is obviously the most favorable for the 7970 GHz ed.
Battlefield 3 is a game that favors Nvidia Hardware.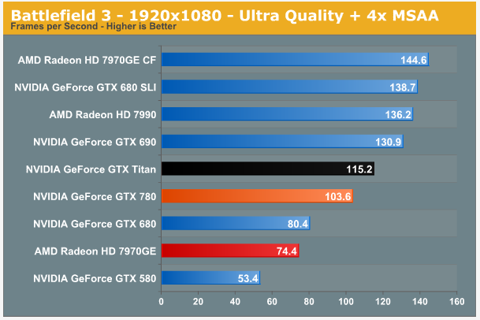 For perspective, the GTX 780 is $650, and the GTX $680 is just over $500. The 7970 GHz ed offers 55% of the GTX Titan performance at roughly 45% of the price, or in the case of the GTX 780, 40% of the performance at 65% of the price. Remember, this is worst case. The 7970 GHz ed. offers the same performance as the $50 more expensive GTX 680. AMD offers excellent price/performance in the graphics segment compared to the competition.
A lot of proponents of Nvidia like to talk about HPC and GPU compute. I would like to point out that AMD's $450 graphics card has roughly the same GPU compute power as the GTX Titan. Of the 8 GPU compute benchmarks on Anandtech, the $450 Radeon beats out the $1000 Titan in half. The Titan is based on the GK110 GPU, which is the GPU used in their Tesla product line.
From an investment standpoint, I feel INTC is a safer bet, while AMD offers a better ROI, especially in the short term. AMD typically trades above $5 when profitable, with around $8 being a reasonable price target provided AMD has 2 profitable quarters. With AMD trading at less than $4 a share now, this offers a lot of upside with increased risk. AMD is over double its 52-week low. INTC is trading around $25, $6 off its 52-week low. For growth perspective, AMD going to $8/share is the equivalent of INTC hitting $48/share.
Disclosure: I am long INTC, AMD. I wrote this article myself, and it expresses my own opinions. I am not receiving compensation for it (other than from Seeking Alpha). I have no business relationship with any company whose stock is mentioned in this article.
Additional disclosure: I may add to my AMD position within the next 72 hours, or rebalance part of my INTC position into AMD.