Over the past several years interest rates have been set close to zero by the Federal Reserve in an effort to spur economic growth. Given the possible end of the Fed's quantitative easing program the market has become concerned about a potential rise in interest rates and the prices of bonds and many dividend-paying stocks have fallen as a result. The question at this time is first whether interest rates will continue on their recent upward trajectory and second whether investors should avoid dividend-paying stocks as a result.
In order to give some historical perspective, the 45 largest components of the dividend aristocrats index (NYSEARCA:SDY) were analyzed over previous periods of rising interest rates. As shown in Figure 1, there have been two periods of rising rates since 1985 not including a rate spike that was associated with the 1987 stock market crash. From early 1994, until early 1995 the 3-month LIBOR rate rose from just over 3% to greater than 6%. Again from 2004 until 2006 the LIBOR rate rose from just over 1% to greater than 5%. Both these rises in interest rates occurred in the context of a strengthening economy and it is likely that this would be the case if rates are to rise in the near term.
Figure 1: Interest Rates and the S&P 500 Index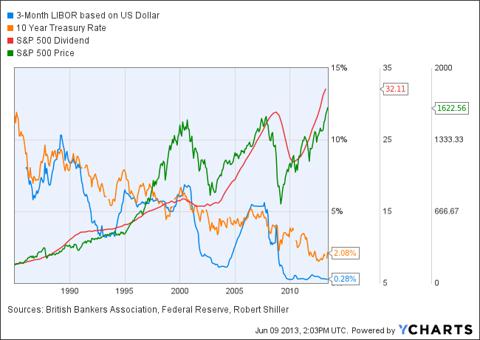 The resulting effect on prices for stocks in the Dividend Aristocrats index is shown in the table below. At the present time, the trailing 12 month price-to-earnings of the Dividend Aristocrats is at a slight premium to the S&P 500 index. The former has an average TTM P/E of 19.68 and a yield of 2.51%, while the latter has an average TTM P/E of 18.38 and a yield of 2.07%.
Table 1: Largest Components of the Dividend Aristocrats and Historical Performance Relative to the S&P 500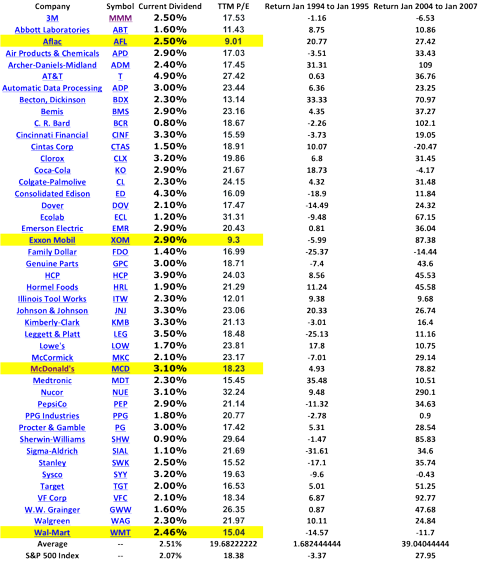 During the two periods of rising interest rates in question, the Dividend Aristocrats outperformed the S&P 500 index with 1.68% appreciation in 1994, as compared with a -3.37% return for the S&P 500. In the second period the Dividend Aristocrats outperformed by a wider margin returning 39.04% versus 27.95% for the S&P 500.
It is possible that the current low level of yields could cause this cycle to be different than in the past. The Dividend Aristocrat's yield did not exceed the return of a 10-year Treasury note in either previous period of rising rates, thus there may be some demand for dividend-paying stocks that could be neutralized if rates rise sufficiently. However, given the only modest overvaluation of the Dividend Aristocrats compared with the S&P 500 and the lack of historical evidence for the underperformance of dividend-payers during previous cycles it seems very likely that market fears are overblown.
Conclusion
Investors in stocks must be careful not to fixate on dividend yield and ignore potential loss of capital from buying the stocks of Dividend Aristocrats at unreasonable prices. However, they would also be wise not to retreat from investing in quality companies among the Dividend Aristocrats when reasonable prices are available. To that end, a number of stocks in the index stick out as very reasonably valued including: AFLAC (NYSE:AFL), Exxon (NYSE:XOM), McDonald's (NYSE:MCD) and Wal-Mart (NYSE:WMT). The TTM P/E ratios for these companies are 9.01, 9.32, 18.23 and 15.20 respectively versus average valuations of 15.61, 19.56, 25.47 and 15.11 since 1985. Johnson and Johnson (NYSE:JNJ) is also reasonably valued on closer inspection, as its aquisition of Synthes has caused the TTM P/E to be inflated. The stock has a forward P/E of 14.6, certainly not as cheap as when I recommended it several months ago, but a reasonable value nonetheless and a good buy in the current pullback.
Whenever something unexpected comes along Wall Street loves to paint with a very broad brush. In this case, there has been relentless selling of dividend-payers on fears of rising interest rates. Of course the truth is invariably more complex and investors in reasonably priced dividend-paying stocks should be confident that over the long term they will be rewarded for staying the course in their investments. If interest rates are to rise it will be in the context of a strengthening economy, thus for these investors the glass remains at least half full.
Disclosure: I am long AFL, JNJ, MCD, XOM. I wrote this article myself, and it expresses my own opinions. I am not receiving compensation for it (other than from Seeking Alpha). I have no business relationship with any company whose stock is mentioned in this article.