Goldman Sachs (NYSE:GS) is one of the world's leading investment banks. The company provides investment banking, securities, and investment management services. The firm has adapted well to recent economic conditions. The stock is up 75% from this time last year and the stock still has upside potential and the stock also appears to have room to continue going higher.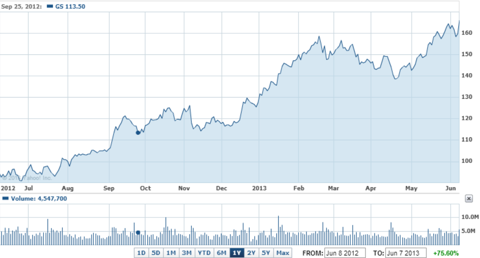 Fundamentals
Goldman Sachs' TTM P/E ratio of 11.46 is below the sector average P/E ratio of 15.79. The stock's forward P/E ratio of 10.85 is also below the TTM P/E ratio. The stock's P/B ratio of 1.09 is also lower than the industry average P/B ratio of 1.58. The company grew it EPS by 9.44% from Q1 2012 to Q1 2013. Also, quarterly revenue grew by 1.42% from Q1 2012 to Q1 2013. The current ratio is 1.47, which could indicate that Goldman's business is healthy. Goldman's ROE of 10.12% is higher than sector average ROE of 8.36%. The Price to cash flow ratio is also well below the industry average. In addition, the stock has a small dividend yield of 1.2%.
Q1 Results
On April 16, Goldman Sachs reported earnings that beat the estimates. For Q1, the company posted an EPS of $4.29 and the analysts' were expecting an EPS of $3.87. The company reported numerous positive developments at its Q1 earnings conference call. The company ranked first in worldwide completed mergers and acquisitions year to date. In addition, the bank ranked first in worldwide equity and equity related offerings. Goldman CEO Lloyd Blankfein said in the call that, "Our strong client franchise across our businesses drove generally solid results." The firm said in the earnings call that positive developments with the U.S. economy in the first quarter helped to increase its client's risk appetite and activity. Net revenues in Institutional Client Services were $5.14 billion, which is an increase of 18% from the fourth quarter of 2012. Institutional Client Services accounted for half of Goldman's revenues and it is crucial for Goldman over the long term. Debt underwriting produced record quarterly net revenues of $694 million. The firm continued to manage its capital and liquidity conservatively during Q1 and the firm's excess core liquidity was $174 billion.
Outlook for Goldman Sachs
Goldman Sachs has been very adaptive to the changing conditions with the U.S. economy. Goldman Sachs is well positioned to gain from a recovering U.S. economy. Continued positive economic developments during 2013 will help to increase the firm's earnings. Macroeconomic growth will help to increase revenues from Institutional Client Services and M&A. The increase in demand for wealth management services that has been seen since the financial crisis will continue to benefit Goldman over the long term. In the near term, a recent share repurchase will help to drive up the share price.
Conclusion
Goldman Sachs has upside potential and the stock appears to be cheaper than many of its competitors. Numerous metrics show that the stock is cheaper than the average financial stock. Goldman's ability to adapt to changing conditions will help the company to continue to outperform. In addition, the company has continued to do well even with difficult economic conditions. Warren Buffett's Berkshire Hathaway is a buyer of the stock and Berkshire will likely become one of the 10 biggest shareholders of Goldman Sachs in the near future. Solid management and noteworthy shareholders like Berkshire will help the company to continue to perform well over the long term.
Disclosure: I have no positions in any stocks mentioned, but may initiate a long position in GS over the next 72 hours. I wrote this article myself, and it expresses my own opinions. I am not receiving compensation for it (other than from Seeking Alpha). I have no business relationship with any company whose stock is mentioned in this article.