This week, AdDuplex is expected to post its monthly statistics for Windows Phone (NASDAQ:MSFT). For those that don't know, AdDuplex tracks application usage and related advertisement statistics across the global Windows Phone ecosystem to figure out many different statistics including but not limited to market share of each phone producer, each specific phone, and each carrier within Windows Phone ecosystem by country. Before the company announced its monthly results, it gave some "teasers" on Twitter. Alan Mendelevich, the founder of AdDuplex published these tweets on his personal Twitter page. One of these teasers is that one carrier (most likely to be Verizon (NYSE:VZ)) has been able to sell more Windows Phone 8 devices than AT&T (NYSE:T).
When we look at Windows Phone 8 devices sold by each carrier, the list looks like this:
AT&T: Nokia Lumia 920 (NYSE:NOK), Nokia Lumia 820 and HTC Windows Phone 8X.
Verizon: Nokia Lumia 928, Nokia Lumia 822, HTC Windows Phone 8X.
T-Mobile (NASDAQ:TMUS): HTC Windows Phone 8X, Nokia Lumia 925, Nokia Lumia 810, Nokia Lumia 521.
Keep in mind that Nokia Lumia 925 and Nokia Lumia 928 didn't hit the markets yet. Now, if we check last month's figures, we see that AT&T's market share in the US was 42% whereas Verizon enjoyed a market share of 33% and T-Mobile's market share was 20%. This includes Windows Phone 7 and Windows Phone 8 operating systems. The Twitter announcement only covers Windows Phone 8.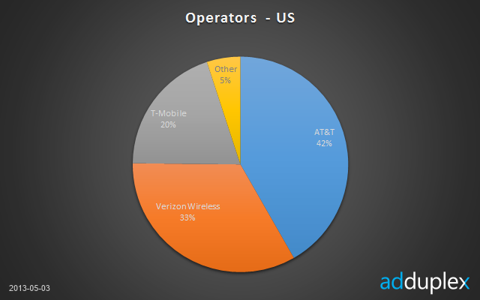 This is how the market share by phone looked last month: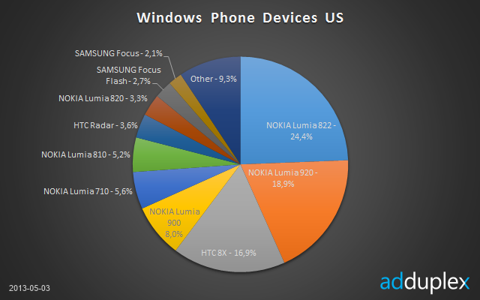 If we removed the Windows Phone 7 devices from the equation in order to figure out the market share in Windows Phone 8 alone, we see that Nokia Lumia 822 (sold by Verizon) enjoys a market share of 35.52% followed by Nokia Lumia 920's (sold by AT&T) market share of 27.51%, HTC 8X's (sold by all three carriers) market share of 24.60%, Nokia Lumia 810's 7.57% (sold by T-Mobile), Nokia Lumia 820's (sold by AT&T) 4.80%. In the Twitter announcement, it doesn't say whether AT&T was passed by Verizon or T-Mobile. If we assume that Verizon was able to pass AT&T, the pass must be due to Nokia Lumia 822. If T-Mobile is the one that passed AT&T, then it must be because of Nokia Lumia 521 which hit the markets last month and reportedly sold out in many Wal-Mart locations across the country. Either case is good for Nokia because it means at least one Nokia phone from either Verizon or T-Mobile is selling well enough to challenge AT&T's kingdom in the Windows Phone 8 operating system. The difference can't be due to HTC's phones because these phones were released last year and made very limited impact overall.
Another Twitter teaser by the same company claims that Lumia 520's global market share doubled since last month. Last month, Lumia 520's market share was 4.4%, which means that it is closer to 9% now. If we keep in mind that Windows Phone 8 ecosystem is the fastest growing ecosystem and that it sold around 10 million phones as of last quarter, it is easy to figure out that Lumia 520 sold at least 500,000-600,000 copies in the last month alone, which is a huge success.
In this quarter, I expect Nokia to report strong results for Lumia and Asha series but I expect the Symbian phones to show another decline. Here is the real question we'll be looking at: Will Lumia and Asha results be strong enough to offset the declines in the Symbian sales? If the answer is yes, investors will be more confident of Nokia. If the answer is no, there will be more question marks regarding Nokia.
Meanwhile, Microsoft is trying to change its public image from a "boring company that produces office products" to a "fun company that produces cool products." The new Xbox is a good step in this direction. I also believe that Microsoft will continue to invest in its tablets even if the demand for them may be weak, just to be able to say that it has a tablet. I don't expect Microsoft to build its own smart phones anytime soon, as I've already mentioned many times before. Microsoft will continue to support Windows Phone 8 project by utilizing its cash reserves for marketing purposes. Overall, Windows Phone project has to grow big time before Microsoft can make money on the project. At the moment, Microsoft is still in the stage of recuperating the money it's been investing in the project. For Microsoft, Windows Phone 8 project is not all about money; it's also about fixing its image and prestige in public. This is why the company doesn't mind not making money from the product in the short term.
Recently, Microsoft's shares had a strong rally and I would wait for a pullback before buying more shares. On the other hand, I wouldn't sell my shares or short the company either. For dividend investors and those looking for a safe and stable investment, Microsoft continues to offer value. As for Nokia, the company trades for a value near its book value and investors still treat the company as if it will go bankrupt in a few years. I think Nokia will survive; this is why I believe that the company is undervalued.
As for AT&T and Verizon, both companies have relatively high P/E ratios for companies that nearly reached maturation. Both companies enjoy P/E ratios in 20s and the current growth rate of these companies don't really warrant such as P/E ratios. On the other hand, Verizon enjoys a dividend yield of 4.10% and AT&T enjoys a dividend yield of 5.08%, which makes both companies good investments for dividend investors. Both companies have a strong history of dividends and I don't see either dividends going away anytime soon.
Disclosure: I am long MSFT, NOK. I wrote this article myself, and it expresses my own opinions. I am not receiving compensation for it (other than from Seeking Alpha). I have no business relationship with any company whose stock is mentioned in this article.