The past 5 trading days have been terrible for social game developer Zynga (NASDAQ:ZNGA): it lost 16% of its market capitalization, 18% of its staff (520 people were laid off) and shuttered down New York, Dallas and LA offices. One of the worst tragic moments that symbolizes these painful days for Zynga advocates and investors was perhaps when it decided to close OMGPOP Studio (which develops the Draw Something series), only 1 year after acquiring it for $200M (no official announcement has been made so far, but considering that they basically fired the whole team, there is little room for doubt).
But Zynga has seen it all. The share price was once $2.09 (actually less than a year ago) and rumors about Zynga's imminent collapse were stronger back. Therefore, we need to ask ourselves once more: is this time a "game over" or a mere "restart"?
First of all, regarding the massive lay-off, sooner or later this disaster was going to happen. According to a now famous Reddit ex employee (probably a creator) who was also fired last week, there were simply not enough projects for all teams and employees (the accuracy of this information cannot be verified). And although Zynga tried hard to keep everyone around, eventually it "hit critical mass". Now Zynga is more "compact", but by firing so many people in one single day, it may have lost a lot of deployment power and stability all of the sudden (just like many employees were fired "all of the sudden"), as investors did not take this issue well.
For many, this is nothing else but the tip of the iceberg. The upside is that by letting 520 employees go and by closing three offices, the company can save about $80M. According to Thenextweb, just with OMGstudios alone, Zynga was losing $409,000 per day.
Saving $80M per year is an upside but this has little meaning in the medium run. Zynga had many issues but "being cashless" was not exactly one of them. According to Yahoo! Finance, Zynga had $1.4B in cash and cash equivalents as of December 2012. By now the figure is probably $1.6B, or 70% of its current market capitalization.
Was adding $80M to this figure really necessary?
Absolutely not. By laying off 520 people and saving $80M, Zynga lost 16% of its market capitalization: hundreds of millions. Even worse, the stock's negative momentum is increasing, if measured by the RSI and MACD indicators. Now, the current market capitalization of Zynga is in danger zone, just $750M above its $1.6B in cash and cash equivalents, or about $350M less than what Yahoo paid for the blogging platform Tumblr.
I'll say it again: Zynga's main issue is not "cash absence". Zynga's main issue is its inability to make cash consistently: it does not generate safe free cash flow. The reason is simple: revenue stopped growing a long time ago. It is decreasing since 2012Q2, to be precise.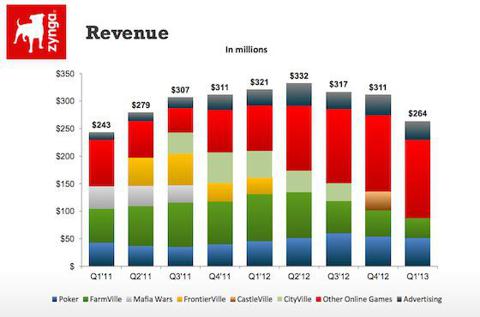 (Click to enlarge)
With 520 people less, how does Zynga plan to revert this trend? It was already very challenging to keep revenue size constant before the massive layoff!
Mark Pincus basically keeps saying that Zynga is currently under transition and that hope prevails because after Zynga finishes its transition, it will be a very different company, with a stronger focus on mobile, less Facebook dependence and real money gambling sites.
However, there are no guarantees here. Zynga's transition could very well fail. First of all, the firm did not adjust well to the changing market in the past. It did quite well when Facebook gaming was popular, but it did not predict the shift to mobile. Trying to change over now is admirable, yet not sufficient. As some former Zynga employees have mentioned in Reddit:
-- They're trying to change over, but employ too many of the same game development "best practices" that were developed for Facebook games.

-- A lot of micro-management from the top down that stifles the creativity and hinders the production of many games.

-- There is a serious lack of foresight over all. Too many major decisions are quick reactions to sudden changes in the market. If some games jumps to the top of the Top Grossing charts then everyone need to drop everything and change to follow it.

-- They rely too much on reacting to what is making money now, and too much on their own data. They don't strive to make anything new or innovative and that's no way to excel in the games market.
These are mere opinions but you should also keep in mind that Marc Pincus' declarations and promises about future success are also opinions. There is no such a thing as an easy transition. Even a company as dynamic as Zynga cannot deny this fact.
How about the other reason for being long Zynga, real money gambling? In my previous articles, I mentioned that there is a strong correlation between stock price increases and product releases. The social version [Facebook (NASDAQ:FB) integration] of the real money gambling sites that are currently available only in the U.K. will not be an exception. When the social version is released, shares will probably experience an improvement in upward momentum. However, I do not think that this can be a major catalyst, with enough power to change the medium run fate of the company by increasing revenue.
This is because online real money gambling is already a very competitive segment. Zynga is not the first to enter the market in the U.K., and it will certainly not be the last one. Even worse, if Zynga succeeds at making online real money gambling legal in the U.S., it will be indirectly inviting foreign competitors to also start operating in the U.S. What competitive advantages does Zynga have in this segment, after all? Will gamblers really be fascinated about the possibility of gambling with friends in a Farmville atmosphere? I cannot say for sure. But at least I can say that many will prefer to rely on companies that have been managing online casinos for a decade, rather than relying on a newcomer.
There is one last factor that we have not touched yet and that could help Zynga to save the farm: producing a hit. A game as successful as the Farmville series. This can happen anytime, anywhere. Regarding this point, I wrote on May 15th:
Game releases are a "hit or miss" business. The more applications you release, the higher your chances are of developing a great game. In this sense, I believe that if Zynga continues the current rhythm, they will eventually release the next big thing in the iTunes & Google Play & Facebook Store. It's a matter of time.
However, the probability that such a thing happens after Zynga fired 520 people is much lower. Not only did Zynga lose talent last week, it also contributed to make the working atmosphere worse. A place where friends are getting fired all of the sudden is certainly not a place that makes it easy for innovation to occur.
The bottom line is that even after losing 18% of its workforce and 16% of its market capitalization, Zynga still has many assets, including $1.6B in the bank and the Farmville series. Therefore, although users are leaving, the transition to mobile is painful and there are less engineers and creators, Zynga's end is not near. The transition, however, is extremely risky and it may be better for us investors to watch it from the sidelines.
Final Remarks
Rate: Neutral / from Buy (May 15th)
Uncertainty: High
Disclosure: I have no positions in any stocks mentioned, and no plans to initiate any positions within the next 72 hours. I wrote this article myself, and it expresses my own opinions. I am not receiving compensation for it (other than from Seeking Alpha). I have no business relationship with any company whose stock is mentioned in this article.