A strong pullback in dividend stocks, caused by fear of the Federal Reserve tapering bond purchases, has created income opportunities which didn't exist a few weeks ago. Many investors in dividend stocks are now running for cover but I don't think they should be too alarmed. Higher rates will be accompanied by a stronger economy, which will ultimately be good for earnings and for dividends. And if bond prices do come down, and interest rates go up, savers will once again be rewarded their thrifty ways instead of being punished.
Yes, Mr. Market may temporarily see many of our dividend investments as "bond equivalents," but we know better. Even modest dividend payout growth, something which bonds do not provide, will make a big difference in the long run. Today I'm going to look at an opportunity to build income with a safe, blue chip company yielding over 5% and growing slowly but steadily. That company is AT&T (NYSE:T).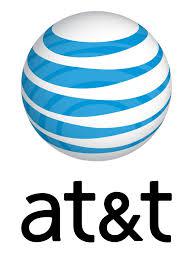 AT&T is the largest telecommunications company in the United States. AT&T operates mostly in two segments: Wireless and Wireline. Wireless includes both wireless voice and data (for smartphones). Wireline includes land line voice, managed networking to business customers, and U-verse, which is broadband Internet, cable TV and voice.
Return To Growth
AT&T's recent results, both for 2012 and Q1 2013, have shown that they have finally put the distraction of the failed and costly acquisition of T-Mobile into the past. Revenue and earnings have gone positive as management renewed its focus on structural growth.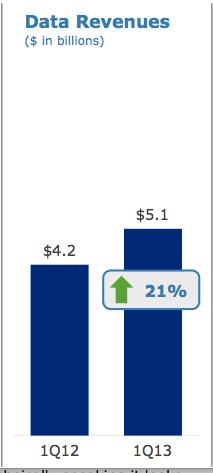 Revenues, when adjusted for the sale of their Advertising Solutions business, have increased from $123.4 billion in 2011 to $126.4 in 2012; their biggest revenue increase since at least 2008.
Not surprisingly, growth has been led by wireless data from smartphones. Wireless data revenues have soared 21% year on year in Q1 of 2013, contributing to Wireless' overall growth of 3.4% year over year. While Wall St. did not like the meager growth in Average Revenue Per User, perhaps heralding a slowdown in smartphone adoption, Wireless revenues are at least growing in the mid-single digits. Senior Vice President John Stevens has indicated that they believe this is sustainable.
First and foremost, we still feel good about our guidance about mid single-digits throughout the growth in the mobility business. I would suggest a couple of things, one; we do still have room to grow on the smartphone as we mentioned. Sales rates are 90%, current customer base is at 70%, that gives us a lot of room to grow.
One surprising bright spot in Q1 2013 was UVerse, their broadband high speed internet and cable TV bundle. In Q1, UVerse revenues soared by 31.5%, driving their Wireline business to 2 percent growth year over year, more than offsetting declines in Wireline business services. Both the Wireline and Wireless businesses are seeing steady growth in 2013 thus far.
Dividend Growth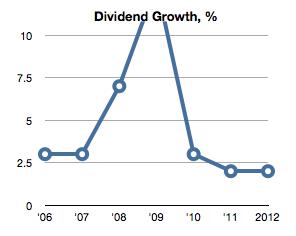 Chart by author, data by Morningstar.
AT&T stock has been off nearly 10% since its high in April, knocked down along with bond prices. Investors are seeing AT&T as a "bond equivalent" and are piling out. This is a mistake, because unlike bonds, AT&T's dividend payout has a history of going up every year.
In the past three years, per share dividend increases have hovered around 2%, which may not seem like much at first glance. But consider this: the U.S. Consumer Price Index, which is the government's official way of measuring inflation, has also been roughly around 2 percent for the past few years. An investment in AT&T over bonds has meant the pricing power of the investor's income has been protected from inflation. Not so with bonds. Over time, this will make a huge difference.
AT&T is no bond equivalent. At this price, the stock provides a solid 5% dividend yield. Tack on the modest but steady dividend growth and we have a recipe for income-building at this price.
Returns and Margins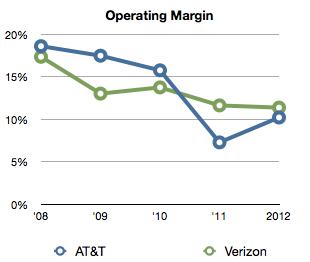 Since the "Great Recession," operating margins for American telecoms just aren't what they used to be. One point of light is that AT&T has managed to bring its Operating Margin back up over its 2011 low when management tried to acquire T-Mobile, but it's still slightly below Verizon (NYSE:VZ).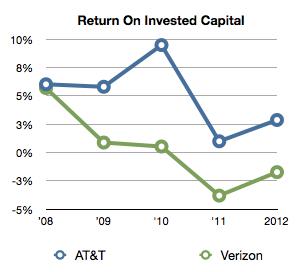 Charts by author, data by Morningstar.
In Return On Invested Capital we can see where AT&T has a definite edge over its biggest competitor. However, that same pattern of decline since the Great Recession is still there. But now that AT&T is growing revenue and earnings once again, hopefully they will be able to continue the upward trend in this metric.
A Savvy Buyback Program
YCharts
In 2012, AT&T was one of most prolific share repurchasers in the corporate world, repurchasing $12.5 billion in shares. Telecoms tend to see common stock as similar to a bond obligation because of their traditionally high dividend yields, which are often higher than the Yield to Maturity of their bonds. In AT&T's case, a 5% dividend yield is significantly higher than that of many of its bonds. AT&T has been buying back stock to reduce their dividend obligation without actually cutting the per-share distribution.
This is what makes AT&T a particularly appealing investment right now: Unlike many other high-yield instruments such as REITs and MLPs, AT&T is shrinking its share count, not growing it.
Valuation
FAST Graphs
At 19.9 times earnings, AT&T is trading slightly above its normal P/E ratio of 18.7. One could be forgiven here to wait and see if AT&T drops more. However, the stock is already down by more than 10% and the dividend yield is near its high for the year. Since management is now focused more on structural growth opportunities than it is being tied up in acquisitions, earnings should continue moving forward from here. This will put wind under the stock's wings. Here is a good entry point.
Conclusion
This article isn't meant to allay current fears about dividend stocks, nor is it a bottom call (although technically speaking it does look something like one). Indeed, if rates keep rising, AT&T could fall another 8-10%. The dividend yield could easily spike to 6%. It's been there before, and not all that long ago.
But all that aside, AT&T offers the safest income-building proposition right now. Management's goal is to continue growing revenue in the mid-single digits and I believe they will make good on this. Their solid, 5% dividend yield will grow to roughly keep pace with inflation, protecting your income's buying power in the long run.
Disclosure: I have no positions in any stocks mentioned, and no plans to initiate any positions within the next 72 hours. I wrote this article myself, and it expresses my own opinions. I am not receiving compensation for it (other than from Seeking Alpha). I have no business relationship with any company whose stock is mentioned in this article.