3-D printing company Stratasys Ltd. (NASDAQ:SSYS), along with other 3-D printing "pure plays" 3D Systems Corp. (NYSE:DDD), The ExOne Company (NASDAQ:XONE), and related software and services company Autodesk Inc. (NASDAQ:ADSK) are the current leaders in an industry that many believe will usher in a technological, industrial, and societal leap forward over the next decade. Others disagree and believe the industry is hyped and over-rated. My reply to the doubters is that the 3-D printing industry has grown at a CAGR (Compound Annual Growth Rate) of 27.4% from 2010-2012, and from a market of $983M in 2006 to a market of $2.2B in 2012. That's not "hype," it's an indisputable fact. I'll leave the forward growth predictions up to experts like Terry Wohlers and futurist Christopher Barnatt whose extensive website incidentally, is thought provoking, informative, and entertaining. I can only say that for my part I would not bet against the 3-D printing industry now or over the next decade. However, I would short individual companies in the sector when it's fundamentally warranted. This brings us to Stratasys and the question: "Is Stratasys heading to the stratosphere or heading south?" Does the company have the corporate management, growth, institutional sponsorship, protective moat, balance sheet, products and services and sector leadership required to allow the stock to trade higher over the next 6-12 months? Are there all-out shortcomings in any of the above metrics that could cause the stock to head south precipitously, or some blemishes that are a potential cause for concern down the road? Let's size up Stratasys and find out.
Brief History
Stratasys Ltd. began as Stratasys Inc., which was incorporated in 1989 and went public in 1994. The early history of Stratasys Inc. is fascinating reading, but the most noteworthy point from the narrative for investors is that the inventor of Fused Deposition Modeling (FDM) and founder of Stratasys Inc. is S. Scott Crump who has led the company throughout its 24-year history.
By 2007, Stratasys was supplying 44% of 3-D printers worldwide, making it the unit market leader for the 6th consecutive year according to Wohlers Report 2008. In December 2012, Stratasys Inc. merged with Objet Geometries, a global 3-D printing manufacturer based in Israel with net income of $14.7M the prior year in an all-stock transaction. The resulting company is now Stratasys Ltd. with Objet CEO David Reis installed as the new CEO of Stratasys and Scott Crump continuing as Chairman of the Board of Directors and Chief Innovation Officer. The senior management team and board of directors have representation from both of the merged companies.
Business Summary
Stratasys is a leading manufacturer of 3-D printers and production systems for rapid prototyping and manufacturing applications. The company's patented FDM(R) and PolyJet(R) processes produce prototypes and manufactured goods directly from 3-D CAD files or other 3-D content. Systems include affordable desktop 3-D printers for idea development, a range of systems for prototyping, and large production systems for direct digital manufacturing. The company's range of over 130 3-D printing materials is the widest in the industry and includes over 120 proprietary inkjet-based photopolymer materials and 10 proprietary FDM-based thermoplastic materials. Stratasys also manufactures Solidscape 3-D Printers and operates the RedEye On Demand digital-manufacturing service. The company has dual headquarters in Eden Prairie, Minnesota and Rehovot, Israel, has approximately 1,100 full time employees, over 8,000 customers, and holds over 550 granted or pending additive manufacturing patents globally.
Stratasys sells to a diverse industry mix including Automotive, Aerospace, Industrial & commercial, Consumer products, Medical, Government, Education, Architecture, Dental, and Jewelry.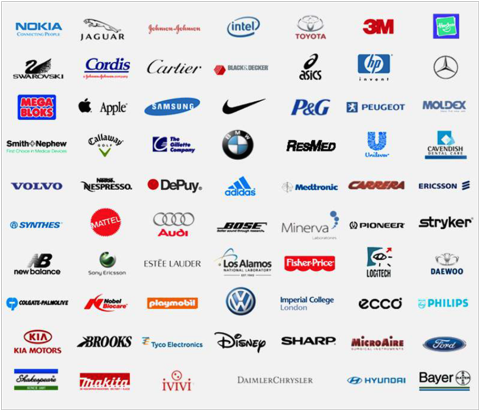 Click to enlarge

(Click to enlarge)
(source: Stratasys Analyst Day presentation)
Share Data & Market Size
Shares Outstanding: 38.6 M
Public Float: 27M
Shares Sold Short: 3.6M
Market Cap. $2.9B

(Data from Wall Street Journal)
Strong Revenue and Earnings Growth
No single metric is more meaningful in the valuation of a company than revenue and earnings growth. An acceleration of both in more recent quarters is indicative of the potential for a continuation of the trend, something that could help propel Stratasys much higher over time.
Stratasys reported annual unit sales, revenue, and EPS growth from 2011-2012
| | | | |
| --- | --- | --- | --- |
| Annual | 2011 | 2012 | Change |
| Unit Sales | 3,531 | 4,551 | +29% |
| Total Revenue | 277.0 | 359.1 | +30% |
| EPS (Diluted) | $0.94 | $1.49 | +59.1% |
These YOY numbers speak for themselves. Management has given guidance of $1.80-$1.95 EPS for 2013 on revenue that's expected to be between $430 to $445M.
Most Recent Quarter

Q1

2012

Q1

2013

Change

Total Revenue

$83M

$98.2M

18%

EPS (Diluted)

.32

.43

+40%
Organic revenue growth should increase to "greater than 20%" in the coming months according to management.
Fundamental Effects from Merger
In a Stratasys/Objet merger announcement , management outlined several key fundamental targets they expect to achieve from realized synergies between the two companies:
Revenue growth exceeding 20%
Effective tax rate reduction to 15-20%
Net income margin increasing to 16-20% of sales (vs. 4% in 2012)
Operating margin increasing to 20-25% of sales (vs. 8% in 2012)
The substantial target increases in operating and net margins indicate management is optimistic that (by 2014) the merger will generate considerably greater efficiency in earnings for each dollar of sales. When adding these increased efficiencies on top of sales growth expected to be "at least" 20% then the potential for a ramp in earnings growth by mid 2014 becomes evident.
The caveat of course is that these are targets and there is no guarantee they'll be met. The global economy, competition, growth in the 3-D printing industry etc. will each have an effect, but the most significant driver of success in meeting these targets will be the leadership of Stratasys.
Managing the Merger
During the post- merger period, a business requires strong leadership to provide clarity and direction during a time of organizational confusion, which typically lasts from 1-2 years. Management must provide a clear vision that the newly merged organizations can rally behind, and it helps if the senior leaders of both parties to the merger have M&A experience under their belt. While Scott Crump and David Reis have each have this experience on smaller scales, the merger of Stratasys and Objet will be the most challenging they've faced.
Time alone will tell if the merger will lead to growth that is as David Reiss explained, "even faster than what each of the individual companies could have done on their own." Early indications are that the merger is progressing smoothly. Last month CEO David Reiss stated: "Our plan to integrate the combined sales and marketing organization that resulted from our game-changing merger is ahead of schedule. Channel partners representing the vast majority of our potential revenue have been cross-trained and are now selling the Company's combined product and service portfolio. New customer and cross-selling opportunities have begun to result from this initiative."
New Products and Services
A primary driver of current and annual earnings growth is a company's ability to continually expand their products and services portfolio. Some of the new products Stratasys and Objet launched in the previous 12 months are:
These products are now providing added revenue streams that didn't exist a year ago. There is (understandably) a high correlation between a company's ability to add new products to their portfolio and their spending on research and development.
Research and Development
Cutting edge technology is short-lived technology. Without continually investing new capital into R&D, the ability to introduce new products and service that are critical in driving revenue and earnings growth stagnates.
Stratasys R&D Expenditures 2010-2012 & Q1 2013
Year

2010

2011

2012
(pro forma)

Q1 2013

Investments in R&D

$9.8M

$14.4M

$ 33.3M

$10.8M

Increase over prior year

+ 26.1 %

+ 47.2 %

+ 132 %

?
(Source: NASDAQ)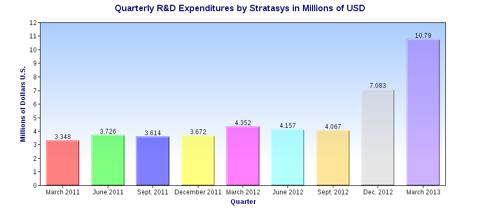 Click to enlarge
(Click to enlarge)
CEO David Reiss commented on the ramp in R&D expenditures in the last quarter: "We invested approximately $10 million in R&D projects during the first quarter, a level we believe is unmatched within the industry. This investment will produce products that expand the functionality of existing platforms as well as products that address totally new applications."
"Totally New Applications": Stratasys and 4-D Printing
Stratasys has begun work on a new "4D Printing Project," developing self-assembly technologies for large-scale structures in the physical environment in collaboration with MIT's Self-Assembly Lab. The Stratasys website explains: "Although not commercially available, self-assembly is just a beginning of a whole innovative world of manufacturing with minimum energy. As environmental, economic, human and other constraints continue to fluctuate, we will eventually need dynamic systems that can respond with ease and agility. 4D Printing is the first of its kind to offer this exciting capability. This is truly a radical shift in our understanding of structures, which have up to this point, remained static and rigid (think aerospace, automotive, building industries etc.) and will soon be dynamic, adaptable and tunable for on-demand performance."
3-D printing investors should stay tuned to Stratasys and their industry-leading spending on R&D as well as their expanding patent portfolio as they are building a deliberate and considerable moat.
The Stratasys Moat
Stratasys has a strong intellectual property portfolio with over 550 patents and patents pending, the largest in the 3-D printing industry. The company has filed 10 patent applications this year including one in April that looks promising to industry experts as it address the problem of seams in extrusion-based 3-D printers. The recent expiration of older patents has been the subject of hand wringing by some, but because Stratasys has a trademark on "FDM printing" there remains a small but real hurdle for low-cost and/or open-source printer makers to overcome as Stratasys can continue to exert brand control over the technology. More recently Stratasys has expanded the scope of their existing "FDM printing" trademark to include Thermoplastic polymeric materials. I believe patent expirations are something to be aware of, but I have doubts that the effect will be immediate or game changing for Stratasys. Every company in 3-D printing with patents must face the same hurdles at some point or another. 3D Systems' Cubify printer is coincidentally, based on an expired patent.
With the largest intellectual property treasure chest in the industry, their dedication to developing and maintaining a strong brand, (Stratasys has a 29-page style guide for the allowed use of their logo alone), and their recent and dramatic increase in R&D investments, Stratasys appears to have an effective and expanding moat to defend the company and investors.
Institutional Sponsorship
If mutual funds, insurance companies, credit unions, banks, and other large players are buying Stratasys, it is not surprisingly because their research indicates the share price will appreciate going forward. It is a useful metric I often employ when sizing up an investment. In the case of Stratasys, institutional buying increased by nearly 12% in the first quarter of 2013.
Institutional Purchasing of Stratasys shares
Current
Quarter

Previous
Quarter

Institutional Share Purchases

6.3M

5.6M

Institutional Shares Sold

3.7M

5.6M

Net Institutional Shares Purchased

2.6M

20.5K

Change in Ownership

11.95%

0.11%
(Source: Fidelity Investments)
For the sake of comparison, 3D Systems experienced a 5% reduction in institutional sponsorship for the same time period as I discussed in a previous article. I continue to see articles and comments written about the 3-D space loudly proclaiming that "Institutions are selling their shares leaving the retail investor holding the bag!" and the like, yet those statements are not supported by fact in the case of Stratasys. While this isn't an article about 3D Systems, I think the reduction in institutional sponsorship is something to be aware of as a possible trend, but not a reason in and of itself to sell the stock.
Balance Sheet and Potential Acquisitions
With cash and cash equivalents totaling $141.7M reported last month, positive cash flow from operations, zero long-term debt, and a current ratio of 3.8, Stratasys indeed may be on the acquisition hunt.
With the Objet merger reportedly running smoothly and ahead of schedule, CEO David Reiss commented in the Q1 2013 conference call that "Part of our growth plans will include inorganic growth. We are constantly searching. We have a very clear method and infrastructure to evaluate potential acquisitions, and when these will be relevant, obviously we're going to update the market."
That acquisition update may occur soon as just this weekend news broke that Stratasys is reportedly in talks to acquire Brooklyn-based, MakerBot. This would allow Stratasys to immediately expand into the consumer based 3-D printing market, and compete with 3D systems' Cube series of personal consumer printers. Stay tuned.
Conclusion
Barring substantially adverse shocks to the global economy, Stratasys has the essential elements in place to trade much higher. "Into the stratosphere" may be taking some artistic license, but given the company's current leadership position in the 3-D printing industry, the Objet merger progressing smoothly and ahead of schedule, historic and projected earnings growth, a strong moat of patents and a breakneck expansion of R&D investments, I find it hard to imagine the stock "heading south."
Based on projected organic growth of over 20%, estimated tax rate reductions with concurrent expansion of margins as noted above, and by leveraging a meaningful increase of direct channel managers and resellers to launch new products and services, I believe Stratasys will exceed $2.50/share in earnings in 2014 and trade above $100/share within 6-12 months.
* The use of GAAP vs. non-GAAP earnings has been a subject of intense debate for many years and goes beyond the scope of this article. I have chosen to utilize non-GAAP numbers for this article because it gives investors a more accurate interpretation of the historic and potential future organic growth of the company's core operational earnings by excluding certain discrete items such as the Objet merger transaction-related expenses, amortization expenses and expenses associated with stock-based compensation.
Disclosure: I am long SSYS. I wrote this article myself, and it expresses my own opinions. I am not receiving compensation for it. I have no business relationship with any company whose stock is mentioned in this article. I am long Stratasys calls: SSYS131221C00080000