Headquartered in Hong Kong, CDC Corporation (CHINA), a leading software and gaming company, announced on July 13 that it had gained a new customer: Tree Top, Inc., one of the world's leading producers of fruit-based products and ingredients including apple juice, cider, blended juices and purees.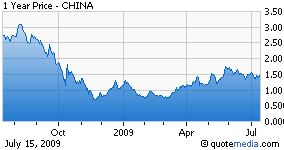 Tree Top plans to implement CDC Factory - CDC's manufacturing operations management and enterprise manufacturing intelligence solution - at its five plants in the State of Washington, with the first implementation being at its plant in Selah, Washington before September 2009. This is the time when Tree Top's seasonal production is in its most active phase.
The remaining sites that are scheduled to implement CDC Factory are located in Prosser and Wenatchee, Washington, as well as two additional facilities, the Ross plant and the Fresh Slice plant, both of which are located on the Selah campus.
Tree Top chose CDC Factory solution to help cut its production costs. By implementing CDC Factory's real-time metrics such as Overall Equipment Effectiveness, and stock keeping unit levels, Tree Top will reduce its cost per unit at the plant, improve margins, provide enhanced performance levels, and fight against competition from other food manufacturers.
CDC's new win is very encouraging as it will expand its presence in diverse verticals. With the continuous focus on vertical industries, cost reduction initiatives in its software segment, new launches and upgrades in its product line as well as integration efforts, CDC should develop a significant competitive advantage in 2009 and beyond.
CDC has recently seen some encouraging business activity during this economic downturn, which generally had negative impact on the overall enterprise software industry. With the growing popularity of its CDC Factory, the company is currently building momentum in its strategic vertical industries. In spite of weak first quarter results due to the global economic recession as well as a negative impact from currency fluctuations, we expect increase in license bookings and strong pipeline of sales opportunities at CDC Software.
Although CDC faces competition from SAP AG (NYSE:SAP), Oracle (NASDAQ:ORCL), and Salesforce.com (NYSE:CRM) in enterprise software business and Shanda Interactive (NASDAQ:SNDA), Netease.com (NASDAQ:NTES) in the gaming segment, we believe CDC is well positioned to leverage growth opportunities in the small-to-medium business enterprise software market and China's online gaming market.