Dr. Phillip Frost, CEO of Opko Health Inc. (OPK), appears unwilling to see a falling share price in his latest project company. The well-renowned Chairman of the Board for the generic drug champion Teva Pharmaceutical Industries Ltd (TEVA) has been purchasing shares of Opko Health with seemingly unprecedented regularity and confidence. As an avid investor in his field, Frost has a history of building companies from their foundation and selling them at a higher realized value than the sum of their parts. In 2006, Frost gained the bulk of his $2.6 billion net worth when Teva Pharmaceutical acquired IVAX Corporation in a deal valued at $7.4 billion.
Now serving as Opko Health's lead officer since 2007, Frost continues to leverage his wealth as he purchases large amounts of shares in the developing company. In doing so, he's been able to place together attractive acquisitions exploiting the rich premium Opko's shares have carried in light of such large insider support. As of his latest purchase, Frost effectively controlled 141,872,590 common shares of the company's 336,737,265 shares outstanding. This amounts to a 42% stake in the company.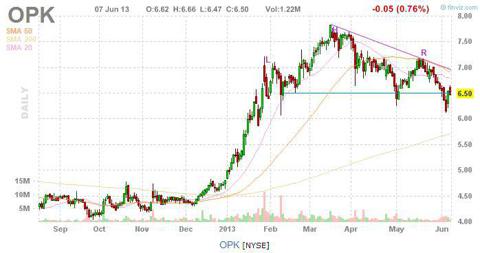 Click to enlarge
Yet as Opko struggles to stay above supporting price lines as seen in the chart above, Frost has spared no effort to emphatically increase his holdings in the company. On June 6, Frost purchased an atypically large 250,000 shares at a transaction valued at $1.6 million. The filed Form 4 can be found here. Perhaps of additional interest to shareholders, his purchases in Prolor Biotech, Inc. (PBTH) have also been increasing with relative consistency beginning in May. Opko Health recently announced in April the upcoming acquisition of Prolor Biotech in an all-stock transaction using Opko stock. By investing in Prolor now, Frost further demonstrates his confidence in Opko Health.

Click to enlarge
Such large purchases in Opko at this critical junction has recently raised the suspicions of Raghuram Selvaraju, managing director and head of health-care equity at Aegis Capital, as seen in an article from Bloomberg found here. Selvaraju suggests that Frost might be purchasing shares in order to prevent the acquisition deal from falling through. Yet those tracking the CEO's transactions over the last five years might be more likely to conclude that Frost continues to wholeheartedly believe in the overall potential of the company he's now putting together. After all, his consistency in purchasing shares is nothing new. As verified in the same article, Frost is quoted as saying the following:
"I think Opko's shares offer good value. As for Prolor shares, I am buying them quite simply because it's like buying Opko shares at a discount."
A Company With A Maturing Pipeline
While Frost's confidence in Opko has been a boon to investors, it's the underlying technologies and niche market space solutions being gathered under one company that should continue to warrant increasing attention. Of great interest for shareholders is the growing number of latter stage development products being incorporated into the company's pipeline. Over the last quarter, Opko continued to progress in several Phase 3 trials for its various products now under development as seen below:
Three ongoing Phase 3 trials are being evaluated for Opko's CTAP 101 capsules, which are used to treat Secondary Hyperparathyroidism in patients with stage 3 or 4 chronic kidney disease and vitamin D insufficiency.
Enrollment by Opko's licensee, TESARO, Inc., continued for three Phase 3 trials of rolapitant for the prevention of chemotherapy induced nausea and vomiting.
Through the new merger agreement with Prolor Biotech, the company also began planning a Phase 3 trial in adults with growth hormone deficiency that is expected to begin in Q2 2013.
Additionally, Opko's management still anticipates a 2013 launch of the company's 4Kscore prostate cancer test within the United States. Fellow Seeking Alpha contributor John H. Ford previously wrote that this one product could eventually account for over $1.8 billion in annual revenues for Opko in his article found here. In line with its more maturing pipeline, Opko's potential may be just a few years away from being realized with tangible earnings. As such, it remains possible that the investor base may continue to garner increasing support for Opko as the depths of its markets become more defined along with the company's ability to execute.
Frost Takes On the Company's Short Interest
As of June 9, Opko Health supports a $2.19 billion market capitalization despite carrying only $320.82 million in shareholder equity. Yet the company remains well capitalized with $181.60 million in cash as Opko's cash outflows from operating activities have averaged only $21 million over the last three years. Opko trades with a hefty price-to-sales ratio of 31.67. Analysts also expect the company to have an EPS loss of $0.21 in 2014. While there remains a clear premium on the company's technologies, the unknown factor inherently returns back to Opko's CEO, Dr. Frost.
With his consistent insider purchases, Frost continues to provide upside support for Opko Health. In doing so, he fights against the rather large short interest that continues to weigh on the company's stock. As of May 15, the company held a short interest of 30.16 million shares, or 19.20% of the company's float. With an average daily share volume of 1.44 million shares, the amount of days to cover that short interest would be nearly 21 days. On June 6, Frost's latest 250,000 share purchase accounted for over 12.5% of the day's 1.99 million share volume. From the previous day's close to the close on June 6, the stock rallied over 6%. Frost's large purchase appeared capable of a market shock.
Conclusion
Opko Health's stock remains in a rather unique situation for investors. The company's CEO continues to play a rather decisive role in its direction, and this is only compounded by the large short interest the stock continues to attract. While the company's shares may appear overvalued when contrasted against typical valuation metrics, the technologies remain promising and able to penetrate a diverse range of markets. In regards to its development progress, the company also carries a rather mature pipeline that should soon provide additional justification for its current valuation. Overall, the company remains difficult to short as long as Frost is willing to buy. More so, it also sustains its promising potential, which allows for investors to hold their positions with ease.
Disclosure: I am long OPK. I wrote this article myself, and it expresses my own opinions. I am not receiving compensation for it (other than from Seeking Alpha). I have no business relationship with any company whose stock is mentioned in this article.