I reaffirm a 'hold' rating on Duke Energy (NYSE:DUK). The company offers a modest EPS growth of 4% (analysts' expectation) in the long term and an attractive dividend yield of 4.6%. However, near term performance might be checkered due to rising treasury yields, outcome of the pending rate cases and the announcement of CEO Jim Rogers' successor. Moreover, the company posted satisfactory financial results for first quarter 2013.
Financials
Reported revenue for the 1Q 2013 were $5.9 billion, beating the analysts' consensus of $5.7 billion. DUK registered earnings per share of $1.02 for 1Q 2013, missing the analysts' consensus of $1.04; down approximately 10% year on year basis. Recent earnings were negatively affected by the company's international and commercial power segments. International segment results were adversely affected by drought conditions in Brazil and lower volumes, whereas commercial power segment had to observe lower capacity prices. Issuance of common shares last year in connection to DUK's merger with Progress Energy also contributed to lower EPS in the recent quarter as compared to corresponding period last year.
| | | |
| --- | --- | --- |
| EPS 1Q 2012 | EPS 1Q 2013 | Earning Surprise 1Q 2013 |
| $1.13 | $1.02 | -1.90% |
Source: yahoo finance
DUK currently offers a quarterly dividend of $0.78 per share, making annualized forward dividend rate of $3.12 per share, resulting in an attractive dividend yield of 4.60%. The company has a strong dividend history, with 87 year history of consecutive quarterly cash dividends. The company has a long term plan to increase its dividends at a slightly lower rate than its growth in adjusted earnings per share. Also, DUK has a long term target pay out range of 65% - 70% which is below its current dividend payout of 75%. The following chart displays the annualized dividend trend for DUK.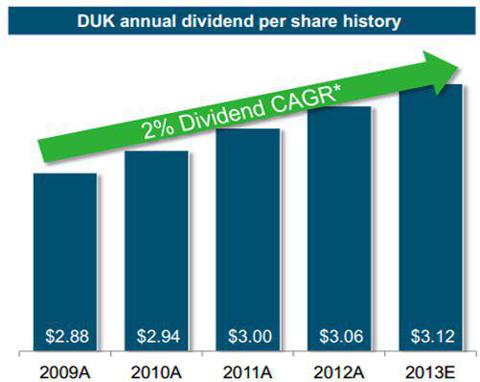 Click to enlarge
Source: Duke Energy
DUK has a highly leveraged balance sheet, with debt to equity of over 100%. However, it has decent interest coverage of 5x, and holds investment grade credit rating, assigned by different credit rating agencies. The chart below shows the credit ratings for DUK.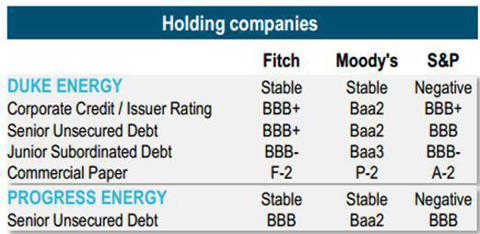 Click to enlarge
Source: Duke Energy
Rising treasury yields (10 years treasury yield stands at 2.16%) can hurt the stock price and investors in the near future. Firstly, stock price may experience a decline to keep dividend yield attractive in comparison to treasury yields. Secondly, the company has high debt (debt to equity of 101%) which would translate into higher interest cost as treasury yields rise.
Rate Cases and CEO change
Recently DUK achieved rate case approval from NCUC (North Carolina Utilities Commission), for a total increase of 5.5% over the two year period. The first phase of rate case increase of 4.5% has been implemented since beginning of the current month June. The next phase of rate case increase of 1% will be effective from June 2014. The company also got approval for allowed ROE of 10.2% and debt structure of 47%. As DUK continues to incur capital expenditures, it would lead to growth in rate cases and bottom line expansion for the company.
The company CEO Jim Rogers' is likely to be replaced in the second half of 2013 and it is believed that some external candidate will be replacing the current CEO given the complications that emerged after the Progress Energy acquisition. The appointment of the new CEO could prove to be an important catalyst for the stock price.
Outlook
The company maintained its full year 2013 adjusted earnings guidance of $4.20 - $4.45 per share. In contrast analysts are anticipating full year 2013 EPS of $4.34. Also, analysts are projecting next five years growth rate of 4% per annum.
Conclusion
The company offers modest earnings growth in the long term coupled with an impressive dividend yield of 4.6%. But in the near term some factors (mentioned above) can make stock price volatile therefore I recommend 'hold' rating for DUK.
Disclosure: I have no positions in any stocks mentioned, and no plans to initiate any positions within the next 72 hours. I wrote this article myself, and it expresses my own opinions. I am not receiving compensation for it (other than from Seeking Alpha). I have no business relationship with any company whose stock is mentioned in this article.