Recently, 3Com Corporation (COMS) declared that it has won a massive deal from Etice - Ceará State Information Technology Company of Brazil, related to the Gigafor project. This project connects several state government agencies and bureaus with an enhanced gigabit Ethernet network. 3Com will provide solutions with the help of its high-performance H3C enterprise networking, along with its service partner R2 connect.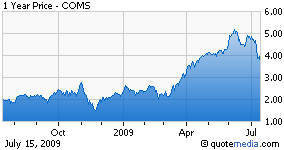 This new technology offering from 3Com, will help Etice become competitive and reduce its costs by as much as 60%, without compromising on performance, security and reliability. This apart, 3Com announced a separate deal with Etice relating to the Digital Belt project. In this new deal, a large metropolitan area network will be build on an optical fiber platform.
These are high value deals for the company, which it has won over its competitors despite the highly competitive nature of today's bidding process. This will surely generate substantial revenue for the company, but the time and amount of these revenue accruals are not yet specified. We believe these deals will positively impact the result of 3Com, in the medium- to long-term. These major project wins will provide confidence to its investors.
3Com's fourth quarter result exceeded our expectations. The results give us confidence that the company will be able to sustain recent improvements. However, worsening global economic conditions and weak IT spending led the company to provide unimpressive first quarter outlook.
Although we are pleased with the company's performance in recent quarters, the fact that 3Com's first quarter guidance is below expectation is cause for concern. Moreover, the future of its business in China doesn't look promising. We maintain our Hold rating on the stock.